6 minutes read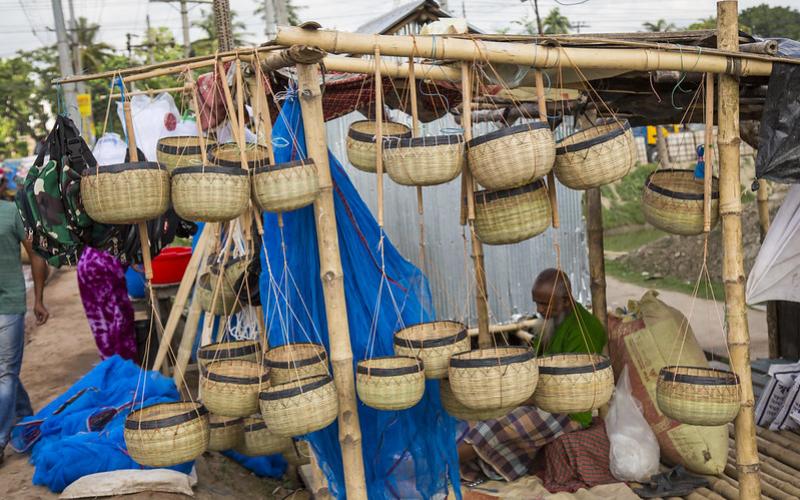 REQUEST FOR APPLICATION
Strengthening fish bi-products supply chain for exploring opportunities to develop new products (e.g. pharmaceuticals, industrial products, animal feed etc.) to meet domestic market demand and export
Background
WorldFish is an international nonprofit research institution that creates, advances, and translates scientific research on aquatic food systems into scalable solutions. WorldFish is a member of CGIAR, which unites international organizations engaged in research about food security.
Feed the Future Bangladesh Aquaculture and Nutrition Activity (Aquaculture Activity) is a fiveyear program funded by the United States Agency for International Development (USAID), implemented by WorldFish, to sustain positive aquaculture sector growth through an inclusive Market Systems approach. The Activity aims to improve the sustainable livelihoods for a large number of smallholder farmers and other stakeholders engaged in the aquaculture value chain in Feed the Future Zone of Influence (ZOI) and Zone of Resilience (ZoR).
The Activity will stimulate aquaculture sector growth, increase employment and income, and improve food and nutrition security for households. It will serve as a facilitating role by coordinating linkages among the value chain actors in the private, public and civil society sector of Bangladesh.
A large amount of fish waste (viscera, fin, bones, skin, scale, tail) is easily generated at the fish cutters' place in the local Bangladeshi markets during the cleaning, cutting, and slicing process. Because these wastes are perishable in nature, if they are not properly managed, they begin to decompose. Many fish farmers buy those wastes from fish cutters and use them directly for fish feeding in their waterbodies, causing water pollution and impeding fish growth by making them susceptible to various diseases. But fish waste, especially fish scale can be a real treasure if it is managed and processed properly. Fish cutters can also earn a good deal of money by supplying fish scale to the scale processing companies. Most fish cutters are unaware of the value of fish scales and they don't know where and how to supply fish scales. As a result, a huge quantity of fish scales remains uncollected, unprocessed and become wasted. Meanwhile, a few companies are obtaining raw fish scales and exporting them directly to the export market with minimal cleaning and drying. Raw fish scales, on the other hand, have greater potential because they can be processed into decalcified scale (Ossein), gelatin, and collagen peptide, all of which have a higher value and demand in the export market. This enormous potential market still remains untapped by Bangladeshi companies and enterprises.
Considering these concerns, the Aquaculture Activity is interested to make partnership with such companies/enterprises who can procure fish scale from the local fish cutters of ZOI districts, process and export raw fish scales as well as decalcified scale (Ossein) to the foreign markets.
Objective
Subject to donor approval and availability of funds, The Activity invites applications from relevant private companies, organizations, and enterprises that can establish a sustainable fish scale supply chain in the ZOI areas, procure raw fish scales from local fish markets, process and export dry fish scale and decalcified fish scale (Ossein) to foreign markets. The proposed business model will promote raw fish scale as a treasure in local markets and will pay fair prices to local fish cutters. The selected company/organization/enterprise will implement the model with selected fish markets and fish scale suppliers across the 21 ZOI districts.
Scope of Work
The selected organization is expected to carry out the following activities, (but not limited to) in order to establish a supply chain for procuring raw fish scales from local fish markets within the 21 ZOI districts within the project duration of eight months:
Promote fish scale, swim blooder,chitin, liver oils, fish maw etc. as valuable items in local and international fish markets
Capacity development of local fish cutters, collectors and processors to ensure steady supply of fish bi products
Procurement of raw fish scale in particular from the local fish markets with proper management engaging fish cutters, collectors and suppliers in the supply chain
Export of dry fish scale and other bi-products including decalcified scale (Ossein) in the foreign market
Key Deliverables
A detailed business plan focusing on ZOI districts on "Strengthening fish bi-products supply chain for exporting fish bi-products into foreign market."
A detailed marketing and stakeholder outreach plan
A well-established processing unit for converting fish scale into decalcified scale (Ossein), swim blooder into singlass and fish maw, and other valuable productions (eg. chemicals, fertilizers, animal feed) and so on
Fish bi-products purchase and selling report
Reports (technical and financial) in Activity-approved templates.
Expected Results
Establishment of a supply chain for smooth and continuous collection of raw fish scales and other bi-products from local fish cutters engaging collectors and suppliers
Local fish cutters will have significant additional income per month
Scale collectors and suppliers will get proper incentives
Fish scales, swim blooder, fish viscera (eg. guts, stomach, liver, discarded roe) won't be wasted in the project's working areas
Decalcified scale (Ossein) will be exported along with dry fish scale in the foreign market
Aquaculture Activity Offers
Aquaculture Activity will provide both technical and financial support to execute the proposed and agreed upon business models/ideas:
Financial support to leverage the companies' investment. If short-listed, the final agreement will be negotiated with selected, qualified companies.
Facilitation and co-development of the proposed business models or strategic plans.
Technical support as needed for successful implementation of the proposed models/initiatives.
Facilitation of identifying or developing business linkages with other market actors.
Aquaculture Activity Fund Is Not For
Working capital (e.g. day to day operational costs, salaries of regular staff, rent of buildings, office, warehouse, storage houses, regular purchases)
Direct payments/subsidies to producers/aquaculture farmers
Common IT and fixed assets (e.g. computers, cameras, projectors, vehicles, machineries and equipment)
Common physical assets (e.g. buildings, warehouses, storage rooms)
Eligibility Criteria
Have an experience and proven success on similar intervention
Have commercial and profit interest and incentives in the capacity development of aquaculture stakeholders.
Proposed business models/concepts which satisfy and support one or more of the following will be given preference (i) new and innovative business models, (ii) expansion of successful business models into new and underserved geographic markets and (iii) expansion of the business models targeting underserved customers in the rural areas, such as youth and women
Proposed business models must demonstrate continuity and sustainability.
Cost-share amount must be at least 50% of the total proposed budget.
Cost-share amount must be verifiable and it should not come from other USAID assisted projects or programs.
An active certificate of incorporation (for individual companies, a trade license);
Joint stock registration certificate (if applicable);
An organizational organogram of key personnel, inclusive of the names of such personnel;
Tax Identification Number (TIN);
VAT registration number;
Proof of a segregated ban account (providing the name and address of such an account);
The consulting firm must bear all annual income tax (AIT).
Percentage of VAT and total amount of VAT should be mentioned in the proposal.
Other valid papers (provided by government institutions).
Note: Only "for profit" companies/firms are eligible to apply who have legal registration. Program is not eligible for Non-Government Organizations (NGO's), Consulting Firms, or Associations.
GRANTS AWARD PROCESS
EVALUATION
SUBMISSION DETAILS
Interested parties should submit application by using the attached application form and budget template on or before 15 September 2022 to: wfbanaproject@cgiar.org mentioning the title of solicitation or Request for Application (RFA) in the subject line. Due to the high volume of applications, only shortlisted applicants will receive a response from WorldFish.