6 minutes read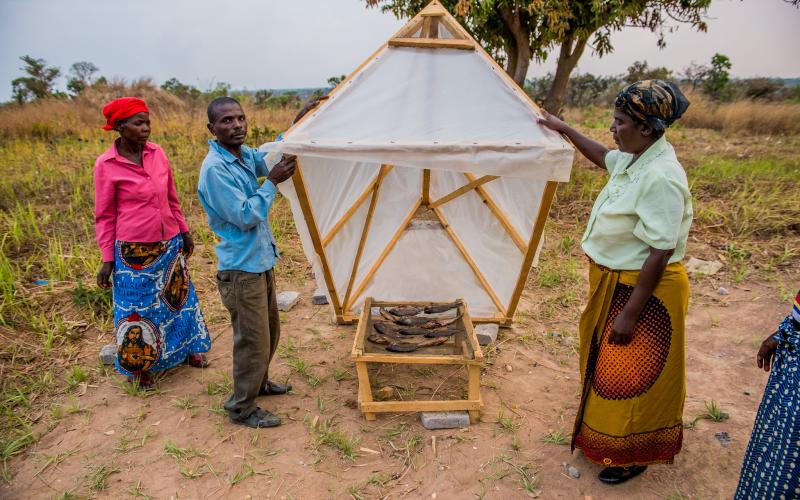 Highlights
Aquatic food loss and waste significantly impact food, nutrition and income security of communities and the sustainability of food systems
Low-cost, accessible innovations ensure continuous flow of food availability and reduce chances of nutrition and economic losses throughout aquatic food supply chains.
Around 35 percent of food harvested from the world's aquatic food systems—fisheries and aquaculture and associated supply chains—is lost or wasted. Fish and other aquatic foods lost or wasted, largely due to poor harvesting practices or spoiled during processing and transportation, result in less income in the pockets of aquatic food workers and less nutritious foods on plates.
The decrease in either the quantity or quality of aquatic foods along supply chains hurts vulnerable communities in low- and middle-income countries the most as they depend on these foods for food and nutrition security and livelihoods.
Understanding the reasons why and amounts of aquatic foods lost or wasted at different points in supply chains—whether it be during harvest, processing, transportation, retail storage or consumption—provides opportunities for innovations to keep more food flowing through the system.
Over 800 million people rely on small-scale aquatic food systems for their livelihoods, and they can be better supported through more efficient supply chains. Innovative, accessible technologies and better practices cut aquatic food loss and waste, providing multiple wins across the sustainable development agenda by increasing the amounts of food available for consumption, protecting vulnerable workers from lost incomes and improving the sustainability of food systems.
The following are 5 innovations WorldFish is promoting to reduce loss and waste across aquatic food systems.
Low-cost solar drying tents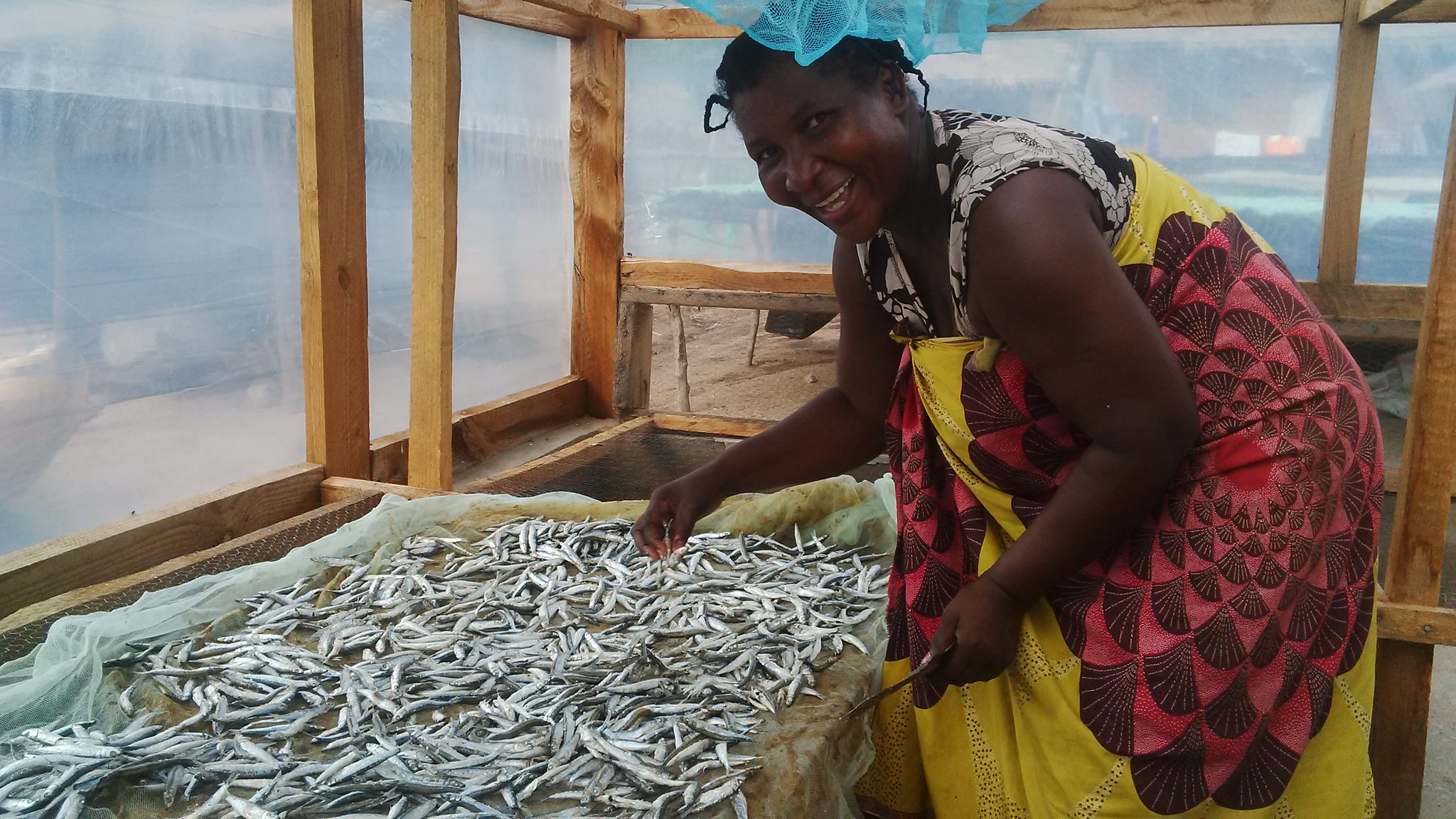 In Malawi, fish are traditionally laid out on wire racks in the open air to dry for preservation. Drying fish removes bacteria, yeasts and molds that survive in water and improves their shelf life. However, drying in the open air brings challenges as fish are at risk of spoilage due to pests, poor weather and the excessive use of salt and chemicals used during processing.
For every ten fish caught in Lake Malawi, it is estimated that four are spoiled during the drying process. This is made worse during the rainy season when drying takes a longer time.
Solar drying tents are helping to change that.
WorldFish and partners have developed and promoted low-tech solar 'tents' to improve the process of drying fish in Malawi. This nutrition-sensitive approach helps improve the speed, quality and food safety of dried fish that is traded locally and regionally. The tents are designed with proper aeration, drying racks and roofing. In just a few hours, fish can be dried, while minimizing opportunities for spoilage by eliminating the chance of insect infestations and the use of additives and chemicals. This results in better quality fish products that catch higher prices at markets, leading to improved incomes and better food safety.
Apart from reducing loss and waste, this innovation is estimated to have improved the livelihoods of up to 250,000 women engaged in fish processing, particularly fish drying, in Malawi. The opportunity to scale solar tents throughout Africa provides a promising opportunity to reduce loss and waste and to transform the lives of women who account for 60 percent of those engaged in the post-harvest activities and trade of aquatic foods.
Solar-powered freezers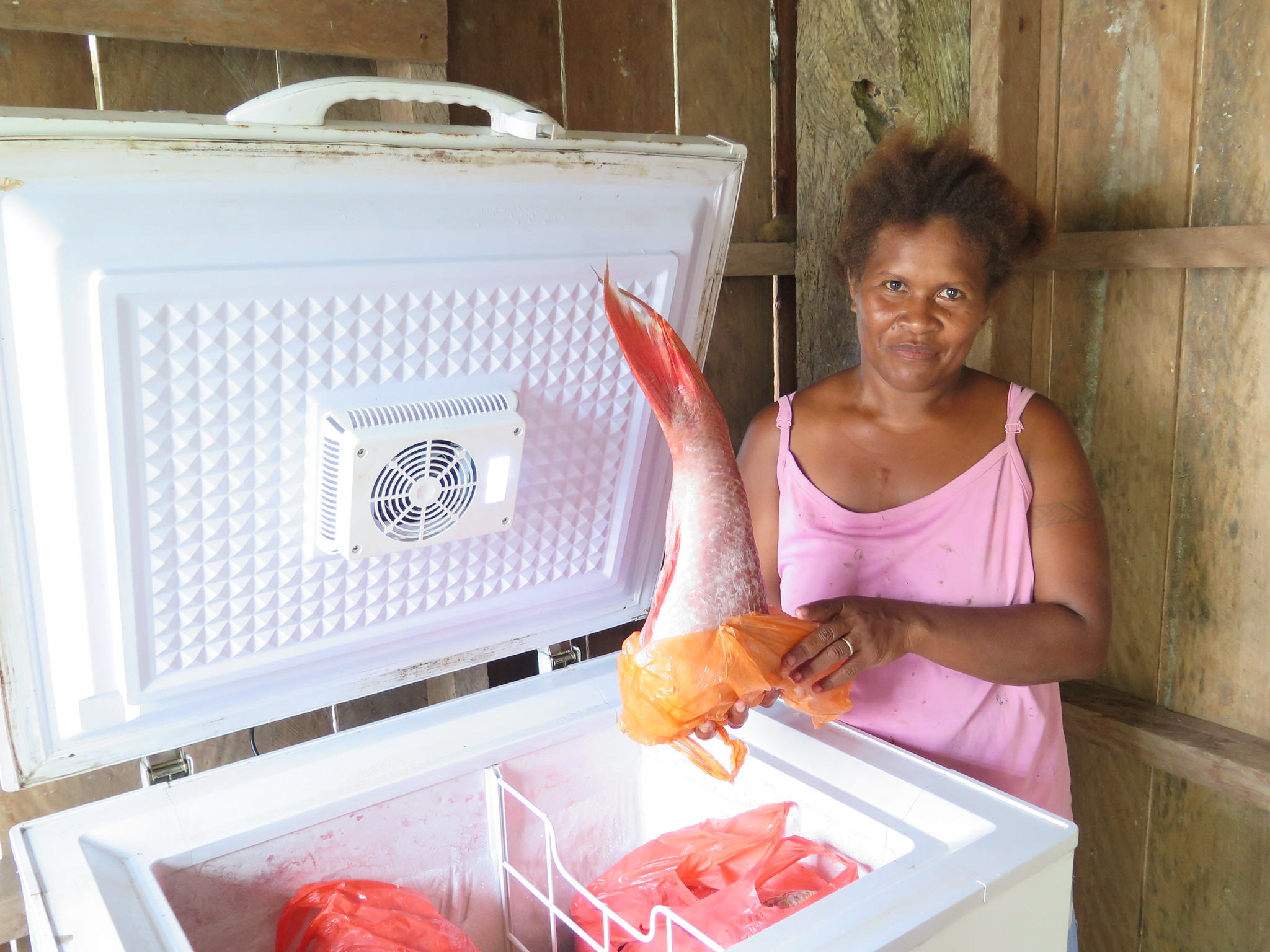 In the Solomon Islands, an archipelago of almost 1000 islands, fishing provides an income for nearly 30 percent of the population and aquatic foods are an integral part of healthy diets. However, many of the islands lack electricity to run refrigerators to store fresh fish and other aquatic foods. The lack of cold storage leads to spoilage of aquatic foods between harvest and sale as well as wasting fish that are not sold or eaten by household members. This loss and waste of aquatic foods is a missed opportunity for improving the livelihoods and food and nutrition security of these rural communities.
WorldFish and partners are working to promote solar-powered freezers as an innovative solution to keep aquatic foods fresh for a longer time. Powered by solar electricity panels, the freezers allow aquatic foods to be stored properly despite a lack of electrical infrastructure. The improved cold storage reduces the risk of loss between harvest and sale and allows for the storage of fish not sold at market or eaten in the household. Th ability to keep aquatic foods fresh for longer a longer time benefits both the aquatic food workers and the communities dependent on these foods for food and nutrition security.
Enhanced fish smoking technology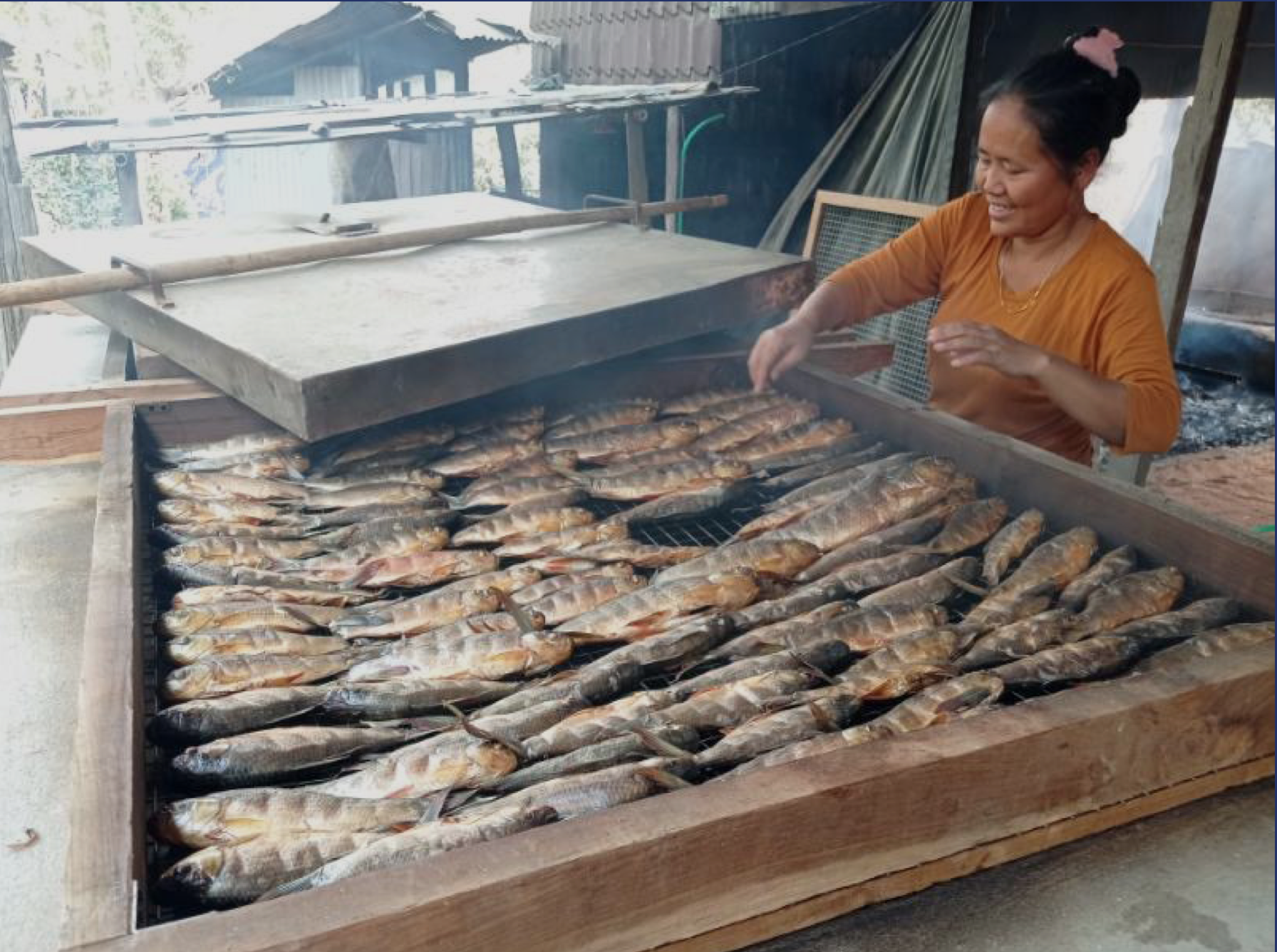 Another popular method to preserve fish in low- and middle-income countries where cold storage is limited is through smoking. However, the use of traditional smoking kilns tend to be inefficient, costly to operate and labor-intensive. Not complying with sanitary standards of smoking causes losses in quality and reduces the number of fish fit for sale or consumption.
To overcome the challenges, the Food and Agriculture Organization of the United Nations (FAO) engaged in a collaborative undertaking with the National Training Centre for Fish and Aquaculture Technicians (CNFTPA) in Senegal to design an efficient and affordable smoking technology called the FAO-Thiaroye fish processing technique or FTT.
Compared to traditional smoking kilns, the FTT is more affordable and its design significantly reduces smoking time, the ability to meet safety standards and allows it to be used regardless of weather conditions. It also increases the range of species that could be processed, reinforcing processors' ability to reduce loss of other aquatic foods. By improving the quality and safety of the finished products, processors also avoid economic losses due to rejection of unsafe or non-compliant smoked fish.
WorldFish has worked with local communities in Myanmar to adapt the technology for local conditions. Initial studies in Myanmar show the FTT smoker reduces fish losses while improving product quality, and consistency as well as reducing operational costs. It was estimated that the savings in wood and sawdust for fuel alone would pay back the construction costs in three years.
Guidelines for improved transport practices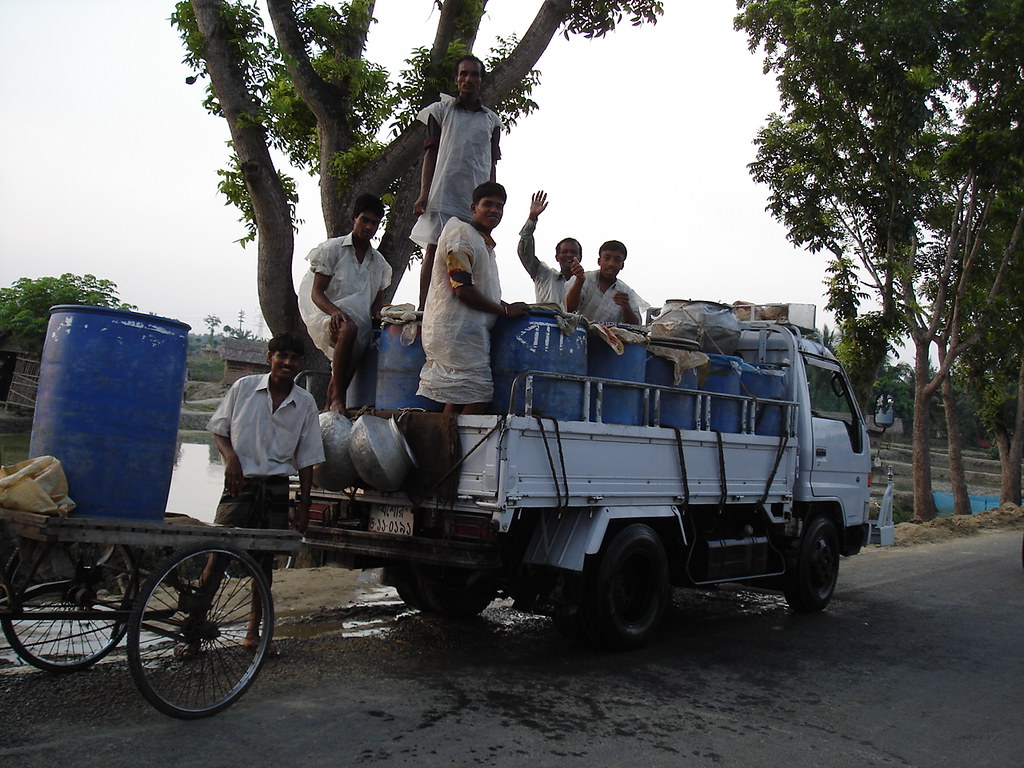 Poor handling and transportation practices lead to high fish mortality or a reduction in quality, resulting in lost food and income in many low- and middle-income countries. In a bid to tackle aquatic food loss and waste, WorldFish has developed and disseminated country-specific guidelines that detail culturally appropriate and hygienic transport practices for fish and other aquatic foods.
In Bangladesh, fish are transported live to markets, as they fetch a higher price than frozen fish. The guidelines detail proper harvesting, handling and transporting practices to lower the risk of fish mortality, pathogen transmission and minimize fish stress during transport to support their health and survival. Reduced fish loss during transport leads to larger profits and improved access to aquatic foods, vital in a country where over 20 percent of the population lives below the poverty line.
Another set of guidelines lay out appropriate international transport practices for Genetically Improved Farmed Tilapia (GIFT) fingerlings, in order to efficiently transport the GIFT tilapia to smallholder farmers across Asia, Africa and the Pacific. The safe delivery and use of healthy fingerlings is crucial to growth and development of hatcheries that support the aquaculture sector.
Integrated land and water systems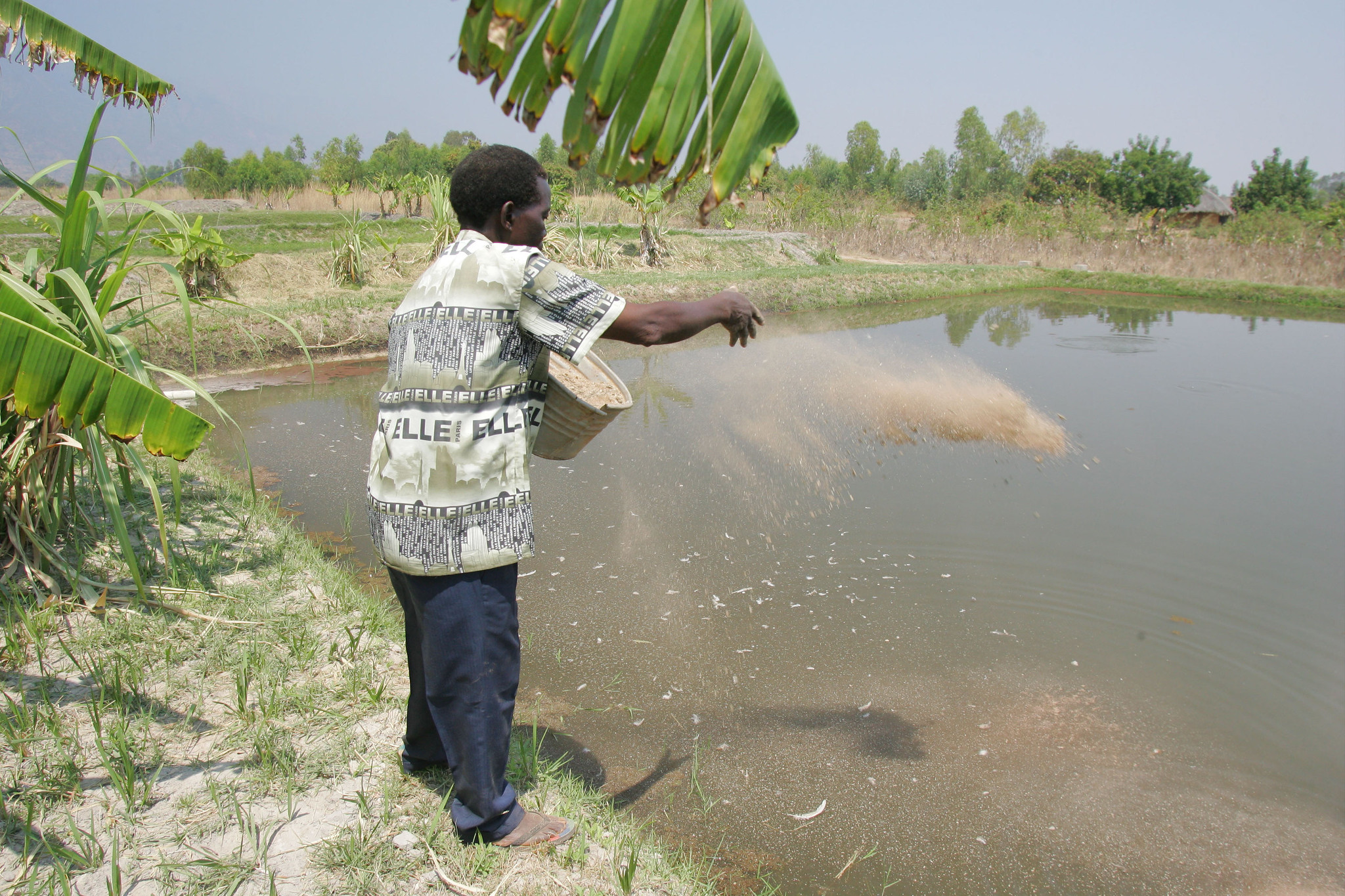 WorldFish and partners in the CGIAR are integrating land and water systems to promote circular economy approaches to food production. Holistically integrating land crops such as roots, tubers and bananas around homestead aquaculture ponds provides the opportunity to reuse agricultural waste as fish feeds. The circular model seeks to close nutrient loops and minimize the amount of external inputs used.
WorldFish's circular economy approaches through the formulation of fish feeds with agricultural leftovers like cassava and banana peels, eliminate an agricultural waste stream.  Harnessing nutrients from what might be considered agricultural 'waste' can also reduce the need for commercial fertilizers, which are commonly applied to ponds to serve the same phytoplankton-producing functions.
WorldFish is also promoting integration of aquatic foods with rice systems, which makes efficient use of resources to grow rice and fish and other aquatic foods together. This integrated aquatic-agriculture system sustainably intensifies production of diverse foods in the same space.