2 minutes read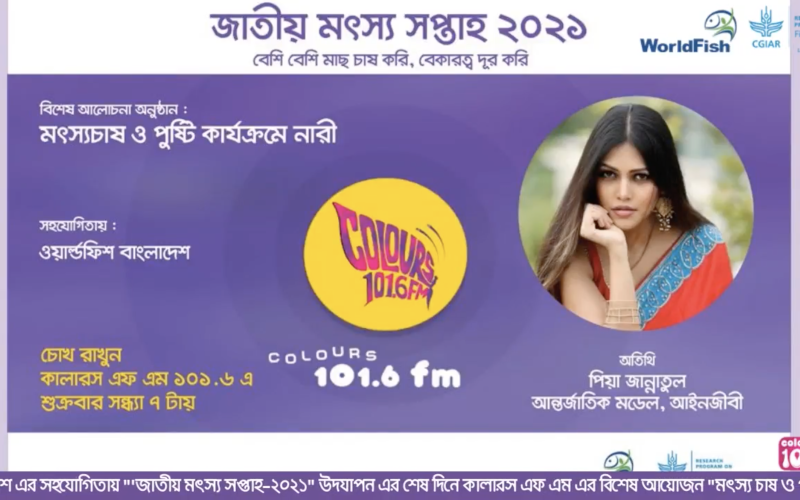 Highlights
Female members of the family, in general, are more interested in how fish may contribute to the improved nutrition of their family members especially children 
Dietary diversity is crucial to curb malnutrition and undernutrition and the micronutrients obtained from small fish consumption help to reduce diet-related noncommunicable diseases in vulnerable groups
WorldFish's initiative to increase women's empowerment through small fish production in Bangladesh's northern provinces of Rangpur and Rajshahi was featured on Colours FM 101.6 radio show Women in Aquaculture and Nutrition. 
Miss Bangladesh 2007 Jannatul Peya was the special guest of the show which was held in conjunction with the 2021 National Fisheries Week (NFW) in Bangladesh under the theme 'Cultivate More Fish, Eliminate Unemployment.' The NFW is organized annually to encourage people to explore fish farming as a sustainable source of income and nutrition.  
"I think it is fantastic that we have a week dedicated to fish. It's time to spread the word about the health benefits of eating fish," shared the 30-year-old actress. 
Aquatic food systems empower women 
Radio personality Asha Aman led the show that also featured Ishrat Zahura, a training specialist at WorldFish. Zahura shared how WorldFish is assisting prospective women fish farmers by providing them access to ponds. She explained that they are being encouraged to eat more fish for their diverse nutritional benefits.  
The idea of women being actively involved in fish farming was first a new idea to Peya, as working women in Bangladesh tend to be concentrated in the garment industry. 
"We have a saying—give me an educated mother and I promise you an educated nation. Now, I believe it is vital to have an independent mother. It is critical to assist rural women in becoming self-sufficient," added Peya, a new mother of a seven-month-old boy. 
Nutrients from small fish increases diversity of diets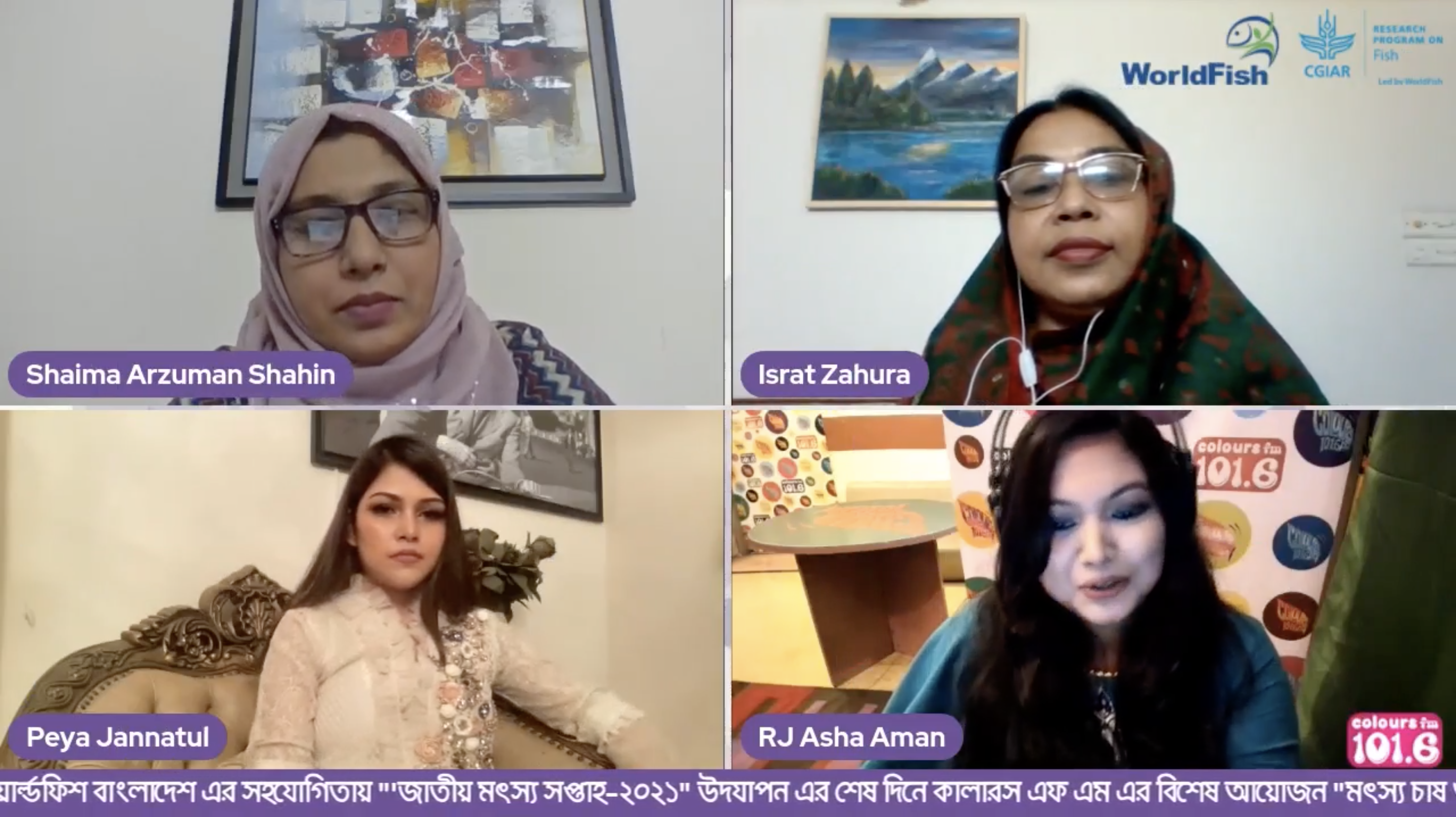 One million people listened to the broadcast via radio streaming while about 35,200 people watched it on Facebook. With young urban women as its target audience, the show also aimed to educate its audience on the importance of micronutrients from small fish, as part of a WorldFish project funded by the Bill and Melinda Gates Foundation. 
Also joining the show was Shaima Arzuman Shahin, a nutritionist with WorldFish. Shahin emphasized the need to increase dietary diversity to receive a full spectrum of micronutrients and essential fatty acids.  
Peya shared that she made a khichuri with rice, lentils and fish for her son when he first began to eat solid foods. 
"A child is attached to their mother. I am an actress, but I can't stay away to shoot for long. I have to return to my baby. Therefore, it's great that rural women are able to work in a pond close to their homes so that they don't have to be away for lengthy periods of time," she explained. 
Peya, a Facebook influencer with over 2.3 million followers, is an advocate for healthy living. In her closing remarks, she urged her followers to share the broadcast. 
"Don't only post sensational news, share this information as well which is crucial for yourself, your baby and your family."