4 minutes read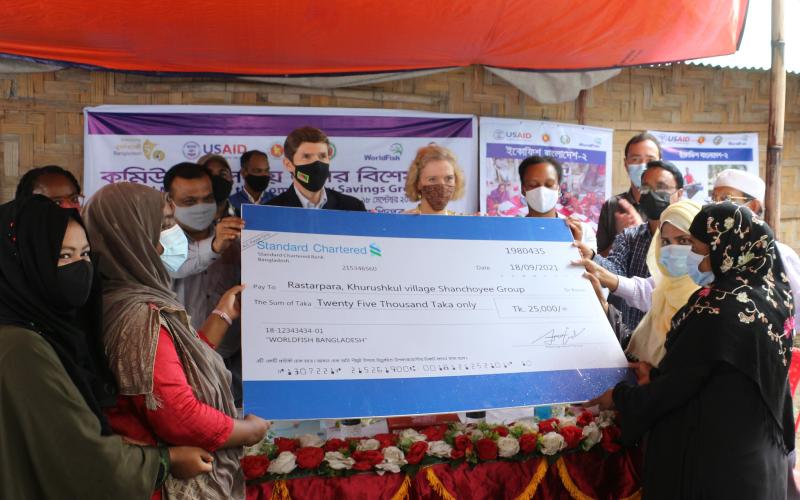 Highlights
Coastal communities are at greater risk of rising tides and the impacts of climate change 
Diversification of income helps build resilience and improve livelihoods of fishing communities 
Maintaining the aquatic biodiversity and ensuring the sustainability of aquatic food systems in the region will contribute towards Bangladesh's growing blue economy 
Around the world, aquatic food systems provide meaningful livelihoods for 60 million people and sustenance for 3.3 billion people. Apart from being a primary source of protein, aquatic foods contain micronutrients and essential fatty acids vital to the health and nutrition of 800 million people in low- and middle- income countries, yet this critical lifeline is increasingly threatened by climate change.
The Intergovernmental Panel on Climate Change's (IPCC) Sixth Assessment Report projected sea levels will continue to rise by at least one meter, even if warming is held to 1.5 degrees Celsius, threatening aquatic food systems globally. Sea level rise is becoming a particularly significant problem in the fisheries-dependent population of Bangladesh, where fish provides the majority of protein in diets and remains a major source of income.
Aquatic food systems in Bangladesh employ 11 percent of its total population and contribute about a quarter of its agricultural gross domestic product. To help farmers adapt to changing environments, WorldFish has worked with locals to diversify the income of farmers and increase their resilience to rising sea levels and extreme weather events.
A delegation that included the US Ambassador to the People's Republic of Bangladesh Earl Robert Miller recently visited a fishing village in Cox's Bazar, Khurushkul to witness WorldFish's efforts to build resilience into aquatic food systems under the USAID-funded project Enhanced Coastal Fisheries in Bangladesh Phase II (ECOFISH II).
Also present were the District Fisheries Officer SM Khalequzzaman, Ashraful Haque, WorldFish's activity manager for ECOFISH II and Marsha Michel of USAID Bangladesh.
"The US Ambassador's visit is a recognition of the successful implementation of ECOFISH II activities that were made possible through the cordial support and collaboration between Bangladesh's Department of Fisheries and WorldFish. This project has turned into a flagship activity and a gateway to the blue economy dream of the country," exclaimed Abdul Wahab, WorldFish's team leader for ECOFISH II.
Ensuring sustainability and biodiversity of Bangladesh's blue economy
During the visit, the delegation had the opportunity to observe the farming of green mussels and seaweed, an innovative ECOFISH II pilot intended to explore the potential of climate-resilient farming.
Nature-positive green mussel and seaweed farming provides alternative incomes and livelihood diversification for the fishing community, which has been affected by declines in fish populations. Mussel and seaweed farming does not require any feed or other burdensome operational costs and results in relatively fast returns. Furthermore, seaweed acts as a low-cost carbon sink, absorbing and storing atmospheric carbon.
Working together with the Department of Fisheries to preserve threatened fish stocks, WorldFish also recruits, trains and engages with hundreds of community fish guards (CFG) to ensure compliance with regulations in hilsa sanctuaries, where hilsa stocks are given opportunity to breed and recover to ensure sustainable harvesting.
Diversifying income generation through community savings schemes
Another WorldFish initiative under the ECOFISH II project has been the establishment of community savings groups (CSG). Ambassador Miller had an open discussion with members of the CSG initiative that has seen the empowerment of over 6,000 fisherwomen from more than 175 groups to date.
Consisting of 30 to 35 women from the same fishing village, each CSG provides financial literacy training over the course of six months through business literacy schools and encourages members to save 100 BDT per month in banks. As a result, the cumulative savings has now exceeded 185,000 USD. This sum is used to provide loans among members so they can diversify their income-generating activities. The Ambassador's consort had the opportunity to participate in one of the training sessions during the visit.
Ambassador Miller also witnessed how the CSG's collateral-free soft loans enabled fisherwomen to pursue diverse sources of income through livestock farming such as chickens, turkeys, ducks and goats to cope with annual marine fishing bans in March and April. Apart from livestock farming, the loans are also used to prepare land and sow seedlings to cultivate winter vegetables. These income diversification efforts not only uplift the livelihoods of coastal communities during lockdown measures to limit the spread of COVID-19 but also increase their resilience towards rising tides and the impacts of climate change.
"What is being done here is not only benefitting Bangladesh but the whole world. This is because we are tackling climate change and environmental problems together to protect our rivers and reservoirs. As a representative of the American people, I can share your work with them," concluded Ambassador Miller.