4 minutes read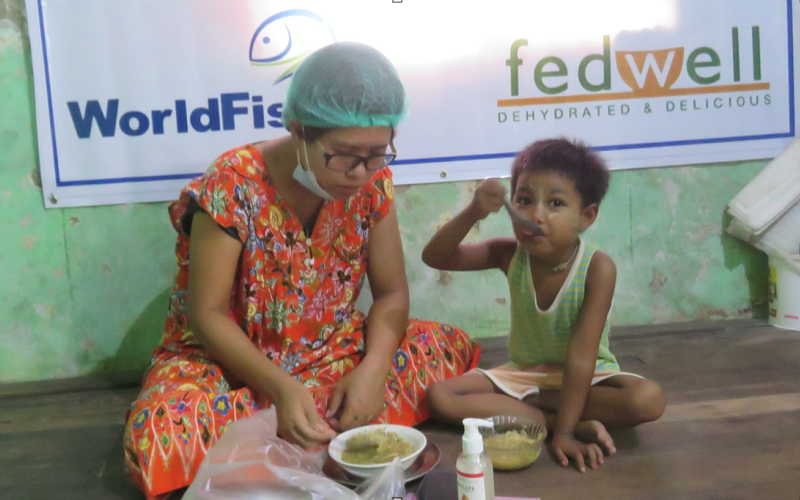 As the COVID-19 pandemic underscores the need for nutritious diets, efforts to promote dried small fish powder is offering an opportunity for accessible and acceptable forms of micronutrients needed to boost the health of young children in Myanmar.   
The COVID-19 pandemic has the country struggling to cope with increasing food and nutrient gaps, especially in poor communities, in both rural and urban areas, where many are facing disruption to their livelihoods. During the initial two-week lockdown in April, it is estimated gross domestic product dropped by 41 percent, unemployment rose to 5 million and the loss led to wasting in 110,000 children under 5 years of age. Moreover, supply chains were severely affected as border restrictions were enforced, especially on industrial inputs and the labor force.  
COVID-19 restrictions in Myanmar eased from June, however, the surge in cases at the end of August could result in a dire situation, with new restrictions, leading to worsening poverty and food and nutrition insecurity, especially among the poor and vulnerable.   
Dried small fish powder for infants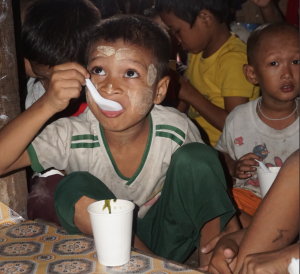 The pandemic amplifies the importance of consuming nutritious foods to maintain good health and boost the immune system, as recommended by the World Health Organization. However, only four out of ten households have access to nutritious diets in Myanmar. For poor households, fish and other animal-source foods, fruits and vegetables are not affordable, and this can lead to micronutrient deficiencies.    
Fish contributes 50 percent of animal-source foods in diets of the Myanmar people, however, the poor and those living in remote areas consume less than the non-poor and those living in urban areas, making them more nutritionally at risk. In addition to being a rich source of animal protein, fish, in particular small indigenous fish species, eaten whole (with head and bones), are rich in multiple essential micronutrients, such as vitamin B12, vitamin A, calcium, zinc and iron as well as essential fatty acids that are vital for growth, development and cognition of infants and children.  
Despite fish being a nutritional powerhouse, consumption among young children from six months of age is low, due to fear of choking on fish bones. To address the barrier, small fish ground to a powder offers mothers and caregivers an opportunity to add fish in complementary foods for infants and in family foods for older children, thereby increasing the intake of essential nutrients.   
Dried small fish powder has been introduced in communities in several countries in Africa and Asia, by WorldFish and partners. To explore suitable entry points for introducing small fish powder in Myanmar, WorldFish, through the Fish for Livelihoods project (2019-2024), funded by USAID is collaborating with a local business partner, FedWell Foods.  
Engaging the private business sector for impact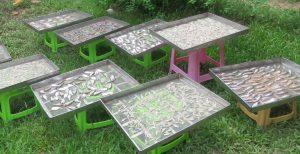 FedWell Foods, which started in Myanmar from 2012, produces and sells nutritious food products, such as Alpha-nutri soup, Alpha protein soups, and through partnerships with NGOs, charity organizations and retailers, the products reach poor and vulnerable groups, including internally displaced people, disaster-stricken families and orphans.  
FedWell Foods sees adding dried small fish powder to products as an opportunity to substantially increase their nutritional value. Working alongside WorldFish provided the expertise to explore the opportunities and to develop the initiative to suit the needs and tastes of the Myanmar market.   
In a current trial, small indigenous fish species are dried using a dehydrator and then ground to a fine powder. Other food ingredients such as chickpea powder, sweet potato powder, palm sugar and salt are added to make dried small fish powder mixtures. These mixtures can be incorporated in FedWell Foods products such as rice porridge, soups and noodles, thereby making them much more nutritious.  
Based on the results of taste test sensory evaluations, gaining opinions on texture, composition, smell, flavor, by different population groups, the dried fish-based recipes are adapted to meet overall preferences. Cost analyses will be carried out in order to determine the selling price and profit margin of the products.   
FedWell Foods will ensure that the dried small fish powder mixtures meet the food safety standards for consumption by subjecting them to laboratory analyses of contaminants, such as microbial and heavy metals. At the same time, nutrient analyses will be conducted in order that the contribution to recommended nutrient intakes can be declared. This approach will assure consumers that the FedWell Foods products are safe, nutritious and of good quality.   
WorldFish and FedWell Foods will promote the products through the Scaling Up Nutrition (SUN) Business network. This network consists of private companies that share a vision of improving the nutritional well-being of the people in Myanmar. Its members can provide inputs to FedWell Foods for improving its products and can also raise awareness on the use and benefits of dried small fish powder among the public. Increasing the supply of and access to nutritious foods such as dried small fish powder mixtures is especially timely, in light of the detrimental effects of COVID-19 on people's health and nutrition in Myanmar. 
This blog was written by:
Quennie Vi Rizaldo, Human Nutrition Specialist, WorldFish
Heather Morris, Project Manager, Development of Dried Small Fish Powder Project, FedWell Foods Company