3 minutes read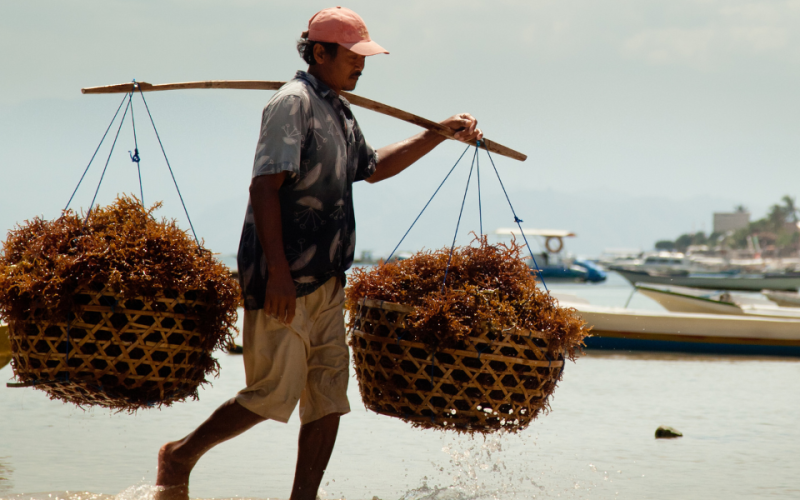 Highlights
There is potential for seaweed to help sustainably meet the food security and nutritional needs of an expanding population in low- and middle-income countries

(LMICs)

amidst the climate crisis.

A new paper published by scientists from WorldFish and Tufts University

explores opportunities and challenges relating to the farming and commercialization of seaweed, especially in the coastal zones of LMICs.

While seaweed has multiple benefits to human health and the environment, data gaps impede the

full understanding of its trends, patterns, and potential as a sustainable food frontier.
Globally, seaweed production has grown by nearly 75 percent in the past decade. What started as a complementary snack in sushi rolls, miso soups, wraps, and salads has become a hot commodity due to its perceived potential and opportunities to mobilize a global revolution for sustainable, healthy, and climate-equitable diets.  Whether cultivated or caught from the wild, much of today's seaweed production originates from the Asian continent but is growing in Africa, Latin, and North America.
Could we—and should we—look to seaweed as the new big crop that can help us address the complex challenges of sustainably meeting the nutrition needs of an expanding population even as we fight climate change? 
A new paper 'Seaweed's contribution to food security in low- and middle-income (LMIC) countries: Benefits from production, processing and trade,' published by WorldFish scientists in collaboration with Tufts University in the leading research journal Global Food Security, explores opportunities and challenges relating to the farming and commercialization of seaweed in low- and middle-income countries (LMICs).  
The publication reviews the existing body of knowledge to analyze the benefits of seaweed, including its resource efficiency, mitigation of greenhouse gas emissions, and nutrient-rich properties. Subsequently, it identifies data gaps in fully understanding the seaweed trends and patterns and its potential to address food insecurity and poor nutrition in LMICs, along with mitigation of food systems' carbon footprint — evidence that will be critical to informing policymaking and investments in embracing seaweed as a frontier for sustainable transformation of our food, land, and water systems.
Realizing the potential of seaweed: The hurdles
The paper identifies three major hurdles that the global community needs to overcome to fully understand seaweed and to subsequently tap into its potential: 
First, much more needs to be understood about seaweed's potential net nutrition and health benefits as there remain significant evidence gaps, particularly in undernourished or at-risk populations in LMICs.

Second, since there is so little production or consumption of seaweed in LMICs where food insecurity is high, building up domestic capacity for farming, processing, and trading seaweed will require significant public and private investment in the coming years.

A third challenge is that official data on seaweed production, trade, and consumption are gravely lacking in terms of accuracy and coverage. As a result, national and global statistics on patterns and trends should be treated cautiously.
"At WorldFish, we are watching the current seaweed boom and asking ourselves whether this is going to translate into affordable food for nutritionally vulnerable people in the tropics, is it going to support good jobs and household income sources for coastal people living in poverty - and a significant and viable pathway to sequester carbon? The science isn't settled, and we don't know enough about potential markets, people's food choices, and production economics to get behind scaling seaweed farming in the tropics as a solution to poverty, malnutrition, and climate change.  We are learning more from our pilot trials off Bangladesh's Cox's Bazar under the Enhanced Coastal Fisheries in Bangladesh (ECOFISH) Phase II project funded by USAID," further points out Edward Allison, Acting Director, Sustainable Aquatic Food Systems, WorldFish.
Access the full paper 'Seaweed's contribution to food security in low- and middle-income (LMIC) countries: Benefits from production, processing and trade.'