5 minutes read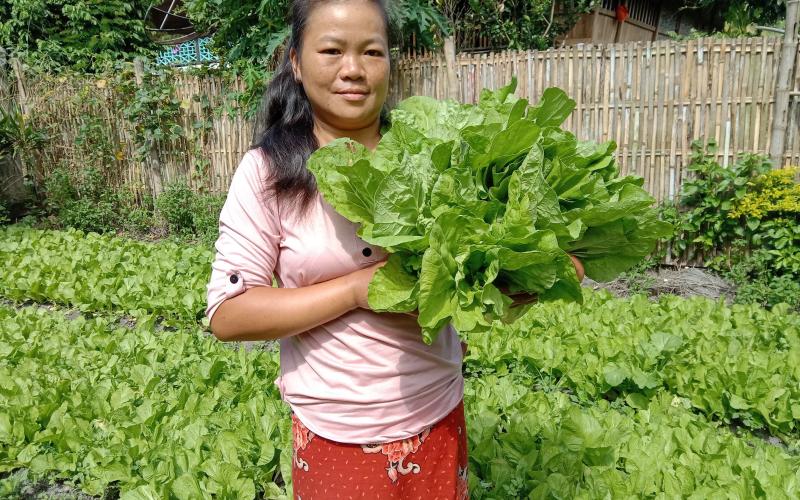 Looking at aquaculture through a nutrition lens is leading production and dietary shifts toward diverse, nutritious fish and vegetables for women and their families in inland Myanmar.
For Daw Ng Sheng Phoo, a 42-year-old mother and fish farmer, small fish have become a surprising addition to the nutritious meals she prepares for her family of five in the rural village Loi Lone, located in the eastern Shan State on the Thailand and China border.
Unaware of the nutritional value and tasty flavor of the small indigenous fish species that grow in their pond, Sheng Phoo and her husband used to remove them, thinking this would improve the productivity of the larger species, tilapia and carp, they rear for sale. But since learning small fish will provide essential micronutrients—including calcium, iron, zinc, vitamin B12 and vitamin A—that improve the cognitive development of their children, they now leave and culture them in their pond—at no cost to the production of the larger fish—and make sure they are a regular part of family meals.
For the last two years, Sheng Phoo's family has been participating in efforts by WorldFish and partners to boost the health and income of inland Myanmar's small-scale freshwater aquaculture producers. The nutrition-sensitive interventions address the underlying determinants of micronutrient deficiencies by promoting the production and consumption of locally-available nutritious foods.
As a result of awareness raising through the inland component of the Myanmar Sustainable Aquaculture Program (MYSAP), the family now grows a diverse range of local vegetables and fish in its backyard garden. This integrated farming approach has improved access to a diverse diet; which sees them regularly consume tilapia, rohu carp and small indigenous fish species as well as mustard leaves, pumpkin, tomatoes, French and long yard beans and carrots.
"Since learning about the nutritional value of small fish and different vegetables, we have increased the number of diverse foods we grow and eat," Sheng Phoo said. "As fish and vegetables from our pond and garden are easily accessible, we consume them nearly every day with most meals."
"Now we do not need to buy vegetables; we can save our money for other expenses," she added. While tilapia and rohu carp are sold for income, small indigenous fish species can be harvested 2 to 3 days per week and eaten by the family without additional expense.
Guiding behavior change toward nutrition-sensitive aquatic food systems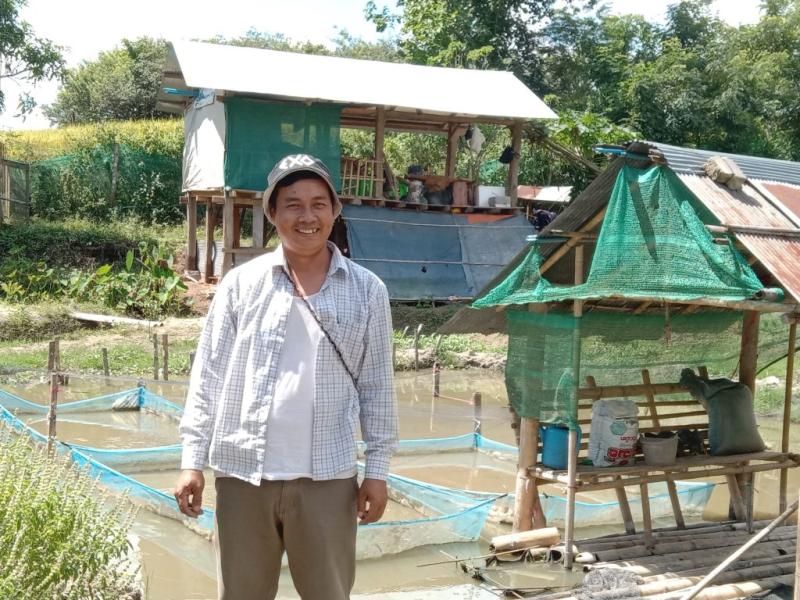 Educating small-scale producers on the nutritional value of diverse foods inspires shifts in homestead pond production that improve access to sustainable and nutritious diets, said WorldFish project leader Don Griffiths, who manages nutrition-sensitive aquatic food systems through the inland component of the EU-funded MYSAP.
"Rather than focusing just on fish farming for income, the move to a nutrition focus is leading to increased production and consumption of aquatic foods such as small fish that grow in ponds with diverse vegetables, including spinach, pumpkin, tomatoes on the surrounding embankments," he explained.
Results from the MYSAP Minimum Dietary Diversity for Women report show the increased availability of diverse and nutritious foods in the home has improved the diversity of women's diets. Nutrition sensitive-approaches are proving to be a solution for improved health in a country where only four out of ten households have access to nutritious diets, Griffiths asserted.
The shift in behavior can be attributed to a multi-pronged approach with development and government partners that includes training, cooking demonstrations, educational events, and the distribution of information and communication materials focusing on the benefits of eating fish and vegetables, and increased dietary diversity. These include posters showing different food groups, the benefits of eating small indigenous fish species, and recipes for easy-to-cook dishes like fish balls. As of December 2020, there are also 60 families who open their homes to demonstrate the benefits of nutrition-sensitive approaches to aquaculture.
Through community cooking demonstrations, Sheng Phoo has identified recipes to prepare small fish with vegetables in safe and attractive ways for her children. "My family now enjoys steamed or deep-fried small fish, cooked with onion, garlic, ginger, lemon grass, parsley and a tablespoon of oil and some salt," she said.
The demonstrations include practical lessons on how to clean and cook small fish so that they are eaten whole—heads and bones included. Eating small fish whole ensures a higher nutritional value compared to just a fish fillet, said Quennie Rizaldo, a WorldFish human nutrition specialist.
"For poor households, fish and other animal-source foods, fruits and vegetables are not affordable, and this can lead to micronutrient deficiencies. Increased education on which foods to grow and cook increases household food choices and nutrient intake," Rizaldo said.
"Having a diverse diet is equivalent to having adequate micronutrients that are needed by the body. Fish eaten together with vegetables is a good combination of a nutritious meal."
The integrated farming systems generate more food and income from the homestead. Providing a sustainable production model, where water from the pond is used for crops and livestock, while their residues nourish the pond, feed fish, and fertilize soils; reducing money spent on inputs, she added.
Scaling out to fight malnutrition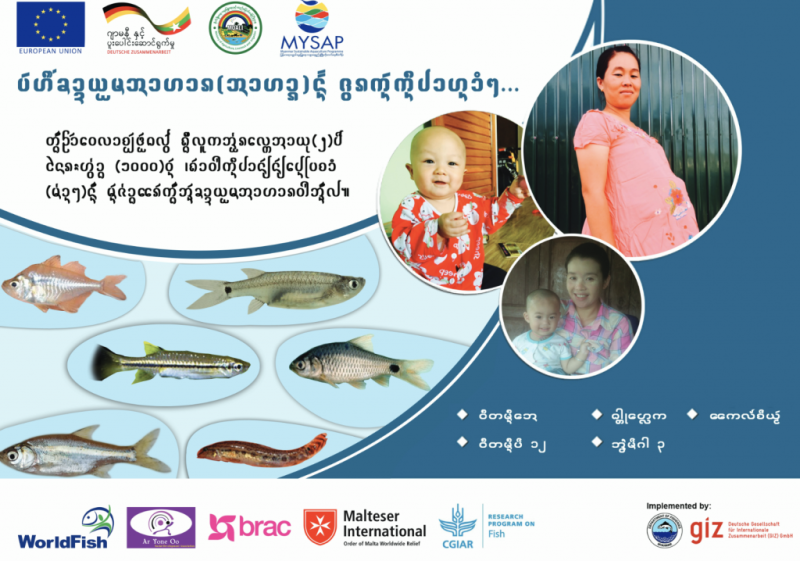 In a country where at least one in every three children under five years of age suffers from stunting, and one in every five is underweight, the nutritional contribution of diverse fish and vegetables to the diet is vital. WorldFish is working closely with Save the Children Myanmar and local organizations to train community facilitators to raise awareness of the benefits of eating fish and of improving dietary diversity, focusing on women and children in the first 1000 days of life.
"Working alongside WorldFish, Save the Children staff has increased knowledge about the nutrition values of fish, and how livelihood and food security can be obtained through small-scale aquaculture and small fish consumption," said Saw Eden, a nutrition program advisor with Save the Children. "Our facilitators also learned how small fish can be prepared for complementary feeding, and how to choose indicators about fish culture and consumption for nutrition plans."
In a bid to expand nutrition-sensitive aquatic food system approaches in Myanmar, WorldFish through MYSAP is collaborating with a private company to trial the addition of dried small fish powder to products such as soup mixes, in order to substantially increase their nutritional value. Efforts to promote small indigenous fish as a well-liked and highly nutritious food have also been enforced by partnerships with the Scaling Up Nutrition Civil Society Alliance (SUN CSA), the World Health Organization, UNICEF, World Food Program, FAO, the National Nutrition Center under the Ministry of Health and Sports, and the Department of Fisheries, among others.
Acknowledgments:
Myanmar Sustainable Aquaculture Program (MYSAP)
MYSAP is funded by the European Union (EU) and the German Federal Ministry for Economic Cooperation and Development (BMZ) and is implemented by Deutsche Gesellschaft für Internationale Zusammenarbeit (GIZ) GmbH and the Department of Fisheries, Ministry of Agriculture, Livestock and Irrigation, The Republic of the Union iof Myanmar. WorldFish Myanmar is implementing MYSAP's inland component under a GIZ grant agreement, with Ar Yone Oo, BRAC Myanmar, and Malteser International as sub-contracted implementing partners.
Download MYSAP's nutritious fish-based recipe. Below