5 minutes read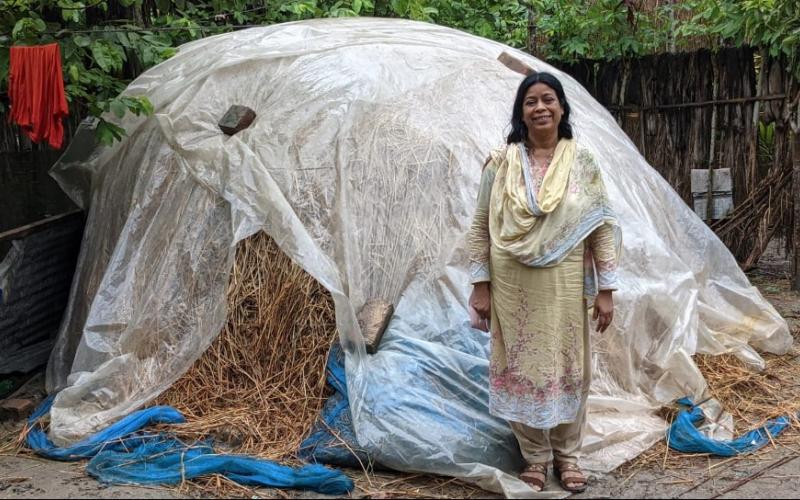 Highlights
WorldFish researcher Sajeda Yasmin discusses her efforts to make aquaculture more gender-inclusive in Bangladesh.
WorldFish and the CGIAR Research Program on Fish Agri-Food Systems (FISH) are global leaders in aquatic food systems research and innovation for healthy people and planet, and science and partnerships are the foundation of our work. Our team delivers robust evidence to policymakers and technological innovations to producers, value chain actors and consumers in order to transform food systems. In this series, we profile our accomplished scientists in the spotlight.
Sajeda Yasmin is WorldFish's gender specialist based in Dhaka, Bangladesh. Yasmin's research focuses on gender inclusion in market systems, and she works to design and implement gender-inclusive financial interventions in rural communities. She collaborates on projects that address market system development, food security, gender equity, education and violence against women. Yasmin has also developed the Empowerment, Knowledge and Transformative Action model (EKATA) used to empower women and adolescent girls in Bangladesh. 
What are you currently working on for WorldFish?
I work as the Gender Specialist for WorldFish's Feed the Future Bangladesh Aquaculture Activity project funded by USAID. In this capacity, I provide technical guidance to the Women in Business Gill Nets project and work to support women's financial autonomy.
The project is working to engage women in aquaculture and supports women fish farmers, processors and traders through the development of women-only business centers, where they can come together to develop new skills and income opportunities. Due to social norms and a traditionally conservative culture in Bangladesh, rural women often lack access to income-generating activities and financial services. The project delivers training courses on farming nutrient-rich mola fish, harvesting using gill nets and marketing fish to consumers in order to empower women through aquaculture.
My responsibility in the project is to assure that the women entrepreneurs are receiving equitable opportunities to enhance their capacity and to increase their production, customer base and income.
How do gill nets support women's autonomy?
In Bangladesh, both women and men are actively involved in aquaculture, but women are often relegated to gender-based informal roles like fish processing. Women face barriers that prevent them from farming and catching fish, even from their own homestead ponds.
Gill nets are innovative nets that enable women to enter aquaculture ponds and harvest fish without getting their sarees wet—which then need to be washed and hung out to dry. With gill nets, women can stand on the pond bank to collect fish for family meals and markets without having to worry about the extra burden. Before the gill net technology was introduced, they would often just wait for their husbands to catch the fish for them. Gill nets are one of a number of innovations supported by the Women in Business Centers established by the project.
What's the most exciting part of your research in the project?
Developing inclusive market systems is an exciting part of my research. These systems help to engage and benefit a range of actors including the poor, women, youth, ethnic minorities and other marginalized groups who are often excluded—or even exploited—by traditional market systems.
In inclusive market systems, such actors are able to acquire access to the opportunities, skills and resources to engage fairly. Systemic interventions can lead to change in market systems resulting in inclusive growth. My work fulfils me by giving me the chance to develop more equitable economic opportunities for vulnerable people.
What's your favorite part about the research process and why?
The research process gives me an opportunity to critically think about the root causes of gender inequality and develop innovative solutions. I enjoy identifying potential fixes for the economic disenfranchisement of women and working to understand the different dimensions of gender and how they operate.
What are you doing to make aquaculture more gender-inclusive?
I am helping to build the capacity of women entrepreneurs through a training of trainers approach, which involves peer learning and mentoring. Approximately 100 women entrepreneurs have been trained in aquaculture learning modules, and they were taught to deliver the knowledge back to their communities and educate other women. These capacity building efforts are intended to reach 10,000 women fish producer group members and provide new knowledge on managing, harvesting and marketing mola fish.
In my current role, I assist the business center members in developing their business plans. I guide partners to connect the women entrepreneurs to input and output markets to profitably sell their products, and I also provide financial guidance. I believe women need to be empowered and encouraged to engage in aquaculture in order to equitably reap the sector's benefits.
I'm also working to build resilience in market systems and helping aquaculture value chain actors to adapt to COVID-19. Improving women's digital literacy and access to new technologies is essential to ensure they are not left behind. Certain mobile applications can assist women in connecting to markets or determining the retail value of their products.
What is your most memorable experience working with fisherwomen in Bangladesh?
I have enjoyed working with rural women to improve their fish farming practices and autonomy. Through conversations in the field, I've learned that rural women would like to be income earners and financially contribute more to their family. The conversations I have with rural women are always memorable when they discuss their desire to be seen as equals.
It's been shown that family conflicts are reduced when women contribute to household income and are seen as equal providers by their partners, so I think this is a very important intervention to support gender equality.
What outcomes do you hope will come from your research?
We already know that women in the aquaculture sector are still undermined and unrecognized. Women also tend to be more comfortable working in their traditional informal roles as fish processors, rather than as farmers or input and output market actors because these roles are often reserved for men.
From my research, I would like to help successful women entrepreneurs act as role models for other women in their communities. I want women to see they can operate hatcheries, market fish feed or fingerlings and even harvest fish on their own. I hope my research empowers women to support each other and fosters a network of women engaged in aquaculture value chains.
I would ultimately like to see women gain equitable access to finance, resources and technology. Overall, my biggest hope is to change the life of women market actors.
Sajeda Yasmin's work in the Feed the Future Bangladesh Aquaculture Activity project contributes to the goals of the CGIAR Research Program on Fish Agri-Food Systems (FISH) under its Flagship Program on Sustainable Aquaculture.