5 minutes read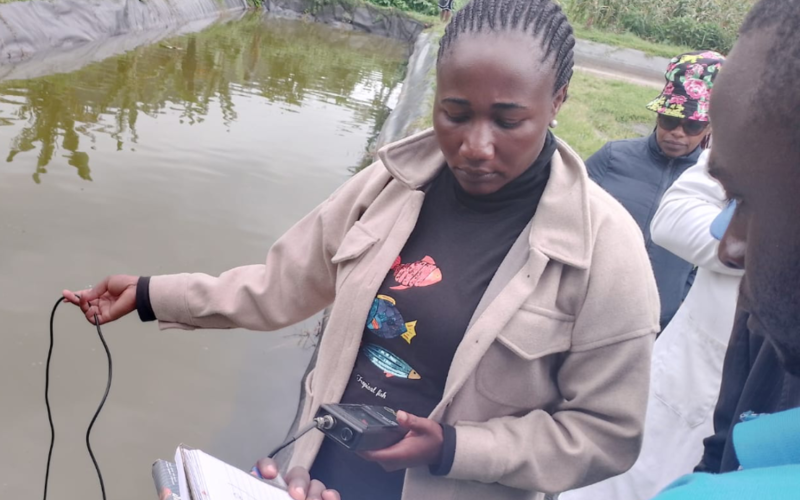 WorldFish is a global leader in aquatic food systems research and innovation, and science and partnerships are the foundation of our work. Our team delivers robust evidence to policymakers and technological innovations to producers, supply chain actors, and consumers to transform food systems. In this series, we profile our accomplished scientists in the spotlight.
Mercy Matuma Hamisi is a master's student at the University of Nairobi, Kenya. Her academic focus is on the management and protection of the Jipe Tilapia (Oreochromis jipe), an endangered fish from Lake Jipe. As a youth advocate, she has a strong passion for the sustainable growth of the blue economy, particularly in fisheries and conservation. Hamisi is also one of the six recipients of the Aquatic Animal Health (AHA) project scholarship, funded by the Norwegian Programme for Capacity Development in Higher Education and Research for Development (NORAD), in partnership with WorldFish, Egypt, and the Norwegian Veterinary Institute, Norway.
What are you currently working on at WorldFish?
I am a student in the Aquatic Animal Health program, which is funded by the Norwegian Programme for Capacity Development in Higher Education and Research for Development and jointly implemented by WorldFish and the University of Nairobi, Kenya. I am currently working on the potential of pathogenic, which is a bacteria that has the potential to cause infection in fish, and zoonotic, a bacteria that are can be transferred from animal to humans and vise versa, a bacterial infection facing the 'Orechromic Jipe' of Lake Jipe in Kenya. I will be publishing the results of my research work to the public soon.
What attracted you to join WorldFish and/or Aquatic Animal Health program in our Fish Africa Innovation Hub (FAIH) in Egypt?
My interest in WorldFish started when I had just finished my undergraduate degree in Applied Aquatic Science and was working for the County Government of Taita-Taveta Kenya. While working with local fish farmers in the region, I started receiving complaints about the massive mortality of their farmed Tilapia, which were unusual yet persistent and I could not find a viable solution to help the fish farmers. To enhance my understanding and knowledge of the situation, I joined WorldFish's Aquatic Animal Health Program.
What's your most memorable learning experience in the Aquatic Animal Health program?
My most memorable learning experience was when I traveled to Egypt to visit WorldFish's Fish Africa Innovation Hub. I learned about the types of diseases that can infect Tilapia and Catfish – the most cultured species in Kenya – and the most practical biosecurity technique for fish farming at the community level.
I also learned about the hybrid Egyptian fish strain, which sparked my research interest in the endemic species 'Orechromis Jipe' from Lake Jipe in Kenya. Here, I was surprised to find out that different fish strains are susceptible to different types of pathogens, and that some fish pathogens are also zoonotic (can be spread from animals to humans and vice versa)  and are of public health concern.
What's the most exciting part about your involvement as a young researcher in this research area?
As a young researcher, I am excited to complete my research training course and contribute to the growth of the aquatic animal health sector in my country and the world. With the development of more intensive culture systems for producing aquatic foods in Africa and the increasing international trade of aquatic animals, I am excited to contribute my research capabilities to the sustainable and inclusive development of sound policies and regulations for a thriving aquatic foods sector across the African continent.
How does your current research work support youth and social inclusion in aquatic food systems?
The Aquatic Animal Health program encourages the participation of young people across Africa. There are currently 7 youths from Kenya enrolled in the program, namely 1) Mercelline Ndinda who works on "Effects of postbiotics supplementary on growth performance, haematological parameters and disease resistance in Nile Tilapia fingerlings," 2) Cidee Khaseke who works on "Occurrence of antimicrobial resistance bacteria and antibiotic residues in Oreochromis Species in open and closed farming systems in selected counties,"
3) Finnan Agengo who works on "Effects of working on the water quality on prevalence and intensity of parasitic infections of Tilapia fish in selected counties in Kenya," 4) Victor Angewenyi who works on "The effects of different dietary protein sources on growth performance water quality, haematological parameters and disease resistance in Nile Tilapia fingerlings," 5) Jacob Munene who works on "Prevalence, intensity and effects of fish parasites on Nile Tilapia hatcheries in Homabay County, Kenya," 6) Joseph Ndegwa who works on "Characterization and pathogenicity of Aeromonas isolates recovered from an aquaculture farm with high fish mortality in Narok County, Kenya."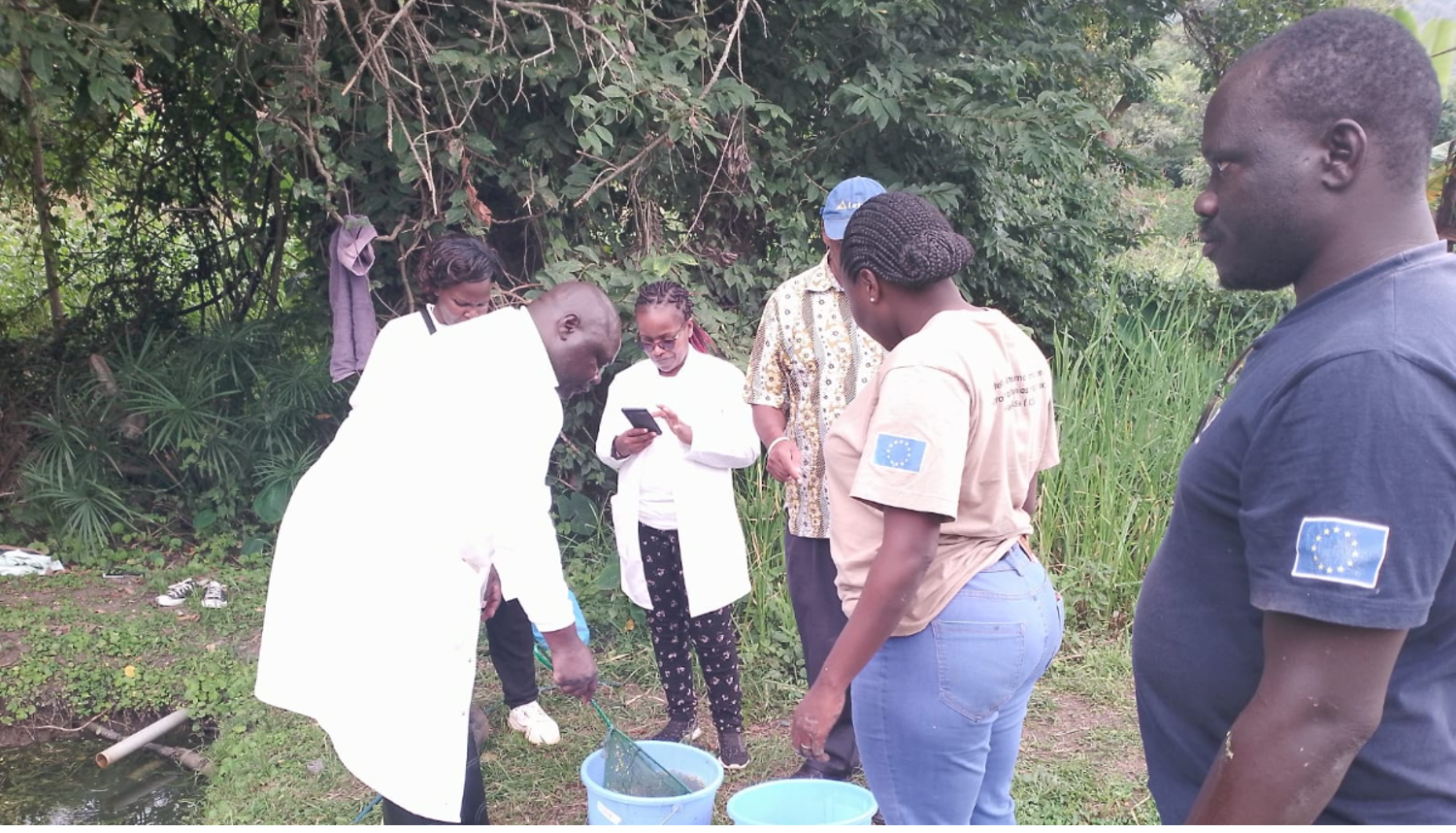 What research innovation do you think has the most significant potential to achieve a thriving Africa with aquatic foods?
I think the adoption of sound technologies in aquatic food management has the most potential to achieve a thriving Africa with aquatic foods. For example, technologies to enhance proper aquatic health management and the scaling of innovations to produce high-quality, nutritious fish feeds, can improve the sustainable production of aquatic foods, and thus make the industry more profitable and more attractive, especially for women and youth to take part in.
How can we promote opportunities for youth participation in aquatic food systems through research, entrepreneurship, and vocational skills?
To attract more youth participation, we must ensure the aquatic foods sector is as  inclusive  as possible by providing more opportunities for capacity building. For example, youth can be trained on the best technologies in the sector that can curb the issues of climate change, and provide scholarship, grant, and loan programs to pursue Bachelor, Master, PhD, and even post-doctoral studies. This can also be extended to technical and business training.
Lastly, it is extremely important to encourage knowledge exchange between researchers and the fisheries communities on the ground. They have very crucial, indigenous knowledge on almost all the fish species in their ecosystems, and by facilitating the exchange of knowledge more flexibly and inclusively, we can improve our understanding beyond the traditional classroom setting.
What do you hope your research ultimately achieves?
I believe my research can increase our understanding of the potentially pathogenic and zoonotic bacterial infection affecting 'Orechromis Jipe' and conclude whether they are affecting the mortality and extinction of the fish species in Lake Jipe. I also believe my research can be utilized to develop a management practice of introducing an extinct species to aquaculture.