5 minutes read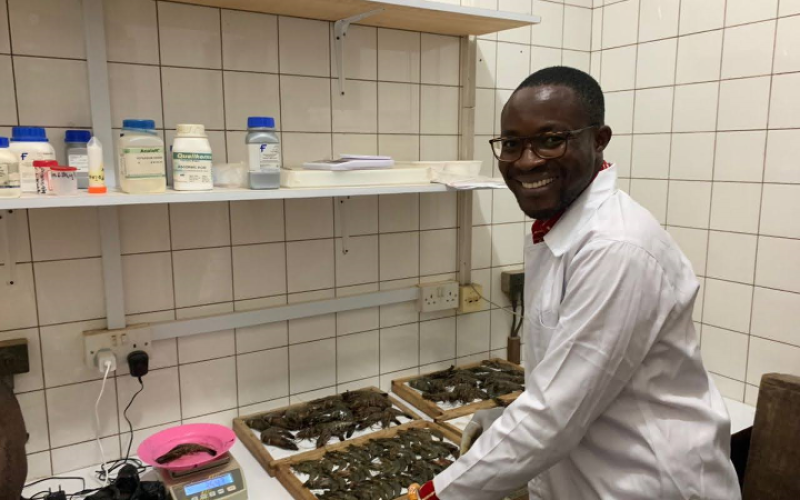 WorldFish is a global leader in aquatic food systems research and innovation, and science and partnerships are the foundation of our work. Our team delivers robust evidence to policymakers and technological innovations to producers, supply chain actors, and consumers to transform food systems. In this series, we profile our accomplished scientists in the spotlight.
Philip Kwasi Banini is a master's student at the University of Ghana. He is also the Executive Secretary of the Anlo Youth Council (https://anloyouth.org/), a community-cantered advocacy, non-governmental, non-profit organization, co-founder of iWatch Africa (https://iwatchafrica.org/ ), a Policy Think-Tank and one of the six recipients of the Aquatic Animal Health (AHA) Project Scholarship funded by the Norwegian Programme for Capacity Development in Higher Education and Research for Development (NORAD), in partnership with WorldFish, Egypt, and the Norwegian Veterinary Institute, Norway.
What are you currently working on at WorldFish?
I am one of the six recipients of the Aquatic Animal Health scholarship program funded by NORAD, in partnership with WorldFish Egypt, and the Norwegian Veterinary Institute, Norway where I am pursuing a master's degree in Aquatic Health Management Systems at the Department of Marine and Fisheries Sciences at the University of Ghana, Legon. My focus is specifically on the molecular investigation of major viral pathogens of the Giant Tiger Shrimp Penaeus Monodon along the coast of Ghana.
The others enrolled in the program are Issifu Kwame working on "Farm practices and biosecurity measures adopted by fish farmers in the eastern region of Ghana", David Batsa Narteh working on "Effects of hyperthermia treatment on Infectious Spleen and Kidney Necrosis Virus (ISKNV) infection in fry of cultured Nile tilapia in Ghana", Mabel Ackah working "Parasitic infestation of cage-cultured Nile tilapia", Abigail Amankwah working "Comparative study of the efficacy of traditional and chemical methods in the treatment of saprolegniasis in Nile tilapia" and finally, Kofi Ferni Anyan working on "Effect of commercial dietary probiotics on growth performance and disease resistance of the Nile tilapia in Ghana."
What attracted you to join WorldFish and/or Aquatic Animal Health program in our Fish Africa Innovation Hub (FAIH) in Egypt?
My research interest in shrimps and their related pathogens in Africa motivated me to join the Aquatic Animal Health program, a partnership and collaboration with expert institutions that facilitate the transition for African countries to develop and implement better biosecurity governance.
This is a joint project between WorldFish and the Norwegian Veterinary Institute which utilizes research expertise in aquaculture, aquatic animal health, epidemiology, molecular diagnostics, and vaccinology networks to support research and education in aquatic animal health management under the broader framework of One Health in Sub-Saharan Africa.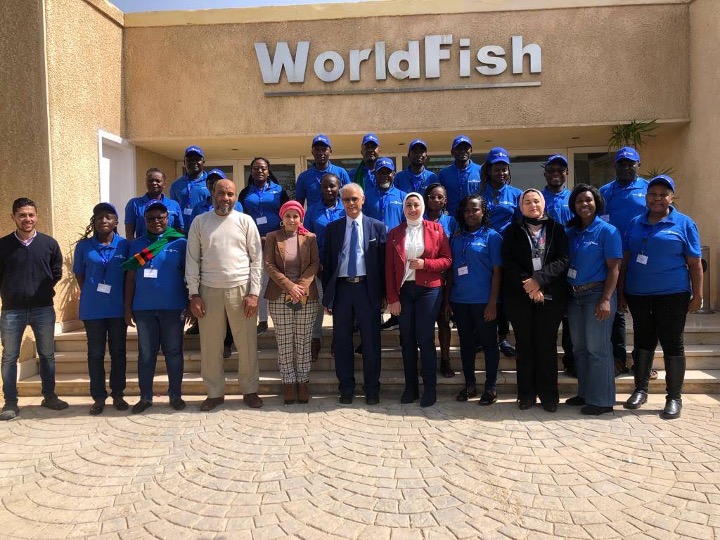 What's your most memorable learning experience in the Aquatic Animal Health (AHA) program?
The most memorable learning experience was the visit to the Fish Africa Innovation Hub (FAIH) in Egypt and the 2023 Africa Food Systems Forum (AGRF) in Tanzania. These trips exposed new knowledge of sustainable aquatic food systems and the untapped potential to transform food and nutrition security in Africa. These also include the number of innovations, tools, new knowledge, and business entrepreneurship models that can transform livelihoods, food, and nutrition access for communities in Sub-Saharan Africa.
What's the most exciting part about your involvement as a young researcher in this research area?
As a young researcher, my involvement in the area presents a great opportunity for knowledge sharing and learning, relearning, and unlearning by meeting experts such as farmers, aggregators, professors, communities, and organizations from various knowledge and cultural backgrounds. The networking and knowledge exchange I am part-taking in will play a crucial role in my education and career prospects, contributing to sustainable development and effective decision-making processes focusing on how acoustic animal tracking can contribute to achieving Sustainable Development Goal 14 (SDG14), which aims to conserve and sustainably use the oceans, seas, and marine resources.
How does your current research work support youth and social inclusion in aquatic food systems?
My current research is supported by NORAD under the AHA project. We are a group of 12 youth master's students who are identifying and addressing research/knowledge gaps on aquatic animal health management in Ghana and Kenya. The end goal is to ensure the new knowledge findings on aquatic animal health are made available to relevant stakeholders such as the Department of Fisheries, policymakers, academic institutions, and extension agents from the public and private sectors in Ghana, Kenya, and other African countries.
 What research innovation do you think has the most significant potential to achieve a thriving Africa with aquatic foods?
I believe the formulation and revision of enabling policies and regulatory frameworks have the most significant potential to position and promote aquatic foods within Africa's agricultural research agenda, food production, consumption, and regional trade discourse. Additionally, encouraging the exchange of knowledge and usage of technologies is also key to addressing social and gender norms and unleashing the potential of women and youth to participate and thrive in the sector.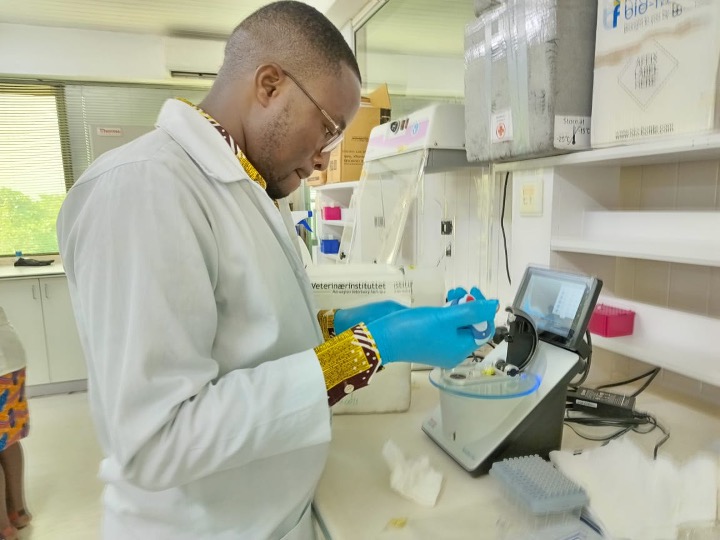 How can we promote opportunities for youth participation in aquatic food systems through research, entrepreneurship, and vocational skills?
I encourage the enrolment of more AHA-related projects from governments and funding agencies to pursue climate-smart aquaculture in rural communities in Africa. The AHA Project looks for talented students with background and interest in one or more domains of the following areas: fish biology, epidemiology and aquatic animal health management, microbiology, parasitology, virology, rapid molecular diagnostic, vaccinology, antimicrobial resistance, and contaminants, policy analysis or economic. The studentship covers the cost of tuition fees, travel, research, thesis production, and publication plus a stipend for 2 years.
 What do you hope your research ultimately achieves?
With increased intensification and the resultant proliferation of shrimp diseases, my research on shrimps in Ghana will help us better understand disease epidemiology and control mechanisms in cultured shrimp groups. It is going to realize the importance of biosecurity governance and building better aquatic animal health research capacity and management to support the sustainable development of aquaculture in the country. It also hopes to bring international partnerships and investments with expert institutions that will facilitate the transition for African countries to develop and implement better biosecurity governance to protect human health and the environment.