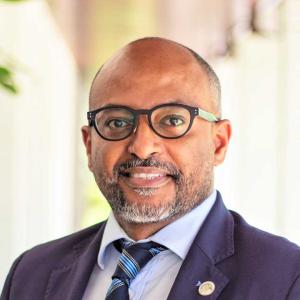 Position
WorldFish Director General & CGIAR Senior Director of Aquatic Food Systems
Dr. Essam Yassin Mohammed formally assumes the WorldFish Director General and CGIAR Senior Director of Aquatic Foods roles after serving as interim since 4 January 2022. Prior to stepping up to the helm at WorldFish, he was the Global Lead for Climate Resilience and Environmental Sustainability. Hailing from Eritrea, Dr. Mohammed will be WorldFish's first Director General of African descent. 
While he was with the International Institute for Environment and Development (IIED), he was the Head of Blue Economy. In addition to his academic and professional experience as a fisheries scientist, he has worked in both governmental and non-governmental research institutes on a wide range of topics, such as the economic valuation of environmental goods and services and fiscal reforms to connectivity between high seas and territorial waters and the climate change and food security nexus; all with a strong focus on influencing policy processes to promote fair, inclusive and sustainable ocean-based economies at national and global levels.
Hailing from Eritrea, Essam has more than 19 years of international, multi-country experience in Sub-Saharan Africa, (South, South East and East) Asia, Latin America and Europe. He has advised many governments including (and not limited to) Bangladesh, Brazil, Costa Rica, Cambodia, Mozambique, Tanzania, Myanmar, Vietnam, Albania, Egypt and Lebanon.
He is a member of several advisory bodies including the Group of Experts for the second cycle of the Regular Process for Global Reporting and Assessment of the State of the Marine Environment, including Socioeconomic Aspects of the United Nations.