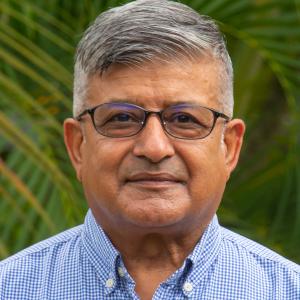 Dr Jharendu Pant
Senior Scientist
Sustainable Aquaculture Program
WorldFish, Penang, Malaysia, PO Box 500 GPO, 10670 Penang, MALAYSIA.
Adjunct Professor
Aquaculture and Fisheries Program 
Agriculture and Forestry University, Rampur, Chitwan, NEPAL.
My present responsibilities include providing support to aquaculture research program in WorldFish program and partner countries in Asia and the Pacific, particularly in Timor-Leste, Bangladesh, India, Myanmar, Cambodia, Lao PDR, and Solomon Islands.  I was centrally involved in assisting Ministry of Agriculture and Fisheries, Timor-Leste in preparing National Aquaculture Development Strategy (2012-2030), which is currently underway for implementation upon Government's endorsement in 2013. Prior to joining WorldFish, my professional experience over two decades included university teaching (Farming Systems courses) and graduate student supervision; research on small-scale integrated agriculture aquaculture (IAA) farming systems and aquatic resources management; participatory planning and development; designing and delivering short term international training courses in the areas of participatory planning and development;  managing, monitoring and evaluation of rural livelihoods systems research/development projects in various capacities in countries of South and Southeast Asia and Pacific.