7 minutes read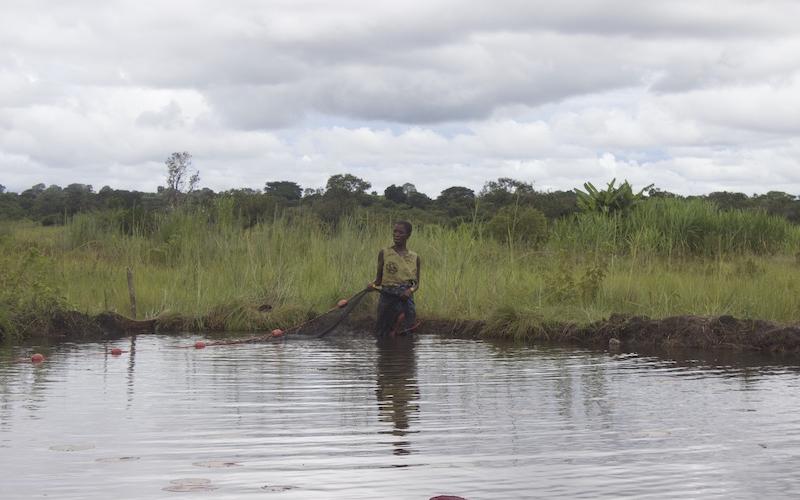 Highlights
The new paper highlights the role of aquatic foods in improving food and nutrition security by taking into consideration the diverse species of fish consumed from different sources. 
PENANG, January 11, 2023 – Scientists from the University of Stirling's Institute of Aquaculture and WorldFish have recently published an open-access paper entitled The role of aquaculture and capture fisheries in meeting food and nutrition security: Testing a nutrition-sensitive pond polyculture intervention in rural Zambia in the scientific journal, Foods.  
The study found that pond polyculture – farming multiple species in one system – can serve as a supplement to capture fisheries that are subject to seasonal restrictions, as well as to tilapia farming. This finding is distinct from other assessments of how aquatic foods can improve food and nutrition security by taking into consideration the consumption of fish from diverse sources by households. 
Explaining the benefits of pond polyculture, co-author and WorldFish Global Lead for Nutrition and Public Health Dr. Shakuntala Haraksingh Thilsted said:   
"Polyculture of small and large fish species in homestead ponds improves food and nutrition security of households as well as reduces micronutrient deficiencies, especially in pregnant and lactating women and children in the first 1000 days of life. Small fish, consumed whole, including the head, organs and bones, pack a bigger punch in terms of vitamins, minerals and omega-3 fatty acids as compared to the fillet of large fish."  
Thilsted was the first to examine the nutritional composition of indigenous small fish species, commonly found and consumed in Bangladesh and Cambodia. Her research demonstrated that these affordable and locally available aquatic foods offer life-changing benefits for children's cognitive development in the early stages of their life and the nutrition and health of their mothers. From this breakthrough, she went on to develop nutrition-sensitive approaches and innovations to food production, distribution and consumption that won her the World Food Prize in 2021. 
WorldFish scientists took these lessons to Zambia by working with smallholder homesteads to stock various micronutrient-rich small fish species. Indigenous small fish species are commonly found in wetlands, rivers and streams that farmers use to stock their ponds. Most of the small-scale pond systems in Zambia naturally attract large quantities of indigenous small fish species as they swim in and out of the pond inlets and outlets. This presents an opportunity for fish to be "trapped" or for farmers to actively stock them from the wild if they thrive well in ponds. 
However, small-scale farmers in Zambia are often encouraged to cultivate tilapia in monoculture systems, removing indigenous small fish species from their ponds. The authors thus aimed to rethink tilapia pond systems in Zambia as multi-species systems (polyculture) rather than single-species systems (monoculture) that would offer a direct source of food for household consumption rather than farming tilapia strictly for markets.   
The authors also identified that aquaculture, especially polyculture systems with indigenous small fish species, has the potential to improve the nutrient intake of households during closed fishing seasons. Fisheries management regulations, introduced by the Zambian government to overcome overfishing, ban the capture or sale of wild fish between December and February every year. However, these measures drastically reduce the consumption of fish during these months, leading to lower intakes of key nutrients and essential fatty acids. This is especially pertinent for people living in parts of Zambia where fish is their primary source of animal protein.  
Elaborating on the importance of adopting a holistic approach, lead author and doctoral candidate at the University of Stirling Mr. Alexander Kaminski said: 
"While ponds provide an important supply of fish – polyculture ponds provide a good source of diverse, micronutrient-rich small fish species – however, the amount of fish from the wild, especially small fish species from the large lakes that are dried, play a more significant role in people's nutrient intake. Ultimately, any improvements to aquaculture should not be done in isolation without considering the more important role of capture fisheries in providing cheap, micronutrient-rich small fish for vulnerable people." 
The authors urged the conservation of Zambia's diverse ecosystems, especially where nutrient-rich indigenous small fish species reside to achieve food and nutrition security. 
Read the research paper to learn more about how a nutrition-sensitive approach places food and nutrition security, and consumers, at the center. 
### 
NOTES TO EDITOR  
Visit the WorldFish website for more information: https://www.worldfishcenter.org/ 
Photography:  
https://www.flickr.com/photos/theworldfishcenter/  
Press contact: 
For more information or to request an interview:  
Sean Lee Kuan Shern 
WorldFish Science Communications Specialist 
Email: K.Lee@cgiar.org 
About WorldFish  
WorldFish is an international, nonprofit research and innovation institution that creates, advances, and translates aquatic food systems science into scalable solutions. We vision an inclusive world of healthy, well-nourished people and a sustainable blue planet, now and in the future. Our mission is to end hunger and advance progress on the 2030 Sustainable Development Goals through science and innovation to transform food, land, and water systems with aquatic foods for healthier people and the planet. 
For over 45 years, WorldFish's data, evidence, and insights have shaped practices, policies, and investments to end hunger and advance sustainable development in low- and middle-income countries.  We have a global presence across 20 countries in Asia, Africa, and the Pacific, with 460 staff of 30 nationalities deployed where the most significant sustainable development challenges can be addressed through holistic aquatic food systems solutions. Embedded in local, national, and international partnerships, our work sets agendas, builds capacities, and supports decision-making for climate action, food and nutrition security, sustainable fisheries and aquaculture, blue economy, One Health, and AgriTech, integrating gender, youth, and social inclusion. 
A core element of the 2030 WorldFish Research and Innovation Strategy: Aquatic Foods for Healthy People and Planet is focused on building the resilience of aquatic food systems to shocks, which is critical to COVID-19 response and recovery. 
WorldFish is part of CGIAR, the world's largest agricultural research and innovation network. 
For more information, please visit https://www.worldfishcenter.org. 
About CGIAR  
CGIAR is the world's largest global agricultural innovation network. We provide evidence to policy makers, innovation to partners, and new tools to harness the economic, environmental and nutritional power of agriculture. 
CGIAR has a wealth of experience and knowledge spanning 50 years that builds on a track-record of innovation and world-class research. Thanks to our funders, CGIAR research has transformed the lives of hundreds of millions of people through tangible research outcomes. 
The 15 CGIAR Research Centers are independent, non-profit research organizations, conducting innovative research. Home to more than 8,000 scientists, researchers, technicians, and staff, CGIAR research works to create a better future for the world's poor. Each Center has its own charter, board of trustees, director general, and staff. CGIAR Research Centers are responsible for hands-on research programs and operations guided by policies and research directions set by the System Management Board. 
For more information, please visit https://www.cgiar.org. 
About University of Stirling 
Ranked among the UK's 40 best universities in the Complete University Guide, the University of Stirling is committed to providing education with a purpose and carrying out research which has a positive impact on communities across the globe – addressing real issues, providing solutions and helping to shape society. Interdisciplinary in its approach, Stirling's research informs its teaching curriculum and facilitates opportunities for knowledge exchange and collaboration between staff, students, industry partners and the wider community. 
The University of Stirling is ranked among the top 20 UK universities for student satisfaction (National Student Survey) and top 10 in the UK for postgraduate student experience (Postgraduate Taught Experience Survey), and has an overall five-star rating in the QS Stars University Ratings. 
More than 17,000 students study with the University of Stirling globally, with over 120 nationalities represented on its scenic central Scotland campus alone. The campus – also home to 1,700 staff – has its own loch and castle, and a recent multi-million-pound redevelopment has delivered modern, flexible, and digitally connected study and social spaces at the heart of campus, including enhanced student support and retail and catering outlets. 
The University has twice been recognized with a Queen's Anniversary Prize – the first for its Institute for Social Marketing and Health (2014) and the second for its Institute of Aquaculture (2019). Stirling is Scotland's University for Sporting Excellence and its recently redeveloped world-class facilities provide the perfect training environment for the University's sports scholars – many of whom compete at the highest level, including at the Olympics and Commonwealth Games – and for students, staff, and the wider community. 
As a signatory to the £214 million Stirling and Clackmannanshire City Region Deal, the University is driving productivity and inclusive growth across the Forth Valley, and beyond. Through pioneering collaborative solutions to global challenges, researchers are putting innovation, skills, and partnership at the heart of a sustainable economic recovery. 
For more information, please visit http://www.stir.ac.uk.