7 minutes read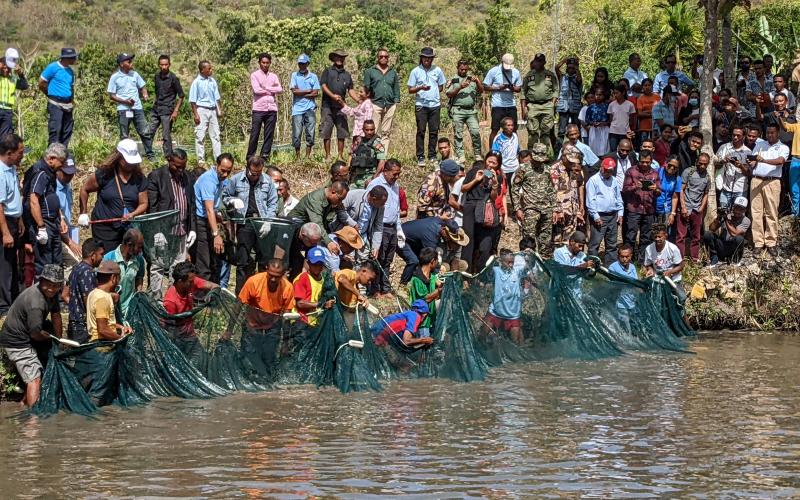 Highlights
The Timor-Leste Prime Minister has joined in a fish harvesting ceremony in Leohitu, Bobonaro, in celebration of a bumper tilapia crop that will contribute to enhanced food security, nutrition and incomes for rural households.
DILI, 12 August 2021—Prime Minister Taur Matan Ruak today met with fish farmers in Leohitu, Bobonaro, and witnessed the harvesting of over six tons of farmed tilapia. The visit marks the start of the harvesting season for nearly 200 project farmers across Timor-Leste, which is expected to produce over 60 tons of fish from a nearly 5 hectare pond area. Average fish productivity during this cycle is estimated to reach over 12 tons per hectare—a three-fold increase in fish productivity compared to previous cycles.
"The government is committed to supporting the growth of aquaculture as a means to strengthen food security and nutrition for households and boosting incomes for farmers," said the Prime Minister. "As the COVID pandemic continues, fish farmers are producing locally-grown food and supporting a sustainable and robust food system that is putting more tilapia onto the plates of rural households."
The event was organized by the Partnership for Aquaculture Development in Timor-Leste Phase 2 (PADTL2) project (April 2020–March 2023) funded by the New Zealand Ministry of Foreign Affairs and Trade ($3.2 million) and the United States Agency for International Development ($1.2 million in complementary funds). The project is implemented by WorldFish in partnership with the Timor-Leste Ministry of Agriculture and Fisheries.
The PADTL2 project, building on the solid foundation laid during the PADTL Phase 1, works to scale up the production of genetically improved farmed tilapia (GIFT) in Timor-Leste by improving farmer access to seed, feed and technologies. In turn, this will increase the availability and accessibility of fish and encourage greater fish consumption among rural households. The improved strain of tilapia that grows faster is achieved through selective breeding, a process used for millennia on crops and livestock.
The significant productivity gains achieved through the project are also due to the culture time being halved from 12 to six months through sustainable intensification of the production system, using high-quality fish feeds and in situ production of natural food (by making the water green). Farmers now could realize over 24 tons/ha of fish productivity annually by completing two production cycles—productivity comparable to the major tilapia-producing countries in South East Asia.
"Scaling out these promising technologies across the country is crucial for increasing the availability and accessibility of fish as a regular part of the Timorese diet," said H.E. Philip Hewitt, New Zealand Ambassador to Timor-Leste. "Tilapia is full of micronutrients and essential fatty acids that are vital to good health and development, particularly in the first 1000 days of a child's life. Improving affordable supply will encourage more households to eat farmed tilapia to combat malnutrition in Timor-Leste."
Over 400 participants representing government and non-governmental organizations, diplomatic missions, private sectors, fish farmers, fish market developers, and local services providers (LSPs) attended the ceremony. The event included a tour of the MoreDoc Unipessoal Lda public-private-partnership (PPP) tilapia hatchery in Leohitu, the first PPP model GIFT hatchery in Timor-Leste. Since opening on 7 June 2019, the hatchery has produced over 2 million fingerlings and sold to farmers in Bobonaro and other municipalities and other non-governmental organizations.
"Strengthening fish farming will grow the incomes of local producers and strengthen food security and nutrition in Timor-Leste," said U.S. Chargé d'Affaires Tom Daley. "The United States is committed to partnering with Timor-Leste and New Zealand to accelerate local aquaculture development to expand prosperity and improve the health of the Timorese people."
The PADTL2 project inaugurated the second PPP hatchery in Parlamento, Lautem on 5 October 2021 and two more PPP hatcheries—in Hera, Dili, and Colocao, Manufahi—are under construction and due to be completed by the end of October 2022. It is expected the four PPP hatcheries will produce over 10 million fingerlings annually by 2023.
"The PADTL2 project supports progress toward the country's National Aquaculture Development Strategy(2012–2030), creating employment and income opportunities for the citizens of Timor-Leste. The strategy targets increased farmed production of 12,000 tons per year by 2030, leading to a rise in annual fish consumption to 15 kg per person," said WorldFish Interim Director General Essam Yassin Mohammed. "Connecting fish farmers with nutrition activities such as the school feeding program and hospitals will support increased fish consumption to enhance public health outcomes."
###
NOTES TO EDITOR
About the Ministry of Agriculture and Fisheries
The Ministry of Agriculture and Fisheries is the government department responsible for the development of the rural sector in Timor-Leste. Approximately 75 percent of the population live in rural areas; the majority of which derive their livelihoods from agriculture. Despite the importance of the sector, and significant investments made by successive governments, the sector's performance has been mixed and productivity levels remain low. The ministry therefore works to develop a sustainable, competitive and prosperous agricultural sector that can reduce poverty, ensure food and nutrition security, and promote employment and economic growth in the agricultural sector.
About the New Zealand Ministry of Foreign Affairs and Trade
The PADTL2 project is funded by MFAT as part of the New Zealand Aid Program, which seeks to promote prosperity and stability in the Pacific and beyond. The aid program provides financial and technical assistance to reduce poverty and help achieve sustainable development in developing countries. With the aim of creating a more prosperous, secure and equitable world, New Zealand Aid works with a wide range of partners and provides humanitarian assistance to people affected by natural disasters and conflicts.
About USAID
USAID is the world's premier international development agency and a catalytic actor driving development results. USAID works to help lift lives, build communities, and advance democracy.. The United States Government, through USAID, works in partnership with the government of Timor-Leste to support broad-based and effective development.  Since 2001, USAID has provided more than $250 million in development assistance to Timor-Leste. USAID supports Timor-Leste in its efforts to build a more prosperous, self-reliant, healthy, and democratic country through programs that foster inclusive and sustainable economic growth, especially in the agriculture and tourism sectors; improve the health of the Timorese people, particularly women and children; and strengthen the foundations of good governance – as highlighted in Timor-Leste's Strategic Development Plan 2013-2030.
About WorldFish 
WorldFish is an international, nonprofit research and innovation institution that creates, advances, and translates aquatic food systems science into scalable solutions. We vision an inclusive world of healthy, well-nourished people and a sustainable blue planet, now and in the future. Our mission is to end hunger and advance progress on the 2030 Sustainable Development Goals through science and innovation to transform food, land, and water systems with aquatic foods for healthier people and the planet.
For over 45 years, WorldFish's data, evidence, and insights have shaped practices, policies, and investments to end hunger and advance sustainable development in low- and middle-income countries.  We have a global presence across 20 countries in Asia, Africa, and the Pacific, with 460 staff of 30 nationalities deployed where the most significant sustainable development challenges can be addressed through holistic aquatic food systems solutions. Embedded in local, national, and international partnerships, our work sets agendas, builds capacities, and supports decision-making for climate action, food and nutrition security, sustainable fisheries and aquaculture, blue economy, One Health, and AgriTech, integrating gender, youth, and social inclusion. 
A core element of the 2030 WorldFish Research and Innovation Strategy: Aquatic Foods for Healthy People and Planet is focused on building the resilience of aquatic food systems to shocks, which is critical to COVID-19 response and recovery. 
WorldFish is part of CGIAR, the world's largest agricultural research and innovation network.
For more information, please visit https://www.worldfishcenter.org. 
About CGIAR  
CGIAR is the world's largest global agricultural innovation network. We provide evidence to policy makers, innovation to partners, and new tools to harness the economic, environmental and nutritional power of agriculture. 
CGIAR has a wealth of experience and knowledge spanning 50 years that builds on a track-record of innovation and world-class research. Thanks to our funders, CGIAR research has transformed the lives of hundreds of millions of people through tangible research outcomes. 
The 15 CGIAR Research Centers are independent, non-profit research organizations, conducting innovative research. Home to more than 8,000 scientists, researchers, technicians, and staff, CGIAR research works to create a better future for the world's poor. Each Center has its own charter, board of trustees, director general, and staff. CGIAR Research Centers are responsible for hands-on research programs and operations guided by policies and research directions set by the System Management Board. 
For more information, please visit https://www.cgiar.org.
RELATED PUBLICATIONS
CONTACT DETAILS
For more information or to request an interview: 
Science/project contact
Dr. Jharendu Pant
PADTL 2 Project Leader/Senior Scientist, Sustainable Aquaculture
WorldFish
Email: j.pant@cgiar.org 
MFAT
New Zealand Embassy
Email: dil@mfat.govt.nz
USAID
Communications Team
Email: diliusaiddocs@usaid.gov