5 minutes read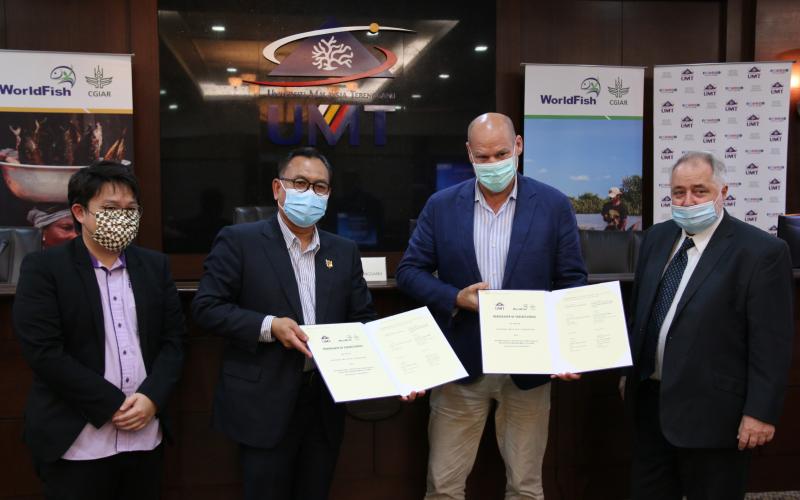 Highlights
The MoU will spur new research collaborations in aquatic food systems between the two organizations while strengthening existing ones for healthier people and planet. 
KUALA TERENGGANU, May 24, 2022 – WorldFish signed today a Memorandum of Understanding (MoU) with Universiti Malaysia Terengganu (UMT) to strengthen, promote and develop research collaboration in aquatic food systems between both organizations. 
Collaboration between WorldFish and UMT can be traced back to July 2017 when WorldFish Research Program Leader for Sustainable Aquaculture Project Dr. John Benzie was invited to UMT to give a lecture on genetics and breeding. Elaborating on how collaboration between the two organizations began, Benzie said:  
"Following the lecture, discussions with UMT's Institute of Marine Biotechnology (IMB) revealed many areas in which both organizations could mutually benefit from research collaborations in aquatic food systems. A Letter of Intent was subsequently signed which has led to the MoU we have today." 
Other forms of collaboration include WorldFish, through its office in Bangladesh, facilitating UMT to secure an international grant with Chattogram Veterinary and Animal Sciences University (CVASU) for a one-year research project which has led to the publication of several high-impact journals between 2018 and 2020.  
On the focus of the MoU, Institute of Marine Biotechnology Director Prof. Dr. Yeong Yik Sung said: 
"This MoU will not only focus on research activities and publications but will also be expanded to produce postgraduate students, licensing agreements, intellectual property registration and knowledge sharing as well as new fisheries and aquaculture technologies that will benefit the local industry and community." 
WorldFish is also a research collaborator with UMT in the Horizon 2020 international research grant and the Erasmus Mundus AquaH international academic program. 
On the significance of this MoU, WorldFish Interim Director of Science and Research Prof. Dr. Edward Allison said:  
"WorldFish and UMT have achieved a lot working together in the past few years despite the disruptions caused by COVID-19. This MoU will spur new research collaborations in aquatic foods between our two organizations while strengthening existing ones delivering a triple win for nature, climate and people." 
Aquatic foods -- diverse animals, plants, and microorganisms grown and harvested from water -- are central to the livelihoods, food and nutrition security of more than 800 million people in developing countries. 
Rich in bioavailable micronutrients and essential fatty acids, aquatic foods are considered superfoods that are healthy, not just for people but also the planet. Small fish, shellfish and seaweeds in particular have enormous nutritional value with a lower environmental footprint than land-based animals. Sustainable management of aquatic animals and plants means stored carbon dioxide that would have otherwise been released to the atmosphere. 
Elaborating on the MoU, UMT Vice Chancellor Prof. Dato' Dr. Mazlan bin Abd Ghaffar said: 
"With this MoU, UMT looks forward to the exchange of staff, joint supervision of students, participation in seminars and academic meetings as well as collaboration in short and long-term joint research programs with WorldFish." 
In 2019, WorldFish hosted three diploma students from UMT to undergo their internship at WorldFish's headquarters in Batu Maung, Penang. With the onset of COVID-19 the following year, the internship placement program was suspended temporarily. The program is set to resume later this year with a new batch of students undergoing their internship at WorldFish. 
On the importance of collaborating with local universities, WorldFish Interim Director General and CGIAR Acting Senior Director of Aquatic Food Systems Dr. Essam Yassin Mohammed said: 
"Fostering collaboration with universities in Malaysia, where WorldFish has resided for 22 years, will help support our mission to end hunger and advance the 2030 Sustainable Development Goals through science and innovation to transform food, land and water systems with aquatic foods for healthier people and planet." 
The MoU was signed by Mohammed and Abd Ghaffar while the exchange ceremony held at UMT was attended by Allison and Benzie along with UMT's Deputy Vice Chancellor (Academic and International) Professor Ts. Dr. Mohd Zamri Bin Ibrahim. 
### 
NOTES TO EDITOR  
Visit the WorldFish website for more information: https://www.worldfishcenter.org/ 
Photography:  
https://www.flickr.com/photos/theworldfishcenter/  
Press contact: 
For more information or to request an interview:  
Sean Lee Kuan Shern 
WorldFish Science Communications Specialist 
Email: K.Lee@cgiar.org 
About WorldFish  
WorldFish is an international, nonprofit research and innovation institution that creates, advances, and translates aquatic food systems science into scalable solutions. We vision an inclusive world of healthy, well-nourished people and a sustainable blue planet, now and in the future. Our mission is to end hunger and advance progress on the 2030 Sustainable Development Goals through science and innovation to transform food, land, and water systems with aquatic foods for healthier people and the planet. 
For over 45 years, WorldFish's data, evidence, and insights have shaped practices, policies, and investments to end hunger and advance sustainable development in low- and middle-income countries.  We have a global presence across 20 countries in Asia, Africa, and the Pacific, with 460 staff of 30 nationalities deployed where the most significant sustainable development challenges can be addressed through holistic aquatic food systems solutions. Embedded in local, national, and international partnerships, our work sets agendas, builds capacities, and supports decision-making for climate action, food and nutrition security, sustainable fisheries and aquaculture, blue economy, One Health, and AgriTech, integrating gender, youth, and social inclusion. 
A core element of the 2030 WorldFish Research and Innovation Strategy: Aquatic Foods for Healthy People and Planet is focused on building the resilience of aquatic food systems to shocks, which is critical to COVID-19 response and recovery. 
WorldFish is part of CGIAR, the world's largest agricultural research and innovation network. 
For more information, please visit https://www.worldfishcenter.org. 
About CGIAR  
CGIAR is the world's largest global agricultural innovation network. We provide evidence to policy makers, innovation to partners, and new tools to harness the economic, environmental and nutritional power of agriculture. 
CGIAR has a wealth of experience and knowledge spanning 50 years that builds on a track-record of innovation and world-class research. Thanks to our funders, CGIAR research has transformed the lives of hundreds of millions of people through tangible research outcomes. 
The 15 CGIAR Research Centers are independent, non-profit research organizations, conducting innovative research. Home to more than 8,000 scientists, researchers, technicians, and staff, CGIAR research works to create a better future for the world's poor. Each Center has its own charter, board of trustees, director general, and staff. CGIAR Research Centers are responsible for hands-on research programs and operations guided by policies and research directions set by the System Management Board. 
For more information, please visit https://www.cgiar.org.