7 minutes read
Highlights
Forum theater is a form of theater that presents a problem in front of an audience where the audience comes up with a solution at the end of the show, unlike conventional theater, which suggests a remedy to the reported problem.

As a gender transformative tool, forum theater offers both men and women the opportunity to be part of the solution to address gender-biased practices.

Forum theater does not impose any practice but rather facilitates the process so that people can think critically about existing harmful norms and practices to find better ways instead.
In Northwest Bangladesh, WorldFish has been improving livelihoods of rural communities, particularly aquatic food producers through the Income, Diets and Empowerment through Aquaculture (IDEA) project funded by the Bill and Melinda Gates Foundation.
A major component of this project is to empower women and enhance women's involvement in as well as benefits from aquaculture through improved authority in decision-making and control over resources.
However, this comes with its own set of challenges, which are further exacerbated by social and cultural norms that limit women's ability to partake in and enjoy the benefits of aquaculture.
While the project strives to bring women to the forefront of aquaculture through entrepreneurship and market linkages, family-supported business models, inclusive financing and group aquaculture, harmful norms and mindsets still oppose women's ability to succeed.
While women are receiving the necessary aquaculture know-how as well as market linkages and services, norms remain a major setback. WorldFish identified forum theater as a gender transformative tool to help overcome the normative constraints that are holding women back.
Utilizing forum theater to identify internal oppression
Forum theater, invented by film director Augusto Boal, is also known as a theater for development or theater of the oppressed. Boal came up with this form of to help audiences identify their "internal oppressions" in order to begin to overcome them.
In forum theater, the audience is shown a short play in which a protagonist encounters a form of oppression or obstacle that he or she is unable to overcome. The subject matter will usually be something of immediate importance to the audience, often based on a shared life experience. When it comes to gender, forum theater usually revolves around gender-based violence (GBV), discrimination at the household level, dowry and power relations, among others.
It can be adapted to different contexts. In Zambia, WorldFish piloted similar gender transformative approaches (GTA) that involved sharing local gendered experiences in fishing and fish processing and how time burdens and unequal decision-making authority undermine women's choice of livelihoods and postharvest losses.
While the play is being performed, the audience can take to the stage and suggest alternative options for how the protagonist could have acted. In this way, the event can be used to rehearse for an imminent occasion or to uncover and analyze alternatives in any situation – past, present or future.
The actors explore the results of these choices with the audience creating a kind of theatrical debate, in which experiences and ideas are rehearsed and shared, generating both solidarity and a sense of empowerment. It aims to stimulate debate and most importantly develop learning and thought-provoking alternative behavior options that may challenge social norms.
Addressing gender-biased practices through gender transformative tools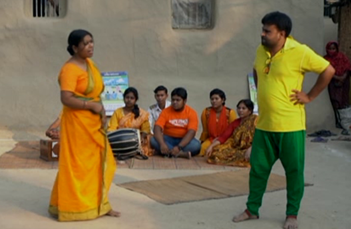 WorldFish partnered with Cinephile, a local organization, to stage forum theaters as a gender transformative tool in the Rajshahi and Rangpur divisions of Bangladesh. This is to enable critical thinking amongst community members to identify the barriers that prevent women from participating in and benefiting from the aquaculture sector.
Forum theater is preferable to the traditional street theater for a number of reasons. Although the street theater is a popular tool for raising community awareness, WorldFish chose forum theater due to its interactive bottom-up approach. This form of theater presents a problem in front of the audience and has the audience come up with solutions at the end of the show, unlike conventional theater which suggests a remedy to the reported problem.
As a gender transformative tool, forum theater offers both men and women the opportunity to be part of the solution to address gender-biased practices. Moreover, forum theater does not impose any practice but rather facilitates the process so that people can think critically about existing harmful practices to find a better one. This is in the spirit of GTAs that create an environment for people to challenge, question and change gender norms and unequal power relations.
Shedding light on existing gendered scenarios
WorldFish designed the forum theater around four main thematic areas, namely women's decision-making, their financial empowerment, group membership of women and men's role in household activities.
Forum theater helped shed light on existing gendered issues based on insights from a gender scoping study and gendered value chain study carried out by WorldFish and came up with solutions from the audience.
In the drama skit, Amena, a homemaker in rural Bangladesh expresses her interest to be an aquatic foods producer and for this purpose, she receives training and a bank loan.
However, her husband, mother-in-law and neighbors discourage her from being an aquatic foods producer by saying a number of things. They say that aquatic foods production is not meant for women. If women do engage in aquatic foods production, it would require them to go to the market and other public places which is not acceptable by society and that other women in the community will be negatively influenced if they see Amena doing aquatic foods production. 
Changing perspectives one audience at a time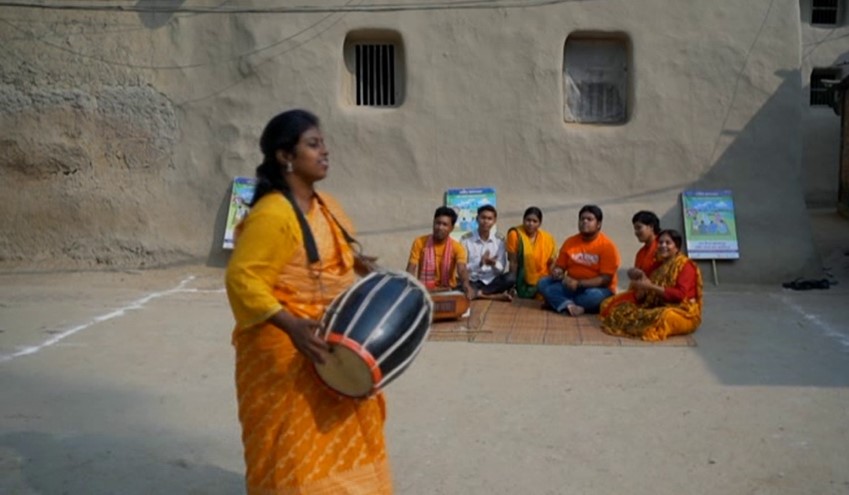 The twenty-minute play showed the obstacles Amena faces at the intimate partner, household and community levels. The obstacles she faces from her husband include physical violence and verbal abuse such as criticizing her initiative to earn money, taking away her loan, imposing his decisions on her and denying her access to the pond.
Similarly, at the household level, her obstacles include non-cooperation from her mother-in-law along with the added burden of cooking, taking care of her children and domestic animals along with other forms of unpaid care work.
Finally, the community elders appear before her reminding her of the characteristics of an ideal woman who does not want to get involved in 'men's roles', who abides by all the instructions of her husband and who does not think about becoming the breadwinner of the family.
At the end of each show, the audience began by pointing out the 'unacceptable behavior' of the performers. In all the performances, the audiences were consistent in commenting on the dominating behavior of Rafiq, Amena's husband. The audiences were also quick to make remarks about the behavior of the neighbors.
Discussions, debates and arguments between the performers and the audience go on until the performers accept that they made a mistake by discouraging Amena from becoming an aquatic foods producer.
This argument session is actually a learning session for the community as this opens up the opportunity for viewers to realize the pros and cons of the existing practices, what should be the alternative to the existing harmful practice and realize their role in addressing harmful practices as an individual, as a spouse and as a community member. 
Bringing forum theater to a wider audience
WorldFish managed to reach more than 30,000 men and women across 72 villages through seventy-two forum theater shows in the span of six months. Understandably, forum theater alone has not immediately fully convinced all the audience members of the gender discrimination in their communities.
However, it was found that people are trying to relate their realities with the stories of the forum theater, which proves that such interventions can provoke the communities to rethink their stances and their existing knowledge on this matter.
Moreover, this type of theater has helped WorldFish to get more women and their families interested in joining aquaculture, therefore easing the project's ability to work with women.
Qualitative interviews conducted in villages that have experienced forum theater have revealed a greater acceptance of women's engagement in aquaculture and a growing belief that women can be successful in this field. During focus group discussions, women and men have brought up Amena's story of their own accord as an example of women's struggles in aquatic foods production.
Although forum theater is not new, but this is the first time it is being extensively used and systematically assessed to address the gender equality issues in aquatic food systems in Bangladesh. WorldFish is carefully assessing the effectiveness of this approach and is exploring ways to develop a standardized model so it can be scaled up. The project is conducting qualitative studies and performance-monitoring surveys to assess the outcome of the activity.
Watch this video to understand forum theater as an effective gender transformative tool.