5 minutes read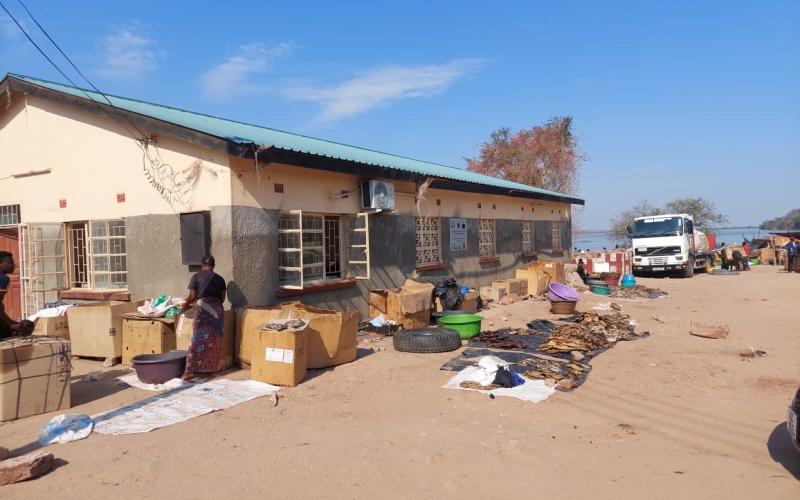 Highlights
Fish traders come from all over southern Africa to gather at the port in Luangwa, Zambia and purchase aquatic food products to sell onwards elsewhere 
Previously, there were insufficient storage facilities to preserve the fish before they could be transported and resold 
As part of an EU-funded WorldFish initiative, a fish storage house was constructed, revitalizing the region's trade post COVID-19 
The socioeconomic status of the people of Luangwa, located in Zambia's Lusaka Province, is largely influenced by fish trading activities that take place at the town's harbor. The harbor is a stopover market for traders from Mozambique, Zambia and Zimbabwe before they move onwards to sell their fish to other regions in Zambia and also export to the Democratic Republic of Congo (DRC).  
Fish traders converge at this market in Luangwa to buy and sell their products, with 90 percent of the fish sold originating from Mozambique. The traders spend around seven days purchasing aquatic food products before they head off to resell the fish to consumers and retailers around the country. However, previously, there was a lack of storage facilities for these transient fish traders to keep their fish in the interim before departing.  
As part of an initiative funded by the European Union under the Fish Trade for a Better Future project, WorldFish built a concrete storehouse for the fish traders in order to extend the shelf life of their aquatic food products.  
The storehouse was launched on the 8th of December 2018. It sits just at the harbor of the Luangwa River, and it has a capacity of accommodating about 100 tons of fish annually. So far, it's revitalized the region's fish trade and has come with a suite of socioeconomic benefits for people working along fish supply chains.     
Trade before the storehouse was built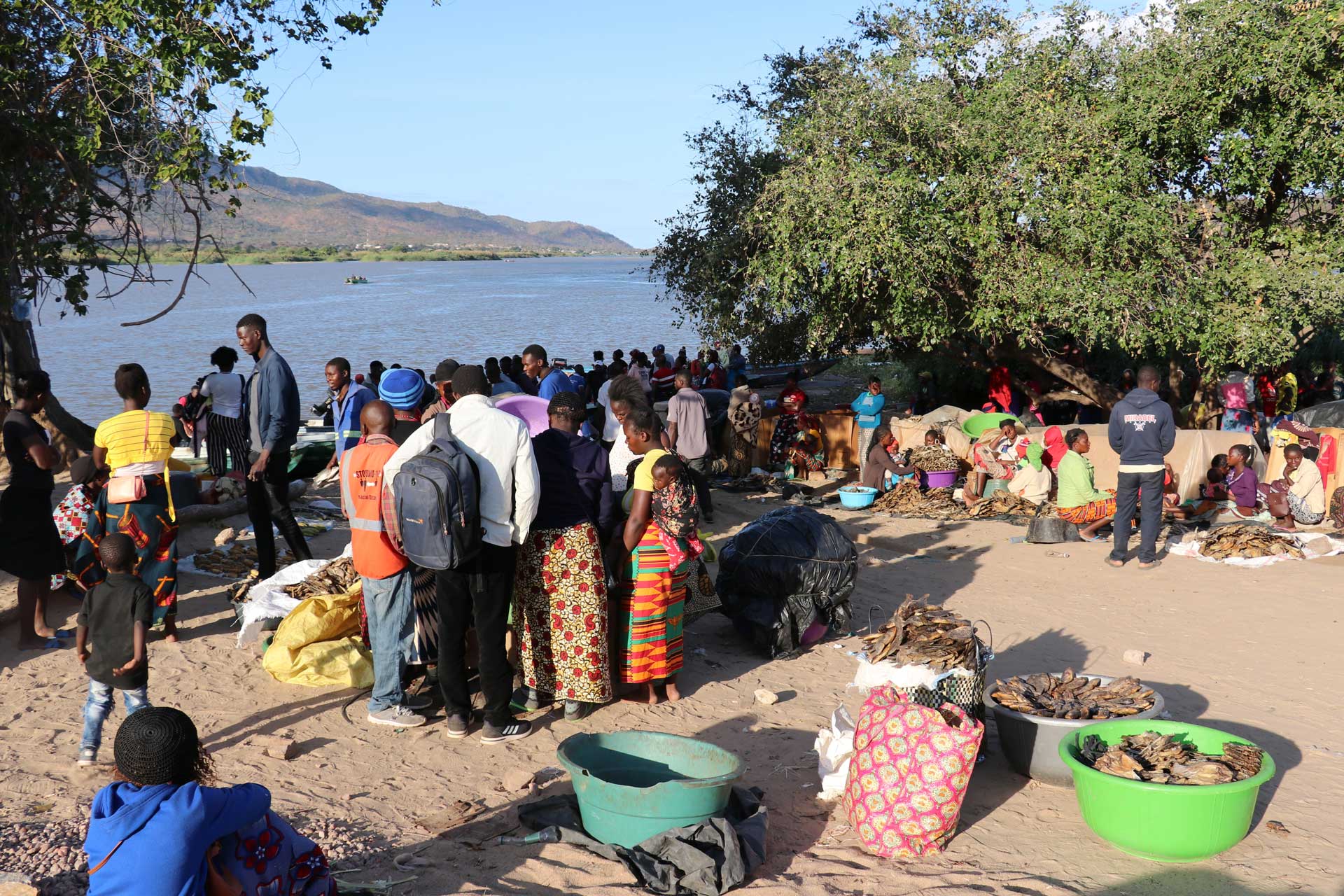 Before the shelter was constructed, traders used to store their fish in open areas, making the supply prone to spoilage. During the rainy season, traders depended on polythene plastic bags to cover and store their fish. These storage methods were insufficient, and traders experienced high losses attributed to wet, humid conditions. Alternatively, traders paid high costs to find safe and convenient places to store their fish in order for them to avoid wastage. 
Grace Ngulube, chairlady for the Luangwa Women Fish Traders Association (LWFTA), explained that this made business costly, and the quality of fish was low because of poor storage facilities.  
"Before the shelter was built, fish trading was not a viable business as it was very costly. Traders needed to pay for accommodation while camping at the harbor to buy their fish and also pay for expensive safe storage facilities for their fish," said Ngulube. 
With the shelter, fish traders can now safely store their fish, and damages arising from poor storage have been significantly reduced. 
Economic benefits of the storehouse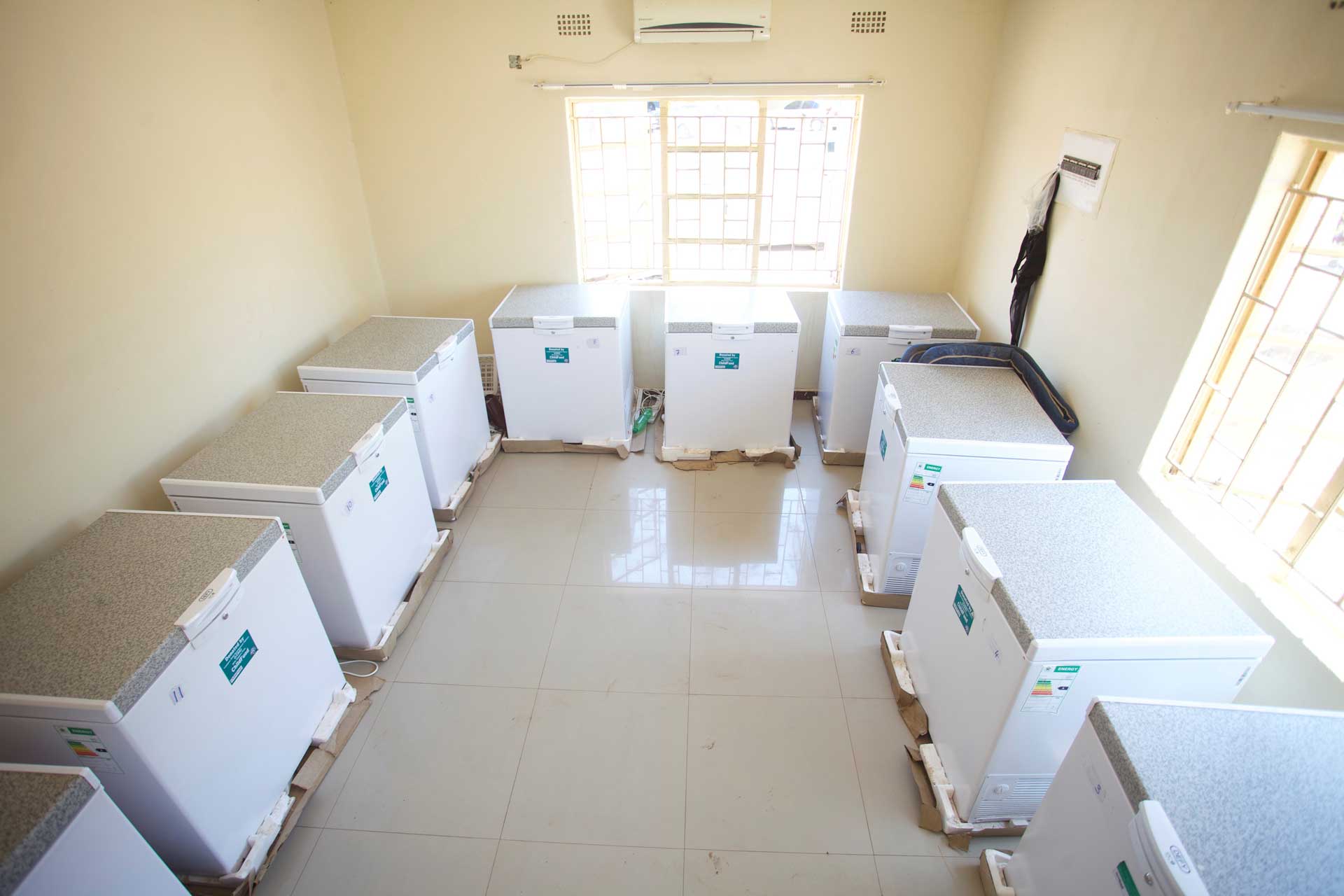 The shelter has not only benefited fish traders but has also attracted other businesses that provide services along fish supply chains. These include boat mending, boat building, fish processing, fish transportation and fish onloading and offloading. 
Standing out among these businesses is Mavuto Yapasa Nzelu, a youth cooperative with 25 members: 10 male and 15 female ranging from ages 19 to 32. After they received a donation of 12 deep freezers from the NGO ChildFund, the cooperative stored their freezers at the fish house and was able to start offering cold storage services to fish traders at a fee of ZMW 30 (USD 1.33) per night.  
"In a month, when all the fridges are filled, we will make about ZMW 10,800 or USD 477. From this amount, ZMW 1,500 will be used to purchase electricity and ZMW 500 to pay our employees, and the rest we will share among ourselves," said Joseph Zulu, one of the cooperative members. 
However, traders and cooperative members alike also expressed concern that since the advent of COVID-19, there has been a reduction in fish arriving from Mozambique. The fish workers have thus requested support for capacity building and the resources to build fish cages so that they can engage in aquaculture, thus increasing Zambia's domestic fish production and sustaining the dwindling supply of fish at the harbor.    
"Despite the challenges of reduced income due to the impact of the COVID-19, we are still able to earn something that sustains us on a daily basis. People still seek fridge storage for their fish, and we never go without a customer though some fridges are just empty," said Zulu.  
Regardless of the challenges, Zulu revealed that the money has helped him and other cooperative members in several ways to improve their livelihoods.  
"Some of the members use the money to pay for their school fees. Many have enrolled for trade and artisanal courses like carpentry, mechanics and tailoring. This is something which most of us had been struggling with before we had this shelter in place," Zulu explained. He attributed the actualization of their cooperative to the storehouse that provided them with space to set up their business. 
With fish trading being the major economic activity in the region, the storehouse has benefited the traders and also led to the introduction of other businesses which in turn has contributed to the economic and social wellbeing of the people. Furthermore, it has helped the traders reduce losses caused by wastage of their products due to poor storage facilities, preserving a critical nutrient-rich food source in food insecure regions.