5 minutes read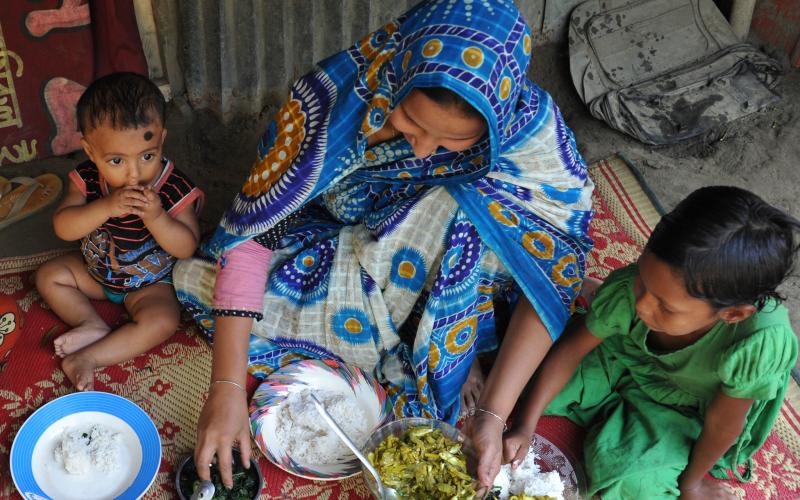 Highlights
A virtual event was held to celebrate the launch of FishNutrients, a predicative model used to estimate the nutrient composition of thousands of fish species. 
A new open-source tool puts fish nutrient data at the fingertips of researchers, policy makers and the general public to guide nutrition-sensitive approaches to fisheries management, which aim to improve consumption of the most nutrient-rich species. 
The innovative tool, dubbed FishNutrients, predicts the nutrient composition of finfish species to develop fish nutrient profiles that can be used to inform national dietary guidelines and aquatic resource governance. Armed with new research tools like FishNutrients, scientists are working to harness the power of data to transform food systems and ensure healthy, equitable diets for all.
Using a compilation of existing data and statistical models, FishNutrients calculates species-specific nutrient data, including the concentrations of different micronutrients and fatty acids, which are then integrated into the FishBase platform.
FishBase, the world's largest encyclopedia of fish, is a global fish database cataloguing information on over 34,000 fish species and detailing their ecology, taxonomy and distribution. Created by Daniel Pauly and Rainer Froese in 1988, FishBase has recently been named one of the CGIAR's top 50 research innovations for its groundbreaking contributions to the worlds of open science and fisheries management.
The FishNutrients statistical model predicts the nutritional makeup of a species by assessing a myriad of factors, including diet, geographic region, size and growth, to create a nutritional profile for species where detailed nutrient data is lacking. In addition to these predicted values, FishNutrients also includes direct measurements taken by researchers analyzing the nutrient composition of over 500 fish species, which were used as a baseline to determine the model's accuracy.
At a virtual launch celebrating the official integration of FishNutrients into FishBase, an interdisciplinary team of researchers from WorldFish, the Ocean Frontier Institute, the Lancaster Environment Centre, the Sea Around Us Project and the Minderoo Foundation shared the history and utility of the development of the open-access tools to improve understanding of fish nutrition.
Event speakers included Daniel Pauly, the world's most highly cited fisheries scientist, head of the Sea Around Us and the founder of FishBase, and Shakuntala Thilsted, the 2021 World Food Prize laureate and global lead of nutrition and public health at WorldFish.
"This collaboration brings a powerful new tool to the research community and will improve our understanding of the potential of diverse fish species to address malnutrition," said Thilsted. "FishNutrients brings the worlds of human nutrition, public health and fisheries together."
"FishBase and its components, including the new data on fish micronutrients, are a public good that make knowledge freely available to the world and help advance solutions for fisheries management and food security," said Pauly.
Researchers hope the addition of nutrient data to FishBase can improve management of fisheries systems and produce a better understanding of the nutrient potential of global fish catch.
Nutrition-sensitive fisheries management
By plugging significant knowledge gaps, the predictive model can be leveraged to promote healthy sustainable diets and the consumption of nutrient-rich, locally abundant species.
Small pelagic fish tend to be richer in micronutrients than larger commercial species, yet they are often overlooked in fisheries management and dietary guidelines, explained Christina Hicks, a professor at Lancaster University, who authored the paper that first analyzed the nutrient potential of global fish catch.
"Fish are not made nutritionally equal. Some species, including small pelagics, are rich in a number of micronutrients, whereas others, not so much. This really highlights the importance of understanding the nutrient composition of the species that we eat," said Hicks.
While large commercial species are well-assessed, especially those prevalent in Western diets, the nutrient composition of small indigenous species and the diversity of species harvested by small-scale fisheries, particularly in the tropics, is poorly understood.
Speakers emphasized that FishNutrients will be instrumental in filling these data gaps to guide the nutrition-sensitive management of local and global fisheries, especially in low-income countries with high rates of malnourishment, and foster a renewed focus on the quality of food produced and consumed.
"After many years researching fish nutrient composition, I am so happy that we now have a shift in emphasis from feeding people to nourishing nations and a transition in food systems research from quantity to quality," said Thilsted.
The innovation and knowledge shared through FishBase has major policy and societal implications for better understanding the contributions fisheries, oceans, rivers and lakes play in global food security and addressing hidden hunger – a term for the micronutrient deficiencies that occur due to poor diets and insufficient access to quality foods, which results in stunted growth and development in children, explained Pip Cohen, the Research Leader of the Small-scale Fisheries program at WorldFish and a Flagship Leader of the CGIAR Research Program on Fish Agri-Food Systems.
The collation of data has further enabled global analyses of the opportunities for global fish catch to realize multiple Sustainable Development Goals, mainly SDG2 zero hunger and SDG14 the sustainability of life below water.
"We're now in the Decade of Ocean Science and the Decade of Action on Nutrition – FishNutrients is an exciting innovation that spans and supports both these important development agendas. While FishNutrients is a great milestone, this is also just the start of much progress that is emerging and needed to recognize the nutrition, health and livelihood values associated with fish and aquatic foods," said Cohen.
Watch a recording of the event 'FishNutrients: launching nutrient data on fish in FishBase'