5 minutes read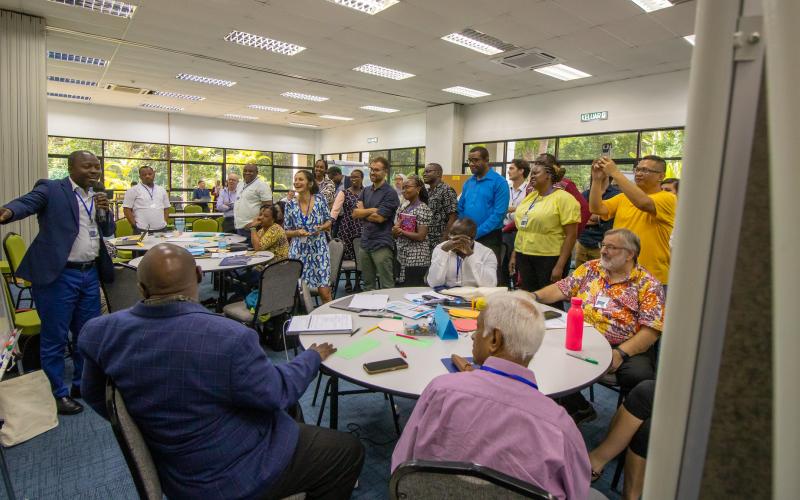 Highlights
Knowledge exchange between Asia and Africa is the backbone of WorldFish's new Asia–Africa BlueTech Superhighway (AABS) project.

By sharing and adapting successful practices across nations, such as digital fishing data capture, the project aims to drive sustainable small-scale fisheries and aquaculture in the vulnerable coastal communities.

Engaging all actors in the knowledge exchange process, AABS aims to ensure implementation of innovations are country led and effectively adapted to local contexts for sustainable gains.
Under the newly launched WorldFish-led Asia–Africa BlueTech Superhighway (AABS) project, a pioneering South-South collaboration platform is being developed, centred around knowledge sharing and co-learning for adaptation and scaling of proven aquatic food systems technologies across countries. As a start, AABS brought together research, conservation, development, and policy experts from the small-scale coastal fisheries and aquaculture sector in Bangladesh, Nigeria, Kenya, Tanzania, Zanzibar and Mozambique for a vibrant knowledge exchange during its inception workshop held October 9-12 in Penang, Malaysia.
Many coastal communities in the global South eke out a living from diverse but low-yielding small-scale fisheries and aquaculture. These livelihoods are jeopardized by overfishing, degradation of the marine ecosystems and impacts of climate change on oceanic waters. Affecting millions of vulnerable households, the aquatic foods sector has yet mostly been overlooked in development policies and investments because their social and economic contributions are undervalued or missing in national statistics. AABS seeks to address these challenges through four interconnected work packages, all underpinned by robust knowledge exchange across countries on their challenges and experiences to facilitate country-led and country-tailored adaptation of technologies.     
South-South Collaboration as a Backbone for AABS
Sharing knowledge on what? Identifying systemic solutions worth scaling and adapting them
'If you don't know what you have in the water you can't manage it', is a quote from the Nigerian stakeholders at the workshop. The entry point of AABS is to address the lack of accurate, easily accessible data on small-scale fisheries. The data gaps leave fishers and fishing organisations, policy-makers, and conservation and development organisations in the dark about the status of fish stocks, how important these fisheries are for food and nutritional security or how to design and evaluate conservation measures. 
In Timor Leste, over the past seven years, WorldFish successfully developed and scaled a low-cost automated data capture system called Peskas, including solar-powered trackers fitted to small fishing boats. This open source, open access and near-real time solution has now been adopted by the national fisheries ministry to support their strategies and policies. However, this technology is not necessarily a blueprint on how to address data gaps in Kenya or Tanzania. The data infrastructure landscape, social and cultural contexts differ between countries, as well as between types of fisheries and fishing communities.
Many solutions for a more productive, equitable blue economy have been developed and tested across Asia and Africa in recent years, but successful pilots have often failed to scale because the technology or know-how was not well-adapted to a different context. 
A First Step: Sharing a Joint Vision and Co-Creating a Path Forward  
Effective knowledge exchange between Asia and Africa will be the backbone of AABS to foster country-led adaptation and scaling of solutions tailored to the contexts and challenges faced by their respective communities. For example, changemaking innovations to reduce fish waste or nature-sensitive multispecies sea farming systems could scale more rapidly and effectively from one country to another with appropriate feedback loops and adaptation to local contexts—crucial for making long-term impact. 
Portal, community of practice, learning management system, knowledge exchange platform etc. were discussed to design the best ways to learn from one another. However, the starting point was to map out insights, challenges, and experiences from stakeholders for an effective and impactful knowledge exchange.      
Using a 'gamestorming' participatory approach, stakeholders visualised what AABS meant to their country and highlighted the need for know-how to be adapted to enable impact on nutrition, livelihoods, and food security in a sustainable way.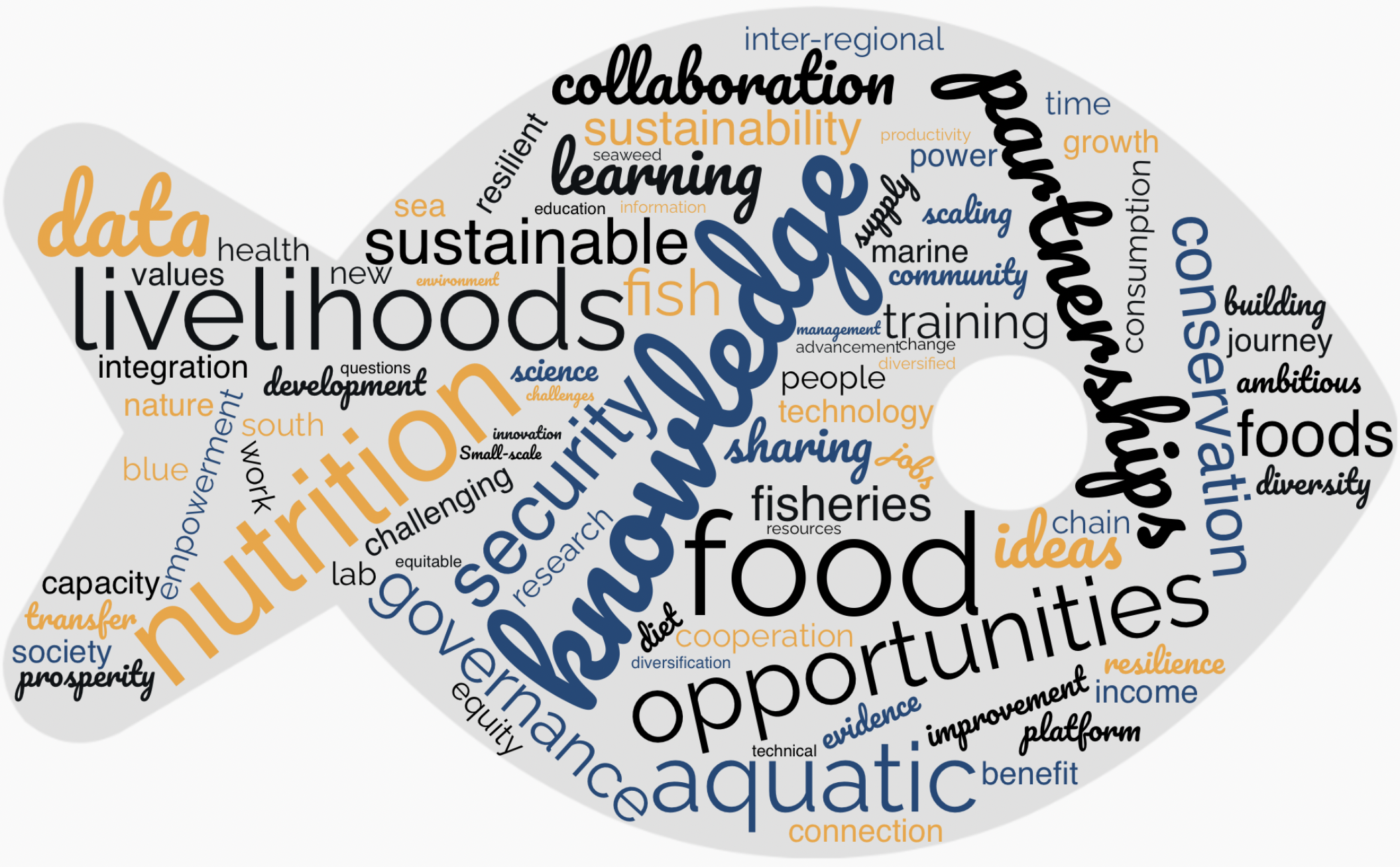 Participants discussed ideas of what could be a successful collaboration between countries and work packages to ensure identified innovations are contextualized and scalable.
This was illustrated by the Tanzanian fisheries stakeholders during their country landscape presentation. "We have empty marine hatcheries – we need the Asian expertise on cultivating sea cucumbers and crabs in hatcheries. In Tanzania, we have limited know-how, but this is already being done in Bangladesh with affordable technology so it will be easier to adapt to African contexts."
The four work packages agreed that the first step will be a thorough baseline and stakeholder mapping to take stock of challenges and existing solutions tried and scaled in the countries. AABS could serve as the catalyst to 'connect the dots between stakeholders' through coordination or providing complementary expertise. 
Some suggested study tours and field visits for peer-learning and production of practice 'how-to' videos and manuals. For any knowledge sharing activity, it will be important to consider its cost-effectiveness and impact, identify the right format and who should be targeted for maximum return.
During the country landscape sessions, participants shared many insightful case studies and different perspectives to tackle common issues, like how to promote the nutritional value of aquatic foods and create markets for seaweed and employment opportunities for women and young people. A diverse range of knowledge products were proposed including resources for identifying grants to apply for pilots; aquaculture business plan templates to guide youth groups applying to private investors; 'how to' guides to partner with advocacy groups to integrate fish powder/seaweed into school meals; and training on the potential and pitfalls of solar technology to tackle food loss and waste. 
A resounding call was for the knowledge exchange to enable user-centric innovations to ensure impact on ground, like this award-winning automated fishing data capture, a collaboration between WorldFish and Good Machine that puts small-scale fisheries data in the hands of fisheries officers, researchers, and local communities, informing changes in fish production, while also revealing the crucial role of women in fisheries activities.
What Next
The AABS kick-off workshop has set the stage for a powerful two-continent collaboration to adapt and scale impactful and equitable solutions for aquatic food systems to local contexts. Building on the takeaways from the launch, AABS will start giving shape to the knowledge exchange forum for ongoing structured as well as informal interactions among the AABS community and the co-creation of knowledge products on specific technical challenges and solutions for aquatic food systems. This first-of-a-kind knowledge exchange forum connecting coastal communities in Asia and Africa will help them better manage their fisheries and sustainably expand aquaculture to not only improve their livelihoods but also help adapt them to climate change while restoring marine ecosystems and biodiversity.