6 minutes read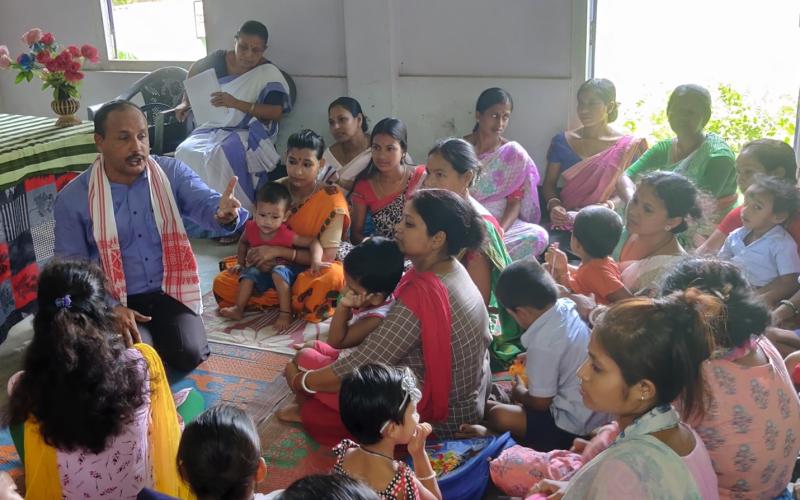 Highlights
Baishnaba Charan Ratha, a human nutrition and public health senior specialist with WorldFish in India, shares how his work empowers women and contributes to food of nutrition security in India.
He is excited about collaborating with a variety of stakeholders to uplift the livelihoods and improve the nutrition of disadvantaged communities. 
 
WorldFish is a global leader in aquatic food systems research and innovation, and science and partnerships are the foundation of our work. Our team delivers robust evidence to policymakers and technological innovations to producers, supply chain actors and consumers to transform food systems. In this series, we profile our accomplished scientists in the spotlight.
Baishnaba Charan Ratha is WorldFish's human nutrition and public health senior specialist in India. Ratha has more than 22 years of experience working with different government departments, international and national research institutions as well as civil society organizations. His research interests include nutrition-sensitive linkages to fish production, value-added fish products and the inclusion of small fish in the diets of children, among others. He earned his doctorate from Panjab University, Chandigarh, India and holds two master's degrees in social work and education.
What are you currently working on at WorldFish?
I am currently working on several projects. I am collaborating closely with government departments in Assam, such as the fisheries department and the social welfare department to promote nutrition-sensitive fish agri-food systems in the state under the Assam Agribusiness and Rural Transformation (APART) project funded by the World Bank.
Assam is one of the country's bottom five states in terms of food insecurity and malnutrition. Malnutrition is a severe public health issue in Assam, particularly among young children as well as pregnant and lactating women. Assam's health and nutrition indicators have not improved much over the years. The project aims to address this by organizing awareness and demonstration programs on the benefits of eating small fish for better nutrition and health within the first 1,000 days of life.
I am also working closely with aquatic food producers to produce hygienic dried fish and value-added products. We have introduced these products to the Integrated Child Development Services (ICDS) supplemental nutrition program in a 3-month pilot study. The children aged from 3 to 5 years from Anganwadi centers in Kamrup district ate small fish and fish products as part of their regular meals.
In the Indian state of Odisha, we are working with the Department of Mission Shakti and the Directorate of Fisheries to engage 3,000 women self-help groups (WSHGs) across 7 coastal districts of Odisha to produce hygienic dried fish and provide them with an opportunity to become entrepreneurs in dried fish production. This will contribute to increased availability and accessibility of hygienic dried fish products in the market as well as the nutritional security of households.
What attracted you to join WorldFish? 
My interest has always been in promoting nutrition education among vulnerable communities. Prior to joining WorldFish, I worked on the eradication of malnutrition in high-burden districts of Odisha using various social behavioral change communication methods and training staff in the field.
In 2017, WorldFish was about to embark on a project to improve the state of Odisha's food and nutrition security. It drew me to join the program as a project manager where I could put all of my expertise working with government agencies to use as well as mobilizing communities.
What's the most exciting part about your research area?  
Throughout my research, I have collaborated with a variety of stakeholders including the government and disadvantaged communities. I've always found community engagement exciting, particularly in increasing women's participation across the value chain. I am now eager to champion aquatic foods for healthier people and the planet.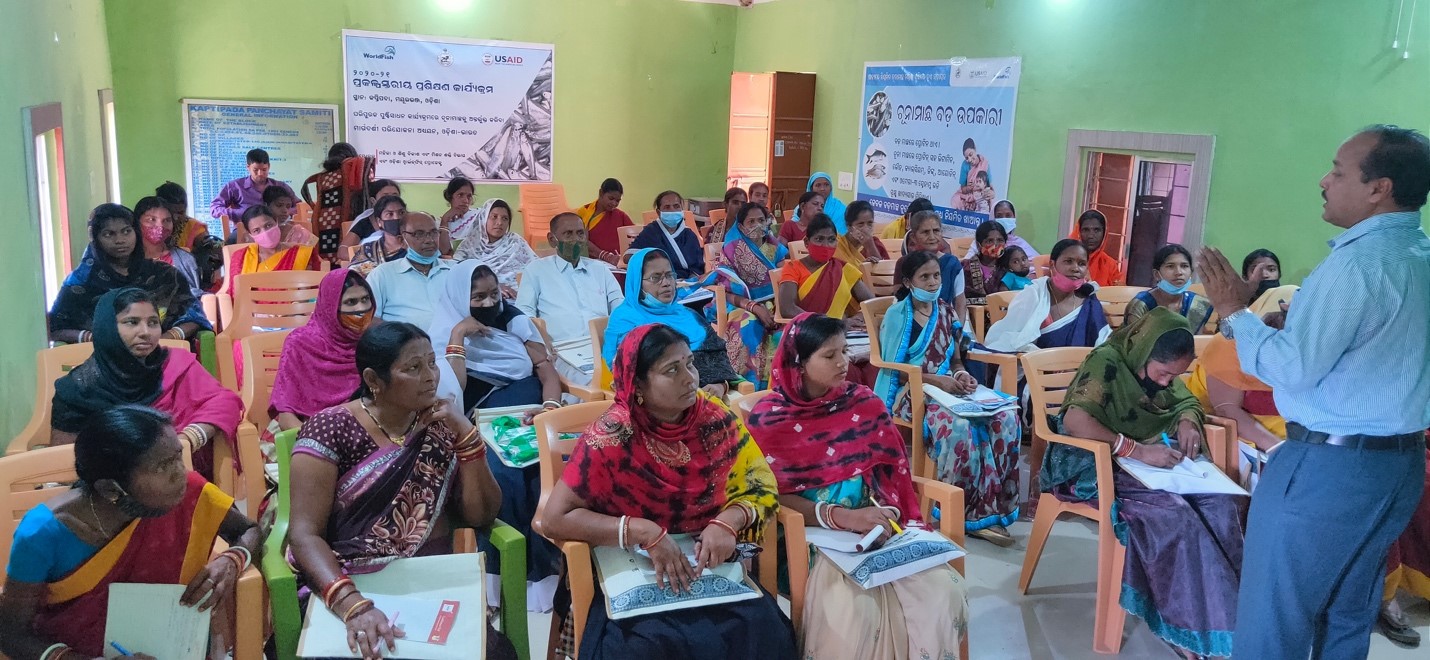 What's your favorite part about the research process and why?
My favorite part of the research process is the coordination and successful implementation of projects in the field. In order to implement various programs like the production of small fish and dried fish products, awareness and demonstration activities at the community level and school feeding programs, I had to connect with various government departments during the research process, including the Department of Fisheries, the Department of Mission Shakti and the Department of Women and Child Development.
What's your most memorable experience working with the Women Self Help Groups?
My most memorable experience was working with around 10 WSHGs to install solar dryers for the production of quality hygienic dried fish. Women were actively involved in the whole process, from cleaning pavement building to installation, among other things.
I remember this one incident vividly. During a cyclone warning, the WSHGs independently removed and reinstalled the units without requiring any assistance from their family's male members.
How does your research support women's empowerment?
Throughout the project's implementation, we encouraged women's participation through awareness and training programs that employ various social behavioral change communication materials.
Having greater participation of women in the day-to-day decision-making of aquatic foods production will not only uplift the livelihoods of women and their families but also ensure the nutrition and food security of their communities.
What innovation do you think has the most significant potential to improve food and nutrition security in India? 
Despite the fact that dried fish is widely accessible on the market, the quality of the products is quite poor. In partnership with the Department of Mission Shakti in Odisha, we intend to build inexpensive, cost-effective mini solar dryers that may be used by individual members of WSHGs and subsequently certified and marketed under the WSHGs umbrella.
Connecting these quality-certified products to the open market and school feeding programs would boost access to fish in rural regions, particularly among disadvantaged groups. As a result, the middle-class community will be more receptive to eating fish, leading to improved food and nutrition security in India.
What piece of scientific research have you conducted in the past 12 months are you the proudest of and why?
I spent a lot of time over the past year promoting fish-based diets in the Indian state of Assam. I have conducted over 50 awareness and demonstration programs and stakeholder workshops across 12 districts on the importance of small fish consumption in the first 1,000 days of life and how to include small fish and fish-based products in children's diets.
Due to the success of these demonstrations, the Department of Social Welfare Development in Kamprup district was urged to test the inclusion of small fish in ICDS hot-cooked meal programs for 3 months as part of the national nutrition mission.
What do you hope your research ultimately achieves?
Through improved production, we hope to increase the availability, accessibility and affordability of fish, particularly small fish, among all vulnerable communities. We also aim to persuade the government to include aquatic foods in the supplemental nutrition program for children as well as pregnant and lactating mothers.