6 minutes read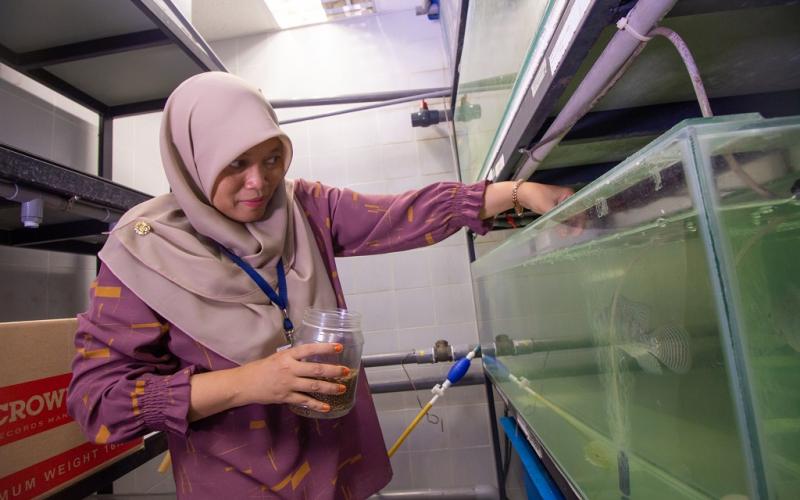 Highlights
Nurulhuda Ahmad Fatan, a senior research analyst at WorldFish, shares how her work contributes to more sustainable and resilient aquatic food systems.
She believes innovation in aquatic feeds is an area where significant improvements in the aquatic foods sector can bring positive change to the livelihoods of value chain actors as well as the food and nutrition security of low- and medium-income countries.
 
WorldFish is a global leader in aquatic food systems research and innovation, and science and partnerships are the foundation of our work. Our team delivers robust evidence to policymakers and technological innovations to producers, supply chain actors and consumers to transform food systems. In this series, we profile our accomplished scientists in the spotlight.
Nurulhuda Ahmad Fatan is a senior research analyst at WorldFish. She has been with WorldFish for over ten years and has been involved in various research projects throughout Asia, primarily in Indonesia, and several African countries. Trained in aquaculture and fish nutrition, her most recent feed and fish nutrition study examines the potential of novel feed ingredients to be used in aquatic feeds, allowing for the production of affordable and sustainable aquatic feeds with no adverse effect on growth.
What are you currently working on at WorldFish?
I am currently working on the Development and Scaling of Sustainable Feeds for Resilient Aquatic Food Systems in Sub-Saharan Africa (FASA) project funded by the Norwegian Agency for Development Cooperation (NORAD).
The project aims to improve the sustainability of aquatic food systems in Sub-Saharan Africa by developing low-cost, highly nutritious aquatic feeds using novel ingredients that are locally available.
By adopting indigenous ingredients and feeds, aquatic feeds which account for a large portion of operating costs can be sheltered from fluctuating inflationary costs and lowered, resulting in higher profitability for fish farmers.
This, in turn, will build the resilience of the 5,000 smallholder fish farmers engaged in this project, resulting in higher production and improved food security for the African nations involved in this project, namely Kenya, Nigeria and Zambia.
Using locally accessible ingredients and feeds also reduces carbon emissions caused by the transportation of ingredients and feeds from distant places, reducing waste and pollution.
What attracted you to join WorldFish? 
I joined WorldFish because I wanted to be a part of an organization with a strong research program in aquaculture and fisheries. WorldFish is well-known in this space and works across many countries throughout Asia, Africa and the Pacific.
Aside from that, I was drawn by the organization's mission to improve aquatic food systems in order to strengthen livelihoods and increase the food and nutrition security of vulnerable communities in low- and medium-income countries.
What's the most exciting part about your research area?
There is a lot to learn about fish nutrition and feed research. Feed and nutrition are key to any successful and sustainable aquaculture venture as feed costs typically account for more than half of variable production costs.
With global fish populations under threat and aquaculture expanding, feeding farmed fish with marine fish or fishmeal is both unsustainable and costly. The higher cost of fishmeal is a serious problem for the global aquafeed industry and the long-term viability of aquaculture. However, finding an affordable yet highly nutritious and sustainable substitute remains a challenge. Among the challenges are the feasibility and sustainability of the novel ingredient.
The most exciting aspect of my research area is when I design and carry out scientific experiments to meet research objectives. I find the process of identifying solutions while validating the feasibility of sustainable raw ingredients in feed for the optimal growth of fish really rewarding, especially when the results are promising.
What's your favorite part about the research process and why?
I enjoy looking into issues, making observations, formulating hypotheses, designing experimental protocols, planning and conducting my own research and finally analyzing the results.
The most exciting part, however, is when I am conducting a fish growth experiment to test the feed that we formulated and produced. I am always curious to find out at the end of the experiment whether the factors had an impact on fish growth.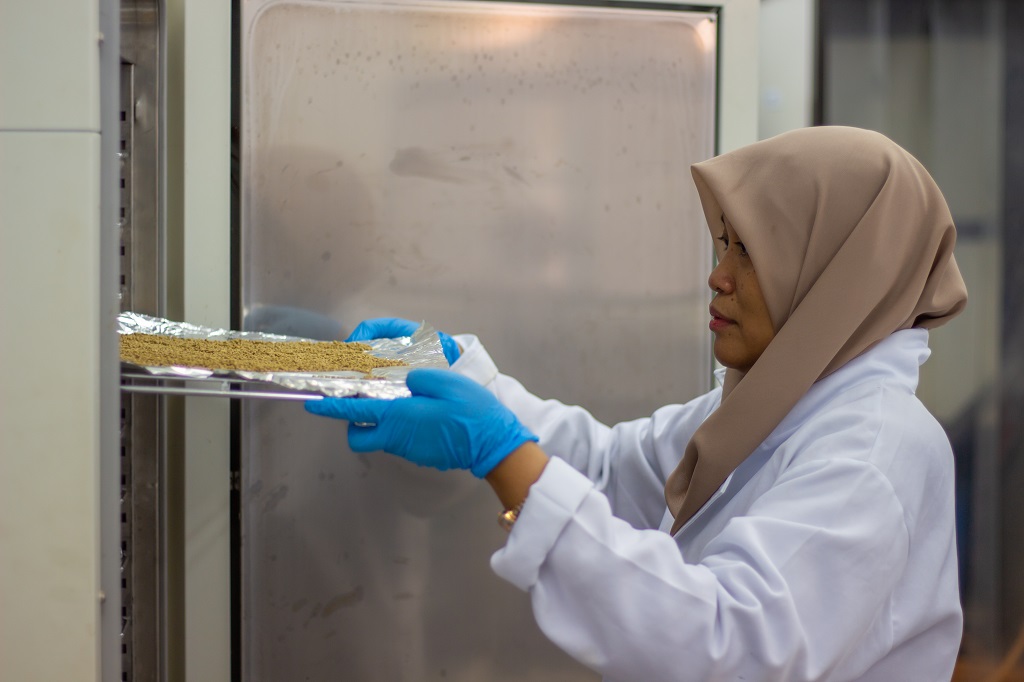 What's your most memorable experience working with fish farmers?
My most memorable experience working with fish farmers was when I supported the activities of the Aceh Aquaculture Corporative Fund a while back. 
Among the activities carried out during the project was training farmers on the best management practices (BMP) in aquaculture in order to improve the productivity and profitability of smallholder aquatic food producers in Aceh, Indonesia.
The opportunity to visit and observe the activities of aquatic food producers at their farms really piqued my interest.
How does your research advance aquaculture?
Aquaculture has grown in importance in many countries and has become the world's fastest-growing food-producing sector in recent decades. One of the most significant long-term goals for aquatic feeds is to develop fish feed that is both affordable and nutritious.
My research will help to provide fresh data and knowledge of local ingredients, which will be used in the formulation of novel aquatic feeds and made widely available.
What innovation do you think has the most significant potential in the aquatic feeds industry?
There is an urgent need to search for new and sustainable feed ingredients. Being the largest component of aquaculture production cost, it offers an enormous opportunity for us to make significant improvements.
Aquatic feed production uses novel ingredients, which are unconventional feed ingredients obtained from plants or animals, to reduce its reliance on wild-caught fish. Research on these ingredients is expanding globally in an effort to find innovative, sustainable, affordable alternatives for protein and fatty acids in aquatic feeds.
While there are many ingredients being touted as a substitute for fishmeal, the ingredients must be examined before being introduced to aquatic feeds as most of them have low inclusion levels due to nutritional or technical limitations.
The inclusion of bioactive compounds or enzymes, as well as pre-treatment methods like soaking or fermentation, may also be necessary to improve the nutritional quality of the ingredients.
What piece of scientific research have you conducted in the past 12 months are you the proudest of and why?
Over the past 12 months, I have worked with the feed and fish nutrition team at WorldFish in carrying out a number of tilapia feed trials. The experiments included a study on the nutrient requirements and fishmeal replacement in the diet of juvenile genetically improved farmed tilapia (GIFT), as well as an experiment to assess the digestibility of nutrients in a tilapia diet formulated with local ingredients. Despite the pandemic, we successfully completed all of the experiments on schedule with positive results that can be applied to further studies.
What do you hope your research ultimately achieves?
I hope that my research will add value to aquaculture research, particularly in the area of feed and fish nutrition. I also hope that the knowledge and data gathered from all the studies will be helpful for subsequent research and interventions in this field.
Nurulhuda Ahmad Fatan's work contributes to the goals of the Development and Scaling of Sustainable Feeds for Resilient Aquatic Food Systems in Sub-Saharan Africa project funded by the Norwegian Agency for Development Cooperation (NORAD).