5 minutes read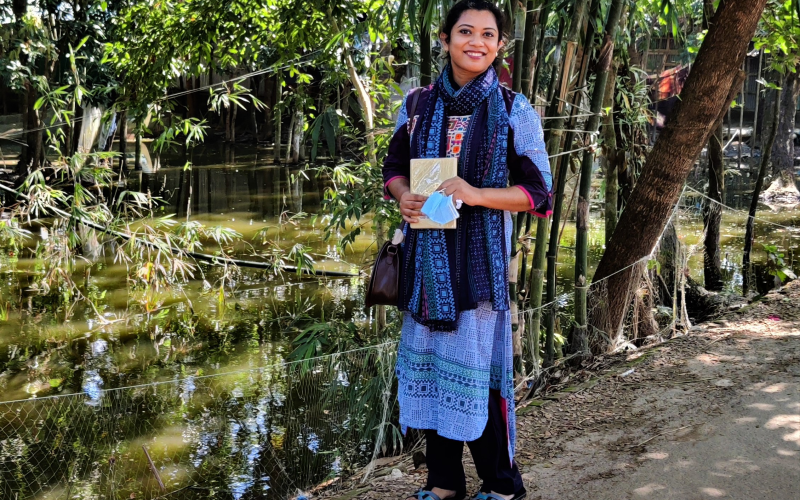 WorldFish and the CGIAR Research Program on Fish Agri-Food Systems (FISH) are global leaders in aquatic food systems research and innovation, and science and partnerships are the foundation of our work. Our team delivers robust evidence to policymakers and technological innovations to producers, value chain actors and consumers in order to transform food systems. In this series, we profile our accomplished scientists in the spotlight. 
Tasnuva Zaman is WorldFish's senior gender specialist based in Bangladesh. Zaman's research focuses on gender mainstreaming, which calls for an integrated gender perspective at all stages of development, and she works to design and implement policy frameworks in rural coastal communities. Since 2011, she has been involved in various projects with USAID, the European Union, and the Department for International Development. She collaborates on projects that address alternative livelihoods, food and nutrition security, gender equity, child education, and violence against women.
What are you currently working on at WorldFish?
I work to support the livelihoods and economic empowerment of women living in rural fishing communities in Bangladesh. These women usually lack access to adequate fisheries resources and technology due to conservative social and religious norms. In my capacity, I research gender equality and facilitate gender mainstreaming, gender-related activities, and policy frameworks to understand the socioeconomic issues that limit women's roles in fisheries.
I am currently working with WorldFish on a USAID-funded project in Bangladesh called 'ECOFISH II.' We work in partnership with different universities, conservation organizations, and NGOs to improve the social and ecological resilience of coastal fisheries, securing equitable food, nutrition and income benefits for fishing communities. My role as a gender specialist works to ensure that the project provides equal opportunities for the fisherwomen in decision-making, income-generation, and leadership roles.
What's the most exciting part about your research area?  
Gender inclusivity is a critical component of sustainable aquatic food systems. For me, the most exciting part is understanding the role of gender in supporting resilient small-scale fisheries. My research contributes to interventions that help build the capacity of small-scale fisheries, specifically Bangladeshi fisherwomen, through the right resources and technology.
What's your favorite part about the research process and why?
The research process gives me an opportunity to understand the different dimensions of gender and how it operates in coastal fishing communities. It allows me to contribute to fisherwomen's economic and social empowerment through various interventions, such as Community-Saving Groups (CSG), Business Literacy Schools, and Alternative Income Generation Activities (AIGA). AIGA support women's livelihoods by offering them alternative ways to earn income, like through dried fish production and seaweed farming.  
What's your most memorable experience working with fisherwomen in coastal communities?
The most memorable experiences for me are the conversations I've had with the women who are members of community-saving groups (CSGs). The CGSs are part of an evolving fund initiative led by ECOFISH II that allows members to take out entrepreneurial loans. Due to the COVID-19 pandemic and national lockdowns, which limited or prevented fishing activities, coastal communities and families struggle to secure income. Through the CSGs initiative, women can overcome the financial crisis by taking out fair loans with generous repayment plans.
Throughout the year, the fisherwomen have used the loans to both invest in fishing gear for their husbands and establish new income-generating businesses for themselves, such as vegetable gardening, poultry farming, and sewing. As part of the project, these women are also receiving training on savings management and business literacy to increase their knowledge and self-efficiency.
As women contribute more to the family income, I have been surprised by how men's perception of women has changed. Women are now more valued and respected in the household and are seen as partners rather than a liability to their husbands. Their active participation in income generation and decision-making processes has also reduced domestic violence and conflicts, allowing them to be more vocal in expressing their opinions and take charge as household leaders.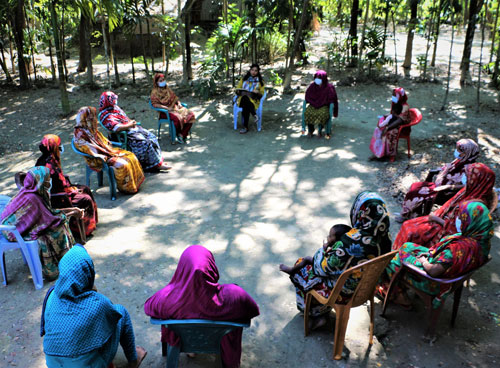 What innovation do you think has the most significant potential to improve coastal fishing communities' lives and livelihoods in Bangladesh? 
The ECOFISH II project has the most significant potential to positively change the lives of rural women. The project aims to enhance the resilience of highly vulnerable fishing communities, where the majority of households earn $1.25 or less a day, and to empower women financially by reducing their dependency on external micro-credit providers who offer unfavorable repayment terms with high interest rates. Factors that affect women's empowerment in the fishing communities include limited access to fish value chains, little decision-making power, and few resources. The CSGs help women overcome these obstacles with training programs through the Business Literacy Schools (BLS) to teach them to operate their own business and manage family finances.
ECOFISH II as a whole has offered women alternative livelihoods and opened new doors for women's participation in the economy. Some successful income-generating activities have been: dried fish processing, seaweed cultivation, green muscle cultivation, and mushroom culture.
What piece of scientific research have you conducted in the past 12 months are you the most proud of and why?
Recently, I conducted gender formative research in line with the gender strategy of the ECOFISH II project. The work documents the existing socioeconomic status of women and identifies the major constraints to gender equality. As the project plans to expand to new areas, such as USAID's Zone of Resilience (ZOR), Cox's Bazar-Teknaf peninsula, coastal fishing communities in the Meghna River Ecosystem (MRE), and the Nijhum Dwip Marine Protected Area (MPA), it was necessary to explore the livelihood dynamics and to identify barriers to empowerment at the individual, household, community, and institutional levels - I hope my work will contribute to these barriers being alleviated.
What do you hope your research ultimately achieves?
We already know that fisherwomen's contributions to aquatic food systems are usually undocumented and overlooked. Their participation in the decision-making process, social mobility, group membership, and collaboration in fish-related activities are limited and often restricted. At the same time, they also face gender-based violence, especially at the household level.
I hope that my gender formative research is opening more opportunities for women's participation, empowering them to help solve the livelihood challenges faced by the coastal fishing communities in Bangladesh.
I believe that gender mainstreaming will open the scope for gender equity as a critical component of project design and implementation in small-scale fisheries. In the future, the lessons learned from the gender formative research will help us to design context-specific interventions for addressing the challenges towards gender equity in the fishing communities and ensure gender mainstreaming in the management of aquatic resources.
Tasnuva Zaman's work in the ECOFISH II project contributes to the goals of the CGIAR Research Program on Fish Agri-Food Systems (FISH) under its Flagship Program on Resilient Small-scale Fisheries.