6 minutes read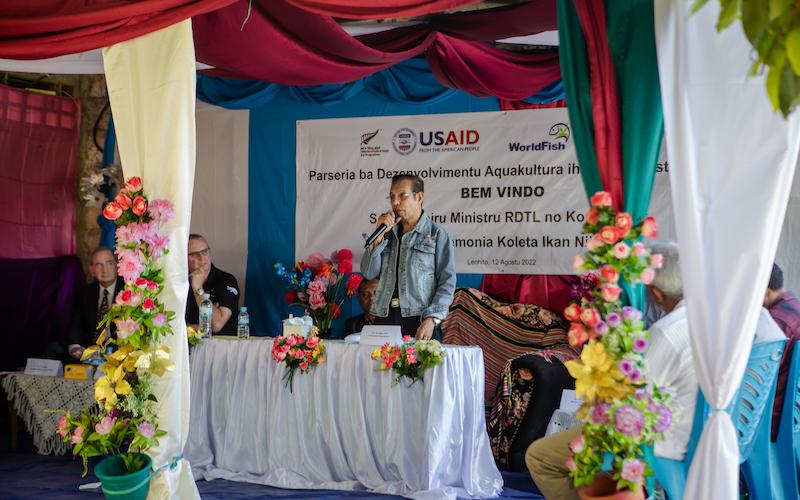 Highlights
Prime Minister Taur Matan Ruak joined more than 300 guests at a genetically improved farmed tilapia (GIFT) harvesting ceremony in Leohitu, Bobonaro, calling for the continued development of aquaculture to enhance incomes and strengthen food and nutrition security in Timor-Leste.
On a sunny day in Leohitu, Timor-Leste, fish farmer Marcos Ramos stood up to share his aquaculture journey with more than 300 event guests.
"For 15 years, I was farming goldfish [common carp]. But I rarely harvested any because few fish could be stocked in a pond, it took a long time to grow and there were no buyers," said the 65-year-old from Balibo.
"However, with Nile tilapia, I have harvested several times in the previous three years."
"Now, I can supply 40 kilograms of fish into the market and earn $200 in a day," he said to audience applause.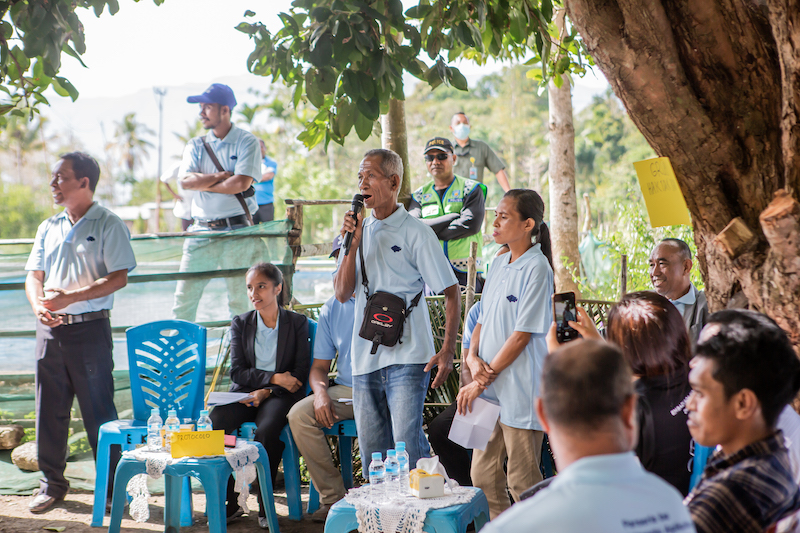 Ramos is a member of the Balibo farmers' cluster as part of the Partnership for Aquaculture Development in Timor-Leste Phase 2 project (PADTL2; 2020-2023).
He has earned over $1,000 annually by selling tilapia from his five small ponds (totaling 250 square meters pond area) since 2017, when Ramos joined the PADTL Phase 1 project.
A joint effort
Ramos was speaking at the Fish Harvesting Ceremony and Farmer Field Day on 12 August 2022 in Leohitu, Bobonaro, a three-hour drive west from Dili.
Timor-Leste Prime Minister Taur Matan Ruak was the chief guest and other special guests included the Minister of Agriculture and Fisheries, Minister of Education, Secretary of State for Fisheries, New Zealand Ambassador and the U.S. Embassy Dili's Chargé d'affaires.
"Timor-Leste has been facing two major concerns—malnutrition and poverty," said Matan Ruak at the event.
"Farmers have an important role in growing food and fish to increase food and nutrition security.
"Selling fish will increase a farmer's household income. I hope that farmers continue to invest their own money into farming activities," he said to the large crowd.
Event guests included representatives from government and non-governmental organizations, diplomatic missions, private sectors, fish farmers, fish market developers and local service providers.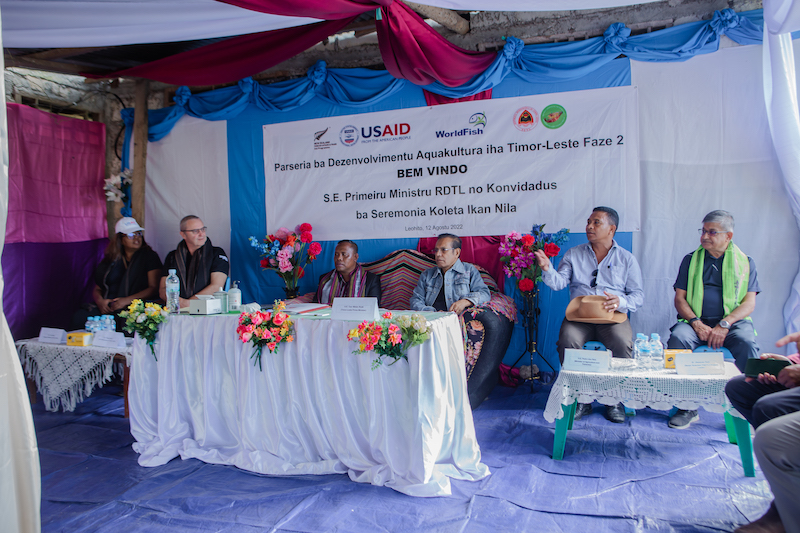 The PADTL2 project works to scale up the production of Genetically Improved Farmed Tilapia (GIFT)—a hardy and fast-growing strain developed by WorldFish through selective breeding.
It uses a holistic approach to: (a) increase availability through supporting better seed, feed and grow-out technology; (b) increase accessibility by linking fish farmers with markets; and (c) increase consumption by promoting the nutritional benefits of eating fish.
The New Zealand Ministry of Foreign Affairs and Trade ($3.2 million) and United States Agency for International Development ($1.2 million) fund the PADTL2 project, which is implemented by WorldFish in collaboration with the Timor-Leste Ministry of Agriculture and Fisheries.
"Since 2014 [the start of the PADTL Phase 1 project], New Zealand has been continuously supporting aquaculture development in Timor-Leste to improve nutrition and livelihoods in rural areas," said Philip Hewitt, New Zealand Ambassador to Timor-Leste.
"We are committed to supporting the scaling of fish farming and will keep working collaboratively with key partners for a brighter future for farmers."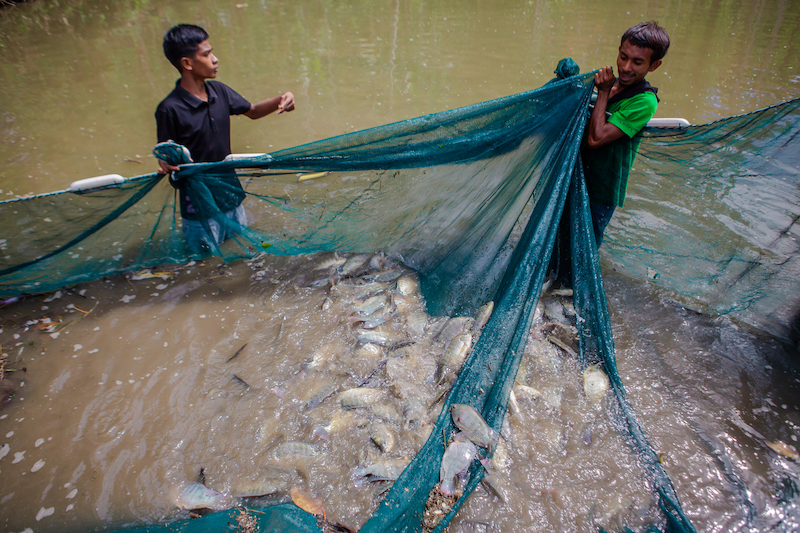 A bumper crop
The event marked the start of a bumper harvesting season for the 190 project fish farmers from across 10 clusters in Ermera, Baucau, Bobonaro and Lautem municipalities, who collectively manage individual ponds totaling 5 hectares of pond area.
"An estimated six tons of fish were produced by the Leohito cluster alone, while other clusters are expected to produce 52 tons," said Secretary of State for Fisheries Elídio de Araújo.
Average fish productivity from the current six months production cycle is estimated to reach over 12 tons per hectare—a three-fold increase in fish productivity compared to previous cycles. 
The significant productivity gains achieved through the project are also due to the culture time being halved from 12 to six months by sustainably intensifying the production system.
Farmers could now realize over 24 tons per hectare of fish productivity annually by completing two production cycles—productivity comparable to the major tilapia-producing countries in Southeast Asia. 
"We must continue to support aquaculture development to increase fish consumption from 6.1 kilograms per person to 15 kilograms per person annually by 2030 [in support of a government target]," said de Araújo.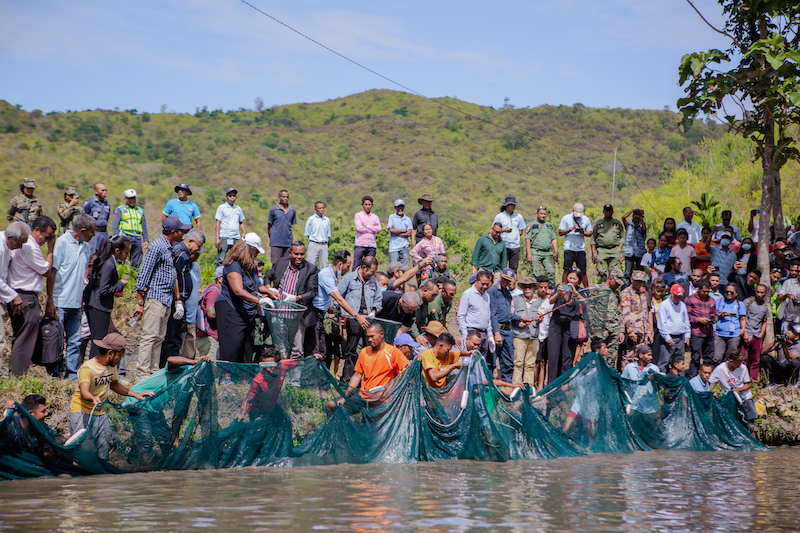 On track to produce 12,000 tons annually
The Timor-Leste National Aquaculture Development Strategy (2012–2030) sets out key targets to address poverty and malnutrition.
By 2030, the country aims to produce 12,000 tons of farmed fish each year to support increased fish consumption of 15 kilograms per person per year.
These targets are well within sight, said PADTL2 project leader Jharendu Pant at the event.  
"Three tilapia hatcheries are operating in Gleno, Leohitu and Parlamento and another two are being established in Hera and Colocao," said Pant, a senior scientist in aquaculture at WorldFish.
Given the favorable agroecological conditions, simple and low-cost technology and better provision of inputs and services, tilapia is likely to contribute more than 75 percent of total inland aquaculture production in Timor-Leste, with the rest coming from other species. 
"If another five public-private partnership (PPP) model tilapia hatcheries are set up and the total fish pond area across the country is expanded to reach 500 hectares over the next eight years, the country can easily meet its 2030 targets," Pant said.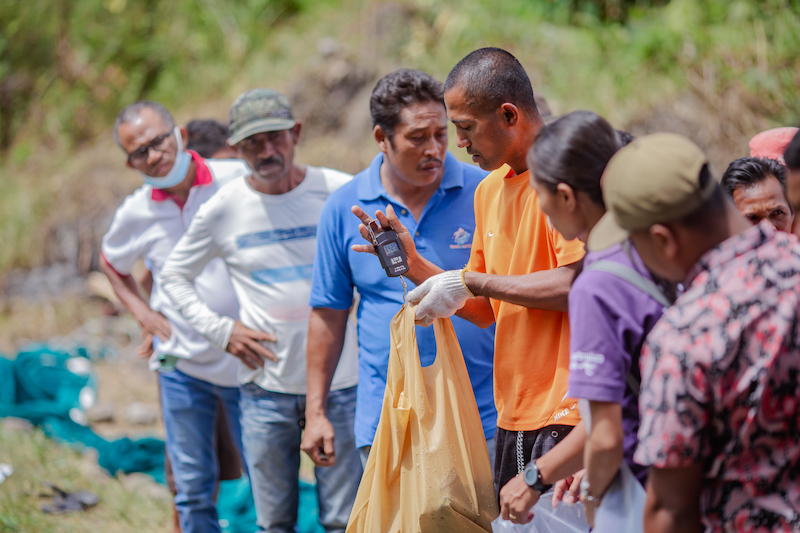 Pant said the PADTL2 project is starting up other support services to continue "scaling up and out the benefits realized so far."
"Feed importers, fish market operators, and local service providers to facilitate input supply (seed, feed) and fish marketing are in place and now the project is providing them with training and a small start-up grant to successfully run their business," he said.
"Together, these efforts are moving aquaculture development in the right direction so the country can fully harness the nutritional and income benefits of aquaculture in the coming years."
'Joining hands together'
U.S. Chargé d'Affaires Tom Daley congratulated everyone working on the PADTL2 project, particularly the farmers.
"You are working hard to feed your families and your communities and you are also contributing to a larger cause — helping to feed the nation," said Daley.  
"The United States is proud to stand in partnership with you, the New Zealand Ministry of Foreign Affairs and Trade, WorldFish and the Ministry of Agriculture and Fisheries to advance sustainable development of aquaculture and improved nutrition in Timor-Leste."
The event included a tour of the seed production facilities at the MoreDoc Unipessoal Lda in Leohitu—the first PPP-model GIFT hatchery in Timor-Leste.
Guests had the option to buy freshly harvested tilapia for $4 per kilogram, resulting in the sale of more than 550 kilograms of tilapia, of which the prime minister bought 50 kilograms. 
One hundred kilograms of live tilapia were transported to Dili by business owner Benedito Manuel Alves, which will be sold by PADTL2-supported agricultural shops and restaurants as part of a new marketing initiative to increase consumer access to fresh fish.
Related stories/publications:
● Press Release: Prime Minister Taur Matan Ruak meets fish farmers to celebrate successes in scaling up aquaculture production
● Pathway to prosperity: Aquaculture in Timor-Leste set to grow after 10 years of development
● Timor-Leste National Aquaculture Development Strategy (2012–2030) 
● Partnership for Aquaculture Development in Timor-Leste: Looking back, looking forward
● Making land-based aquaculture in Timor-Leste nutrition-sensitive