3 minutes read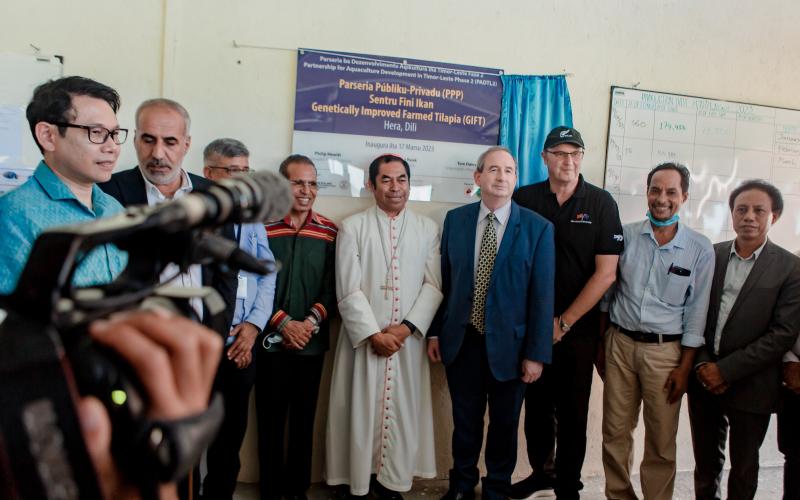 "In Timor-Leste, the aquaculture sector has progressed well. In the future, it will deliver good results for developing Timor-Leste."
Former Timor-Leste Prime Minister Taur Matan Ruak spoke at the inauguration event for a new tilapia hatchery in Hera, Dili.
"The government is committed to promote and support this public-private-partnership (PPP) model hatchery to ensure self-resilience and encourage scaling in other areas."
The hatchery was co-funded by owner Joseph Karimi and the Partnership for Aquaculture Development in Timor-Leste Phase 2 (PATL2) project (2020–2023).
The PADTL2 project is funded by the New Zealand Ministry of Foreign Affairs and Trade (MFAT) and United States Agency for International Development (USAID) and implemented by WorldFish in collaboration with the Timor-Leste Ministry of Agriculture, Livestock, Fisheries and Forestry.
"This is the power of a partnership. We can achieve more together when we partner for common goals," said U.S. Chargé d'Affaires Tom Daley at the event.
"I'm proud to see how this project is advancing many shared goals—food and nutrition security, gender equality, and economic prosperity."
Third private hatchery
More than 200 guests attended the inauguration on Friday 17 March 2023 to celebrate the hatchery's opening.
The hatchery will use genetically improved farmed tilapia (GIFT), which is a fast-growing strain developed by WorldFish for more than 30 years.
"GIFT has been in many countries," said PADTL2 Project Leader Dr. Jharendu Pant. "One of its strengths is it can be cultured at high density and over a short production cycle."
The Hera hatchery follows a public-private partnership (PPP) model, bringing together inputs from the government and private sector.
"The government-run hatchery in Gleno provides high-quality GIFT broodfish—mother fish—to private GIFT hatcheries," said Dr. Pant.
"The hatcheries multiply and distribute monosex fingerlings, which are sold at affordable prices (5-10 cents depending on size) to local fish farmers."
The Hera PPP hatchery, registered as Faith Fish Hatchery, will be managed by four local staff and three student interns, with the PADTL2 project providing technical support.
"We aim to produce five million fingerlings monosex (all male) fingerlings each year," said owner Mr. Karimi.
"The hatchery will benefit the local farmers by providing very cheap and high-quality fingerlings, enabling all farmers to access them easily."
The Hera hatchery is the third of its kind in Timor-Leste, after the Leohitu (Bobonaro) and Parlamento (Lautem) hatcheries.
A fourth PPP hatchery has been constructed in Colocau, Manufahi municipality, on the south coast of Timor-Leste.
Making fish more accessible
Fish consumption in the half-island nation is low compared to global standards. Inland fish consumption is much lower than coastal regions, due to less fish being distributed to hard-to-reach inland areas.
Since 2020, the PADTL2 project has worked to scale up aquaculture production in the country. Establishing private GIFT hatcheries is key to providing local fish farmers with the quality seed needed for high production.
"There's a lot of demand for fish in the communities," said New Zealand Ambassador to Timor-Leste Philip Hewitt. 
"It's not easy to access [fish] there, so improving access for communities will give more income and the opportunity for families to have better nutrition."
These efforts are key to supporting the targets in the National Aquaculture Development Strategy (2012–2030).
The country aims to produce 12,000 tons of farmed fish annually by 2030, leading to an increase in annual fish consumption to 15 kg per person.
Mr Hewitt said Timor-Leste has a "real opportunity" to build the aquaculture sector.
"[Many] groups are coming together, working with the government, with the private sector, and also with our NGO partners like Mercy Corps," he said.
"We can use that to build a greater impact by bringing all the collective inputs together."