2 minutes read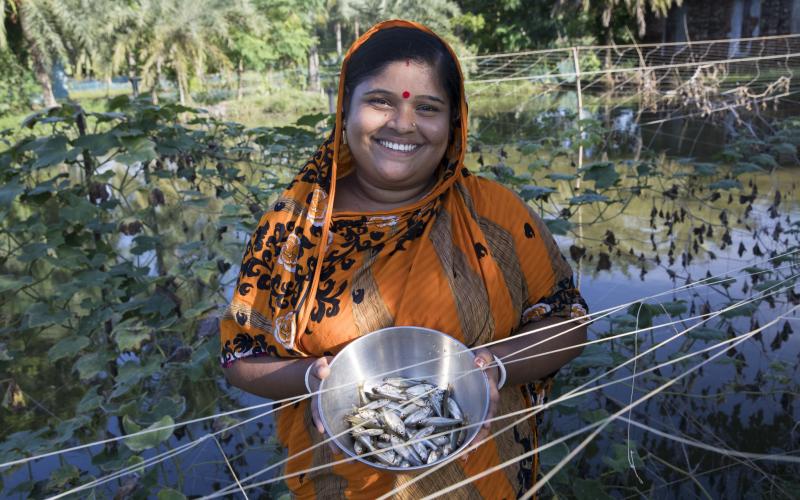 Highlights
A virtual event was held to support Bangladesh's aquatic foods systems and balance conservation with livelihood interests.
As part of a series of dialogues in preparation for the upcoming UN Food Systems Summit 2021, the FAO and WorldFish organized a virtual event to discuss the future of aquatic food systems in Bangladesh and the actions needed to strengthen food and nutrition security. 
The summit dialogue, Transformation and Future of Aquatic Food Systems in Bangladesh, gathered fisheries and aquaculture practitioners, supply chain actors, nutrition experts, and high-level policy representatives to propose solutions for the many challenges faced by the country's aquatic foods sector. 
Fish and other aquatic foods are an important dietary staple in Bangladesh, and both capture fisheries and aquaculture contribute significantly to sustainable healthy diets and household income.
Development partners and researchers are thus exploring novel ways to support aquatic food-based livelihoods and build the capacity of production systems within planetary boundaries. There is potential to sustainably boost production with innovations such as community-based fisheries management, alternative feeds and low carbon production systems. 
Bangladesh has a flourishing aquatic food sector which has been able to balance conservation and livelihood interests A food systems approach, which looks holistically at food production, consumption and supply chains, and co-management of fish stocks have helped hilsa populations to recover and even double, while also increasing the income of fishing households by 65 percent, explained WorldFish Director General Gareth Johnstone.
"Bangladesh is an example to the world of what is possible when there is cross-sectoral collaboration and support for research and innovation in aquatic foods. It is a model of how to transform fisheries and aquaculture to nourish a nation and boost livelihoods while protecting the environment," said Johnstone.