4 minutes read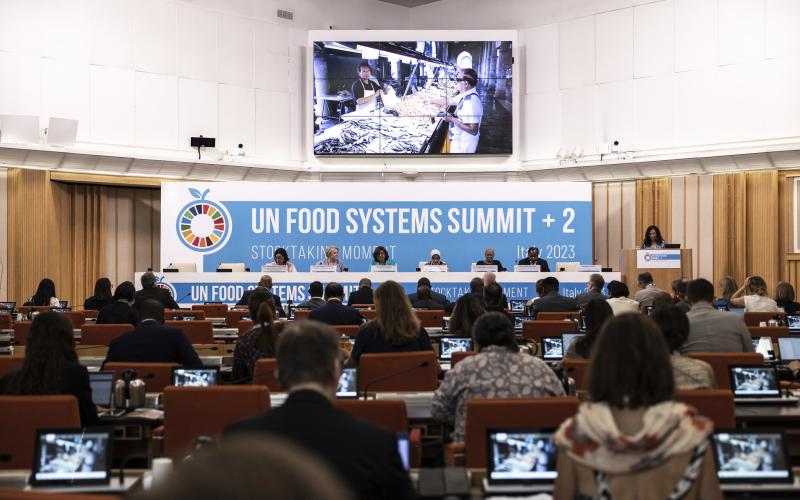 Highlights
Aquatic food systems can provide a sustainable and climate-resilient source of food, nutrition and employment.

At the recent UN Food Systems Summit +2 Stocktaking Moment, ministers agreed on the vital importance of supporting the sustainable development of aquatic food systems.

WorldFish is working to maximize the positive impacts of sustainable aquatic food production for local communities, economies and environments.
As the climate crisis heats up, land-based food production is coming under increasing scrutiny. Not only are these food systems major drivers of greenhouse gas emissions and biodiversity loss, but they are also proving increasingly vulnerable to rising temperatures and uncertain rainfall. Without significant changes, this vicious circle threatens food and nutrition security – as well as the livelihoods of food production communities – worldwide.
With land-based food production struggling to meet the planet's needs, it is time for the public and private sectors to cast their nets wider and maximize the potential of aquatic food systems. This was the message of Blue Transformation – advancing aquatic food systems for people, planet and prosperity. Held on 25 July 2023, as part of the UN Food Systems Summit +2 Stocktaking Moment, this high-level event brought together Ministers and ambassadors to intergovernmental organizations at the helm steering national and regional agendas on initiatives already underway and urgent action needed to transform aquatic food systems for food and nutrition security amid the rapidly changing climate.
Aquatic food systems crucial to tackle hunger and poverty
The need for urgent action was stressed by Maria Helena Semedo, Deputy Director-General of the Food and Agriculture Organization of the United Nations (FAO). "This event is coming just as FAO and partners revealed that 780 million people still face hunger – up 122 million since the pandemic – and that 3.1 billion people cannot afford a healthy diet," she said. "Therefore, more than ever, fish and aquaculture are crucial in the fight against hunger and poverty."
Despite the troubling state of global food and nutrition security, the event offered a positive perspective on the potential of aquatic food systems. Speakers and panelists were united in their belief that sustainably managed aquatic foods can meet a greater portion of the world's food and nutrition needs in the face of social, environmental and climatic changes. They also stressed the importance of aquatic food systems in boosting equitable employment, tackling poverty and strengthening community resilience.
"Aquatic food systems provide over 3 billion people with at least 20 percent of their animal protein and livelihoods for some 600 million people. Aquatic food system production is at a record high, and is expected to grow by 11 percent by 2030, offering promising potential to feed a growing population … Without aquatic foods we will not end hunger nor achieve the Sustainable Development Agenda," said the FAO's Deputy Direct-General.
Her words were echoed by Shakuntala Thilsted, Director of CGIAR's Nutrition, Health and Food Security Platform, who moderated the event.
"A blue transformation is critical in transforming aquatic food systems to address food and nutrition security and poverty globally, while ensuring that our planet's natural resources are used sustainably – today and in the future," said Thilsted, who previously worked at WorldFish and was the winner of the 2021 World Food Prize.
To ensure aquatic food systems meet these expectations, panelists agreed that international cooperation and research is essential. Anne Beathe Tvinnereim, the Norwegian Minister for International Development, emphasized the importance of knowledge-based management of fisheries and aquaculture to ensure long-term sustainability.
"Documenting food safety and nutrients is vital for implementing knowledge-based food and nutrition policies. We must ensure access to food composition data, connect research and policy, and scale up the good solutions that are out there," urged Tvinnereim.
WorldFish projects highlight transformative potential of aquatic food systems
The potential of aquatic food systems to improve food and nutrition security and strengthen livelihoods has recently been explored in WorldFish's 2022 Annual Report. The report features seven "Stories of Change," each showcasing the transformative impacts of sustainable aquatic food production for local communities around the world.
In Bangladesh, for example, salt farmers in Cox's Bazaar have diversified their incomes thanks to the introduction of brine shrimp farming by WorldFish. Used for both live fish feed and increasingly for human consumption, brine shrimp have raised salt farmer incomes by as much as 400 percent. In the Solomon Islands, meanwhile, WorldFish's ongoing partnership with the Ministry of Fisheries and Marine Resources has helped institutionalize community-based resource management for 76 local communities. This will support sustainable local economies and environments in the climate-vulnerable Pacific nation.
WorldFish is now building on successes like these with the launch of its Asia–Africa BlueTech Superhighway (AABS) project. AABS will harness the power of South–South collaboration to adapt and scale evidence-based models for delivering impact through aquatic food systems, transforming the lives of hundreds of thousands of people working in these systems in Asia and Africa.
Through such projects, WorldFish and its partners are helping unleash the potential of aquatic food systems in countries to transform food and nutrition security and livelihoods for millions.