4 minutes read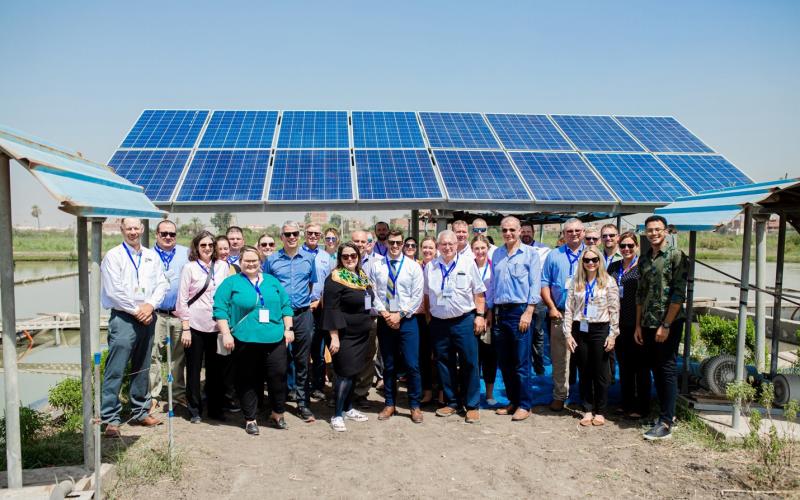 Highlights
Revolutionizing Egypt's fish trade industry, WorldFish and United States Soybean Export Council (USSEC) celebrate the 100th SEC training program,

Unveiling Egypt's fish trade potential, WorldFish leads the way with strategic collaboration and innovative training program.
In September, WorldFish in Abbassa proudly hosted a visit from a delegation representing the United States Soybean Export Council (USSEC) board. The visit coincided with the inauguration of the 100th Soy Excellence Center (SEC) training program with a groundbreaking in-person training focusing on 'Fish Trade and Export Opportunities'.
The event also served as a platform to celebrate the 4th anniversary of the establishment of the SEC in the MENA region headquartered at WorldFish's facility in Abu-Hammad, Al Sharkia.
In 2019, WorldFish forged a partnership with USSEC and established the SEC. The SEC serves as a haven for practitioners to enhance their skills through a diverse range of in-person and virtual monthly training programs. The visit kicked off with an opening ceremony, celebrating the collaborative spirit that underpins the venture.
"Illinois farmers export about 60% of our soybeans, so we rely on exports, and now we are learning from the end users here, and it's interesting to see how it's being used," said Mark Read, Director of the Illinois Soybean Association.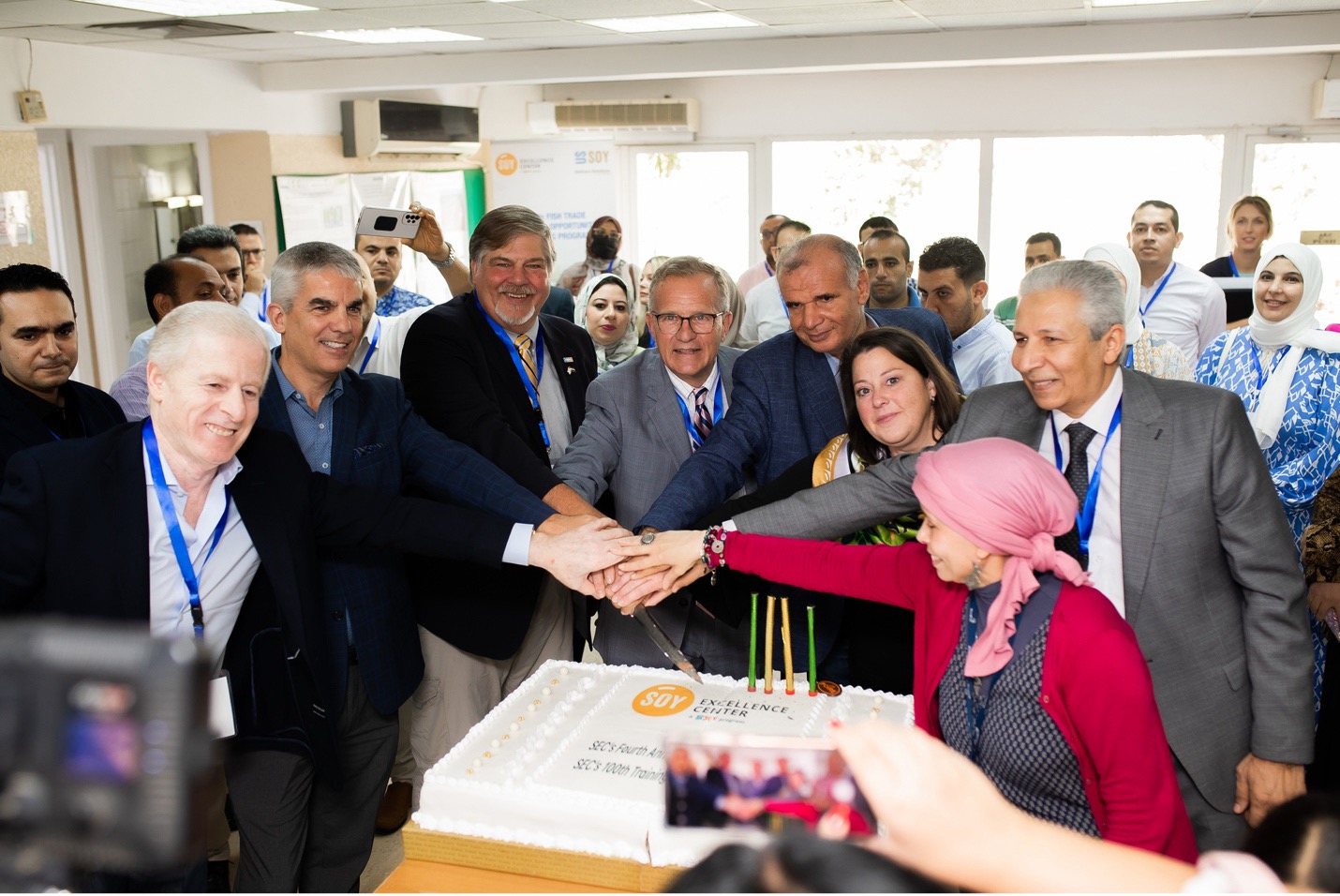 "Today is a  momentous day for us at the Soy Excellence Center as it is the 100th time our  training program courses have been conducted and it's the four-year anniversary of this program. WorldFish has a world class facility providing education and training to help and improve aquaculture operations here in Egypt and in other countries around the world," said Tori Sorenson, Director, Insta-Pro International.
Opening remarks from WorldFish were jointly delivered by Salah Mesalhy Ali, Board Member, Ahmed Nasr-Allah, Country Director, and Doaa Fawzy, HR & Training manager.
"We have embarked on a remarkable journey together, where our combined endeavors have empowered aquaculturists in Egypt. By delivering virtual workshops, we have fostered the exchange of knowledge and actively promoted the development of sustainable aquatic food systems," stated Mousa Wakileh, SEC lead of the USSEC in the Middle East and North Africa.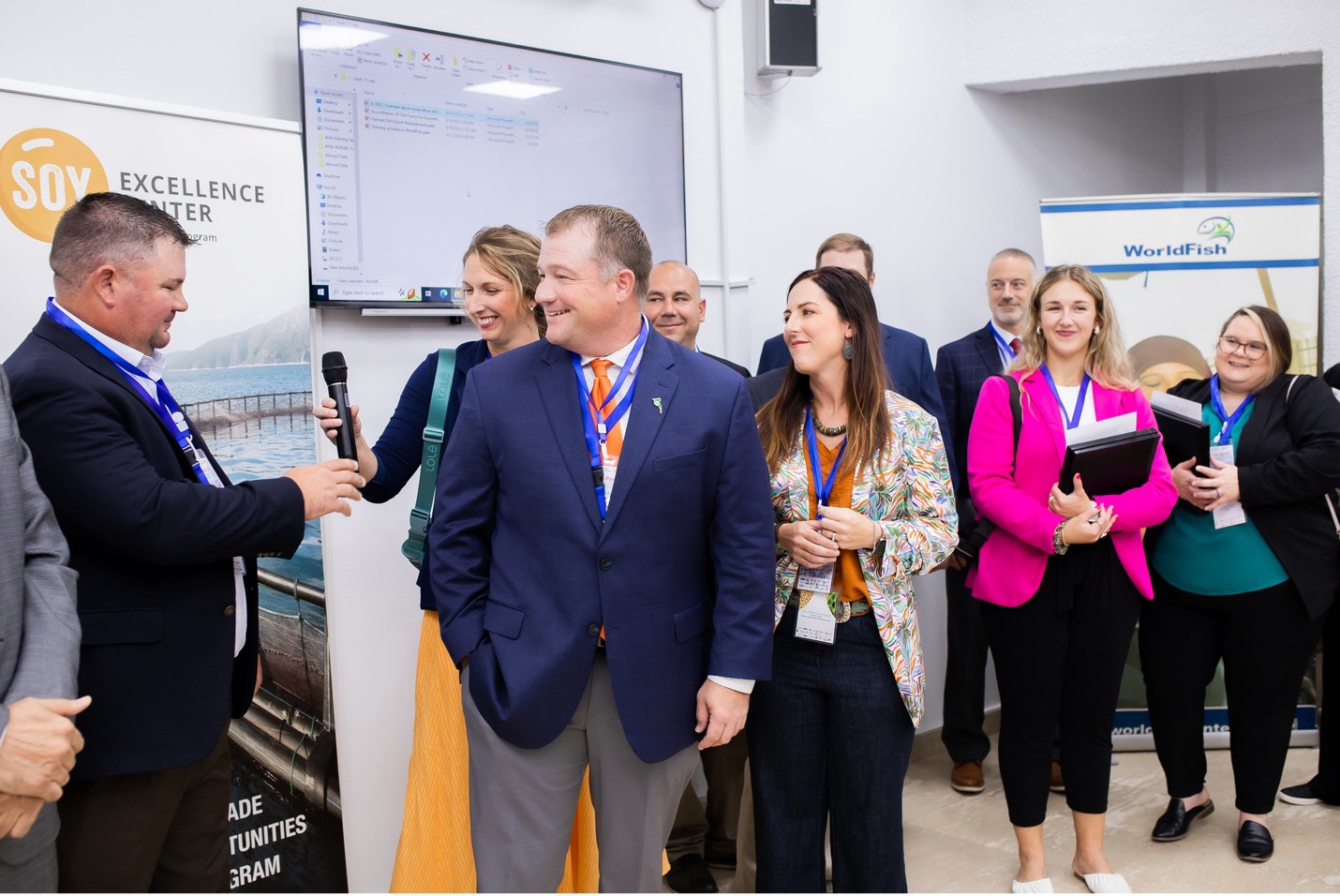 WorldFish also welcomed a group of 50 Egyptian aquaculturists, producers, and small-scale farmers.
"We highly appreciate your valuable presence among our diverse group of participants involved in various aspects of the aquaculture sector which adds immense value to the training program, fostering knowledge exchange and collaboration, Over the course of 3- days, the program will delve into the current landscape of fish trading and export, supported by intriguing case studies that shed light on various perspectives," said Doaa Fawzy.
Unlocking Egypt's potential for sustainable systems
During the delegation's visit, they were accompanied by WorldFish staff on a facility tour which included a visit to WorldFish's genetics green house and In-pond Raceway System (IPRS).
Founded in 2017, the system is advancing climate-smart fish farming in Egypt. It is designed to increase yield, improve water use efficiency, and reduce greenhouse gas emissions. The system involves the use of raceway cells inside existing ponds to culture fish, allowing for higher fish production compared to traditional pond systems.
Expanding aquaculture
The global demand for fish and seafood products continues to rise, presenting significant market growth potential for Egypt's aquaculture sector.  Egypt has the opportunity to tap into this growing market by expanding its aquaculture production and establishing trade partnerships with other countries.
Returning to the 100th training program, participants were immersed in a distinctive and enriching learning experience that values collaboration and the exchange of knowledge. Throughout the sessions, multiple breakout rooms facilitated dynamic discussions between experts and practitioners, enabling the exchange of invaluable tips, techniques, and best management practices (BMPs).
Participants were empowered to explore strategies for overcoming constraints and transforming challenges into lucrative business opportunities.
The final day featured a graduation ceremony where attendees were presented with certificates signifying their successful completion of the training.
The 34 delegates included representatives from the Missouri Soybean Merchandising Council, Minnesota Soybean Research and Promotion Council, New York Corn, and Soybean Growers Association, Kentucky Soybean Promotion Board, Kansas Soybean Commission, Indiana Soybean Alliance, Ohio Soybean Council, South Dakota Soybean Research and Promotion Council, Iowa Soybean Association, Nebraska Soybean Board, Illinois Soybean Association and Insta-Pro International.