4 minutes read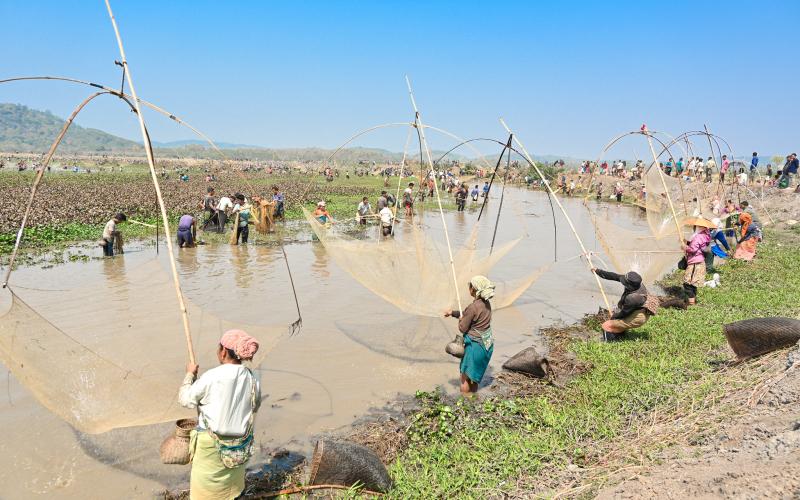 Highlights
Droughts, war, the rising prices of fuel and fertiliser are providing the catalyst for a perfect food storm
Professor Johan Rockström is director of the Potsdam Institute for Climate Impact Research; Professor Walter Willett is professor of epidemiology and nutrition at Harvard T.H. Chan School of Public Health; Dr Shakuntala Haraksingh Thilsted is global lead of nutrition and public health at WorldFish CGIAR and 2021 World Food Prize Laureate; Dr Gunhild Stordalen is founder and executive chair of EAT
In 1972, at the UN Conference on the Human Environment, the environment was recognised for the first time ever as a pressing global issue, and the climate movement was born.
Fifty years on, meaningful action is still dragging, and our world now faces the triple threat of COVID, conflict and climate. As leaders convene at Stockholm+50 this week, they are faced with a rapidly accelerating food emergency driven by these global crises, that is threatening to spiral beyond our control.   
The COVID-19 pandemic revealed the fragilities of the food system and doubled those facing starvation, and now the conflict in Ukraine is adding enormous pressure on food production worldwide. Grain production is expected to be down by at least 35% and Russian blockades are cutting off vital trading routes ahead of the summer harvest.
Climate impacts in India are reducing all hopes that its surplus might fill the food shortage gap. A heatwave in early May has driven domestic prices to a record high, leading to a ban on exports.
These factors, amongst other issues, have sent food prices skyrocketing, with catastrophic consequences for those most vulnerable. Today droughts, war, the rising prices of fuel and fertiliser are providing the catalyst for a perfect food storm.
Less than a decade ago, we were heading towards the eradication of hunger. But these crises have set back decades of progress and the number of people starving has risen from 80 million in 2017 to 135 million pre-COVID. There is a real risk that this number will rise to more than 840 million by 2030 as global shocks to the food system become regular crises – a new normal none of us want to live with.
Our present situation is exacerbated by the near absence of consideration of food systems in global policy negotiations.
The UN Food Systems Summit 2021 convened the world but there is still no consensus on science-based targets, akin to the 1.5°C for climate. Diets and food loss and waste are largely ignored in the Nationally Determined Contributions. Even the Convention on Biological Diversity struggles to include regenerative food production and healthy foods as clear biodiversity targets.
It's time to fix the broken system.
No country can avoid the ripple effects of these terrifying multiple crises. But it's not too late to bring us back from the edge. Now is the time for leaders to commit to transforming our current food systems which are unhealthy, unsustainable, and unjust.
This week in Stockholm, leaders stand at a critical juncture united by the vision for a healthy planet for the prosperity of all. We urge leaders to put food systems transformation at the heart of global policy to secure a healthy, sustainable and equitable future for everyone.
To have any chance of limiting global warming to 1.5°C and achieving the Sustainable Development Goals (SDGs) by 2030, we must transform our food system away from emitting 25% of greenhouse gases towards capturing 25% of carbon in the next 20 years.
We need a global food system that is resilient enough to buffer rising shocks and stresses from climate change and the transition away from fossil fuels. And that food system needs to provide healthy diets for a global population that will grow by more than 2 billion in the same period.
To make this happen, countries, companies, and civil society need science-based targets that provide them with clear pathways to can be translated into local action.
Today, at Stockholm+50 25 world-leading scientists from 19 countries in various disciplines convene for the first time to launch the EAT-Lancet Commission 2.0. Together, we will update and expand the evidence base for sustainable and equitable food systems change.
By shining a spotlight on the importance of local and diverse foods, production practices, and solutions compatible with the Planetary Health Diet, we aim to provide up to date scientific evidence for sustainable food systems, to ultimately chart a course to a resilient food future that helps us to tackle human health, conflict and climate.
###
This opinion piece co-authored by Shakuntala Haraksingh Thilsted was originally published in the Climate section of the Thomson Reuters Foundation News.