5 minutes read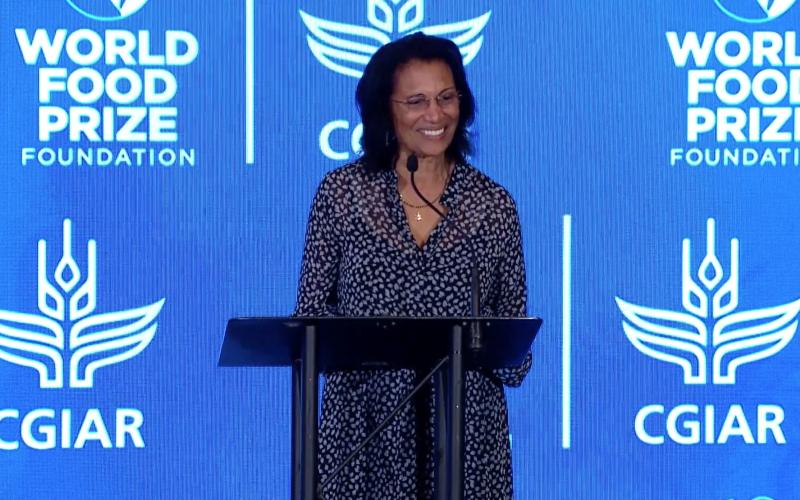 Highlights
CGIAR, the world's largest agricultural research and innovation network, celebrated its 50th anniversary.
World Food Prize Laureate, Shakuntala Thilsted, made an inspiring address calling on CGIAR to harness the unmatched potential for aquatic foods in its mission to transform food, land and water systems in a climate crisis.
 
CGIAR, the world's largest agricultural research and innovation network, marked its 50th year anniversary at a special event as part of the World Food Prize Borlaug Dialogue in Des Moines, Iowa.
CGIAR's Managing Director for Global Engagement and Innovation Kundhavi Kadiresan reflected on decades of ground-breaking science and long-standing partnerships that have made significant progress to eliminating hunger and poverty across the world. She also looked to the future reflecting on CGIAR's expanding mission of solving world hunger to address wider 21st century challenges by transforming the world's food, land and water systems in a climate crisis. 
The executive team member also reflected on CGIAR long partnership with the World Food Prize Foundation and paid homage to the 2021 World Food Prize Laureate Shakuntala Thilsted, WorldFish's Global Lead for Nutrition and Public Health.
At the event, Thilsted joined other distinguished speakers including Víctor Manuel Villalobos Arámbula, Mexico's secretary of agriculture, Peter Mcdougall, the assistant deputy minister for global issues and development at Global Affairs Canada, Rodger Voorhies, president of global growth and opportunity division at the Bill and Melinda Gates Foundation, and Jim Barnhart, assistant to the administrator in the USAID Bureau for Resilience and Food Security.
In her remarks Thilsted, the 2021 World Food Prize Laureate, made an inspiring call for CGIAR to harness the unmatched potential for aquatic foods to have multiple wins across the sustainable development agenda. Read the full text of her speech below: 
Thank you so much for the honour to speak at CGIAR's 50th Anniversary. 

Important milestones such as this, for organizations or individuals, offer the chance to celebrate accomplishments, to draw lessons from the past, and to reflect upon key actions for the future.

The purpose of CGIAR, as the world's largest global network, working to solve humanity's greatest challenges through agricultural science and innovation is as relevant now, as it was 50 years ago.

The new CGIAR mission to accelerate the sustainable transformation of food, land and water systems toward nutritious diets that sustain the health of people and the planet, is as promising, as it is exciting!

It opens up opportunities, for a bolder and more inclusive research agenda that takes into account so many possibilities for growth and reinvention.

During the course of my career, and as a WorldFish scientist in the CGIAR, my work – at the intersection of nutrition, fish and aquatic food systems -- has enabled me to examine the multiple benefits of diverse aquatic foods for sustainable development.

It has pressed me to advocate for greater support and funding for research and innovation in aquatic food systems. It has compelled me to talk about the need to shift away from the limiting discourse of 'feeding' a growing global population, towards that of 'nourishing' billions of people, nations and the planet.

For decades, the global agricultural research agenda, as well as policies on agriculture, food and nutrition security, and even food aid, have primarily focused on solutions related to staple crops and livestock.

Historically, aquatic foods research has accounted for only 3-4% of the total CGIAR annual budget, but consecutively returned big gains across the sustainable development goals.

The world is finally waking up to the unmatched potential of aquatic foods, the fastest growing food sector globally.

Aquatic foods, which include plants, animals and microorganisms, are the closest thing we have to a 'nature-based solution' to the complex challenges of transforming our current food system to one that is healthier, more sustainable and more fairly distributed.

Research shows that with inclusive and sustainable management, we can increase the current supply of food from the ocean, alone, by 6 times. This would contribute more than 2/3 of the protein required to meet food and nutrition needs of a growing global population.

Pelagic small species, such as sardines, mola, and anchovies, or bivalves and seaweeds are micronutrient powerhouses. Their harvesting and production have significantly lower impacts on the environment, compared to most food production activities on land.

Moreover, consumption of diverse aquatic foods can help avert some 166 million micronutrient deficiencies worldwide, improve the health of women and children, and prevent diet-related diseases in many low- and middle-income countries.

This year, the World Food Prize Foundation, among other influential actors, has embraced the growing body of scientific evidence on aquatic foods, once again.

The scientific group of the UN Food Systems Summit named aquatic foods as one of seven priorities to end hunger and malnutrition worldwide, and protect the planet.

Together with WorldFish and FAO, the UN Nutrition released a first-ever report On the role of aquatic foods in sustainable healthy diets, to inform and steer policy and investments in innovative solutions for improving nutrition and public health.

The High-level Panel for a Sustainable Ocean Economy has issued a series of blue policy papers on critical ocean and other aquatic system solutions that benefit people, nature and the economy.

The recent Blue Foods Assessment -- in partnership with Stanford University, the Stockholm Resilience Center, and the EAT Forum – delivers more compelling evidence on the growing role that aquatic foods must play in the shift towards healthy, equitable and sustainable food systems.

Looking ahead to the future and the next 50 years for CGIAR, a sustainable food systems transformation will not be possible without due attention and investment given to aquatic food systems, alongside crops and livestock.

To capture their full potential, aquatic food systems – including capture fisheries and aquaculture – must be prioritized and placed higher up in the new One CGIAR agenda, its structure, and more importantly, donor commitments.

The famous Danish philosopher Søren Kierkegaard once said:

 "If I were to wish for anything, I should not wish for wealth or power, but for the passionate sense of potential, for the eye for which, ever young and ardent, sees the possibilities …."

My hope is that the new One CGIAR will grow and reinvent itself by firmly embracing the possibilities that come with food from water.

Thank you.
Find out how aquatic foods are making a splash at the World Food Prize here.