4 minutes read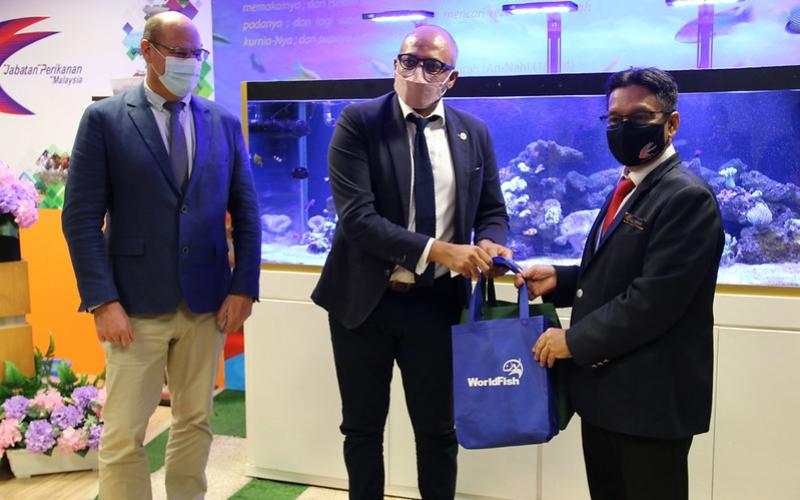 Highlights
WorldFish Interim Director General renews relationship with the Malaysian Department of Fisheries (DoF) and the Fisheries Research Institute (FRI) through courtesy calls to their respective headquarters 
Both DoF and WorldFish are keen to revitalize the Technical Committee on Research Collaborations to foster a stronger partnership moving forward
FRI and WorldFish will identify common grounds for cooperation that will bring mutual benefit to both parties 
Fresh from assuming the role of WorldFish Interim Director General, Essam Yassin Mohammed made a courtesy call to Haji Mohd Sufian bin Sulaiman, the Acting Director General of the Department of Fisheries (DoF) in Putrajaya, Malaysia. 
Mohammed is WorldFish's sixth director general since relocating its headquarters to Penang, Malaysia in 2000. He was accompanied by WorldFish Interim Director for Science and Research Eddie Allison who gave a brief introduction of the Resilient Aquatic Foods for Healthy People and Planet CGIAR initiative that WorldFish will be leading in the coming three years. 
Fostering a stronger partnership 
Apart from briefing the DoF on the new WorldFish leadership, the visit was also to introduce WorldFish's 2030 Research and Innovation Strategy as well as to explore potential areas of collaboration between the two organizations. 
One of the most prominent collaborations between WorldFish and DoF in the 20 odd years since setting up base in Malaysia is the Genetically Improved Farmed Tilapia (GIFT) project at the WorldFish Jitra station in the northern state of Kedah. The station served as WorldFish's nucleus breeding center for GIFT up till its return to DoF in 2020. A new site that could offer better biosecurity is being identified with the help of DoF. 
In return for the use of the earthen ponds, hatchery and office unit at the station, WorldFish provided broodstock fry and technical advice to DoF to help Malaysia increase aquaculture production of GIFT by six-fold as well as conducted socio-economic evaluation of GIFT in relation to supply chain analysis. Apart from GIFT, WorldFish also supported DoF's red tilapia breeding programs for the local market. 
Both parties acknowledged the mutual benefits of working closely together and look forward to fostering a stronger partnership in the future. 
Revitalizing technical committee on research collaborations 
One approach to achieve this is through the revitalization of the Technical Committee on Research Collaborations (TCRC), which was formed in 2015. Comprising of primarily DoF and WorldFish members, the TCRC meets twice a year to oversee and better manage collaborations between WorldFish and DoF. 
The purpose of the TCRC is to promote sustainable development of marine fisheries and aquaculture through bilateral cooperation in fisheries including research and training, promote the exchange of information, experts and trainees for mutual benefits and identify areas of common interest and formulate projects mutually beneficial to both agencies. 
Both parties were keen to see the TCRC revitalized and will work towards reconvening again in the near future, after a hiatus of a few years, partly due to the COVID-19 pandemic. 
Identifying common goals 
Following the visit to Putrajaya, a team of scientists led by Mohammed and Allison met with Azhar Hamzah, the senior director of research at the Fisheries Research Institute (FRI), and his team at their establishment in Batu Maung, Penang. 
The purpose of the visit was to identify goals that both organizations have in common and research projects to collaborate on in the future. Hamzah hoped WorldFish would continue to help Malaysia in capacity building, of which he has benefitted having worked on GIFT with WorldFish from 2000 to 2013. 
Mohammed suggested the secondment of FRI scientists to WorldFish as one of many possibilities. He also identified the huge potential for Malaysia to participate in fish diplomacy through shared blue prosperity whereby FRI can impart their expertise to the other countries where WorldFish has a presence. 
Allison proposed that WorldFish and FRI could jointly organize some conferences and seminars to facilitate staff from both sides to get acquainted by working more closely together. By being more acquainted with each other, he believes both sides would be able to better identify common grounds for cooperation. 
Among the events identified is the upcoming 11th Symposium on Diseases in Asian Aquaculture happening in August 2022 at Kuching, Sarawak.