7 minutes read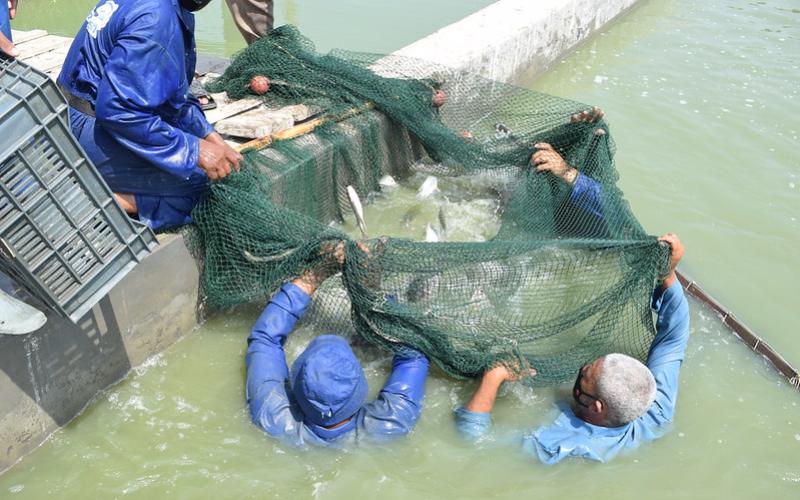 Highlights
New research projects fisheries and freshwater aquaculture will experience the highest cumulative climate hazards for the rest of this century with SIDS and countries in Africa, South Asia and Southeast Asia at a relatively higher risk from climate change.
PENANG, November, 18, 2021 – New research indicates critical aquatic food systems such as fisheries and freshwater aquaculture will experience the highest cumulative climate hazards in the twenty-first century if carbon emissions are not substantially and rapidly reduced. 
Aquatic foods -- diverse animals, plants, and microorganisms grown and harvested from water -- are central to the livelihoods, food and nutrition security of more than 800 million people in developing countries.
Rich in bioavailable micronutrients and essential fatty acids, aquatic foods are considered superfoods that are healthy, not just for people but also the planet. Small fish, shellfish and seaweeds in particular have enormous nutritional value with a lower environmental footprint than land-based animals. Sustainable management of aquatic animals and plants means stored carbon dioxide that would have otherwise been released to the atmosphere.
By 2100, aquatic food production in all countries is expected to face high levels of climate threat, with a disproportionate impact felt by the world's poorest countries. At the same time, the global population is expected to surpass 11 billion, many of whom will rely on aquatic foods for their incomes and nutrition.
Small island developing states (SIDS) and countries in Africa, South Asia and Southeast Asia are particularly at high risk and urgent climate action and investment in aquatic food systems is necessary to ensure the food, nutrition security and livelihoods of people living in these regions are not gravely compromised.
In Compound climate risks threaten aquatic food system benefits, one of five initial scientific papers published as part of the Blue Food Assessment, 22 authors cautioned that the lack of data and modelling tools especially for countries and systems most at risk of climate hazards if left unaddressed, will result in resilience investments going elsewhere where data is available, perpetuating current inequities.
Using an integrative food system approach that the authors developed, they compared the risk that climate change poses to the potential for aquatic foods to contribute to sustainable development. From the analysis, four distinct risk profiles namely low, medium, high and very high were identified and corresponding policies and management actions to enhance the climate resilience of aquatic food systems were proposed.
The authors projected that climate mitigation efforts to keep global warming well below two degrees Celsius will be able to limit the climate hazards faced by most aquatic food systems to either medium or low. Although climate mitigation activities will result in substantially reduced climate hazards, some negative impacts will still be felt by aquatic food systems as some climate risks will take a longer time to be reversed.
Elaborating on the significance of the findings, WorldFish Global Lead for Climate Resilience and Environmental Sustainability Dr. Essam Yassin Mohammed said:
"This latest scientific evidence must be instrumental in shaping investments and policy intervention to mitigate the impacts of climate change and ensure aquatic food systems can continue to make significant contributions to food and nutritional security and overall sustainable development objectives."
Considering the high levels of climate risk for multiple outcomes across much of the developing world, action to support the long-term sustainability, resilience and equity of aquatic food systems is urgently needed. With countries and regions exhibiting different risk profiles, region-specific and context-specific risk reduction interventions that are guided by principles of equity and fairness is needed.
While the research paper focused on countries with high climate risk, countries with low to medium risk will also be facing increased climate hazards domestically as well as transboundary climate risk due to species movement and trade of aquatic foods and feeds. There is a need for justice-informed collaboration towards climate-proofing of aquatic food systems that transcends national and regional boundaries.
WorldFish Director of Aquaculture and Fisheries Sciencefor CGIAR Research Program on Fish Agri-Food Systems (FISH) Dr. Mike Philips noted:
"The impacts of climate change are more pronounced in developing countries in Africa, Asia, Latin America and the Pacific. Failure to make sufficient investments to build the resilience of aquatic food systems in these regions means risking failure to achieve key sustainable development objectives."
Developing countries, including SIDS, generally experience higher consumption of aquatic foods from marine and freshwater sources, higher dependence on production trade and supply chain revenue and higher numbers of aquatic food-dependent livelihoods. Coupled with the reality that climate hazards are concentrated in the tropics and subtropics, these countries are faced with a double jeopardy in exposure to climate hazards impacting nutrition and health, and economic and social outcomes.
WorldFish Executive Director for Science and Research Prof. Edward Allison elaborated:
"Aquatic foods are the closest we have to a 'nature-based solution' to the challenge of transforming our current food system to one that is healthier, more sustainable and more fairly distributed. Aquatic foods are also often harvested from waters that are 'commons' – not restricted to private ownership – so even the landless poor have access to nutrient-rich aquatic foods."
The Blue Food Assessment is an international joint initiative bringing together over 100 scientists from more than 25 institutions. Led by the Stockholm Resilience Centre at Stockholm University, Stanford University, and EAT, the Blue Food Assessment supports decision-makers in evaluating trade-offs and implementing solutions to build healthy, equitable and sustainable food systems.
WorldFish has been a key research contributor to the Blue Food Assessment, with seven of its scientists among the authors of the papers released. WorldFish has guided the direction of the study through representation on the Blue Food Assessment Scientific Leadership Team by Eddie Allison, director of science and research, Shakuntala Thilsted, global lead for nutrition and public health, and Mike Phillips, director of aquaculture and fisheries science for CGIAR Research Program on Fish Agri-Food Systems (FISH).
A strategic brief elaborating ways to accelerate climate resilience of aquatic food systems was recently published by the CGIAR Research Program on Fish Agri-Food Systems (FISH), led by WorldFish in partnership with the International Water Management Institute, Wageningen University & Research, James Cook University and the University of Greenwich.
In the recently concluded United Nations Climate Change Conference (COP26), WorldFish highlighted the urgent need for action and investments to realize the triple wins aquatic foods offer for nature, climate and people through a shared blue prosperity.
Read the research paper to learn more about why urgent measures are required to mitigate climate hazards that may affect the nutritional, health, livelihoods, economic and cultural benefits aquatic foods bring to billions of people around the world.
###
NOTES TO EDITOR 
Visit the WorldFish website for more information:
https://www.worldfishcenter.org/
Photography: 
https://www.flickr.com/photos/theworldfishcenter/
Press contact:
For more information or to request an interview: 
Tana Lala-Pritchard
WorldFish Executive Director of Strategy, Innovation and Communications 
Email: T.Lala-Pritchard@cgiar.org
and 
Sean Lee Kuan Shern
WorldFish Science Communications Specialist
Email: K.Lee@cgiar.org
About WorldFish 
WorldFish is an international, nonprofit research and innovation institution that creates, advances, and translates aquatic food systems science into scalable solutions. We vision an inclusive world of healthy, well-nourished people and a sustainable blue planet, now and in the future. Our mission is to end hunger and advance progress on the 2030 Sustainable Development Goals through science and innovation to transform food, land, and water systems with aquatic foods for healthier people and the planet.
For over 45 years, WorldFish's data, evidence, and insights have shaped practices, policies, and investments to end hunger and advance sustainable development in low- and middle-income countries.  We have a global presence across 20 countries in Asia, Africa, and the Pacific, with 460 staff of 30 nationalities deployed where the most significant sustainable development challenges can be addressed through holistic aquatic food systems solutions. Embedded in local, national, and international partnerships, our work sets agendas, builds capacities, and supports decision-making for climate action, food and nutrition security, sustainable fisheries and aquaculture, blue economy, One Health, and AgriTech, integrating gender, youth, and social inclusion.
A core element of the 2030 WorldFish Research and Innovation Strategy: Aquatic Foods for Healthy People and Planet is focused on building the resilience of aquatic food systems to shocks, which is critical to COVID-19 response and recovery.
WorldFish is part of CGIAR, the world's largest agricultural research and innovation network.
For more information, please visit https://www.worldfishcenter.org.
About FISH
The CGIAR Research Program on Fish Agri-Food Systems (FISH) is a multidisciplinary research program.
Designed in collaboration with research partners, beneficiaries and stakeholders, FISH develops and implements research innovations that optimize the individual and joint contributions of aquaculture and small-scale fisheries to reducing poverty, improving food and nutrition security and sustaining the underlying natural resources and ecosystems services upon which both depend. 
The program is led by WorldFish, a member of the CGIAR Consortium. CGIAR is a global research partnership for a food secure future.
For more information, please visit https://fish.cgiar.org.
About CGIAR 
CGIAR is the world's largest global agricultural innovation network. We provide evidence to policy makers, innovation to partners, and new tools to harness the economic, environmental and nutritional power of agriculture.
CGIAR has a wealth of experience and knowledge spanning 50 years that builds on a track-record of innovation and world-class research. Thanks to our funders, CGIAR research has transformed the lives of hundreds of millions of people through tangible research outcomes.
The 15 CGIAR Research Centers are independent, non-profit research organizations, conducting innovative research. Home to more than 8,000 scientists, researchers, technicians, and staff, CGIAR research works to create a better future for the world's poor. Each Center has its own charter, board of trustees, director general, and staff. CGIAR Research Centers are responsible for hands-on research programs and operations guided by policies and research directions set by the System Management Board.
For more information, please visit https://www.cgiar.org.