5 minutes read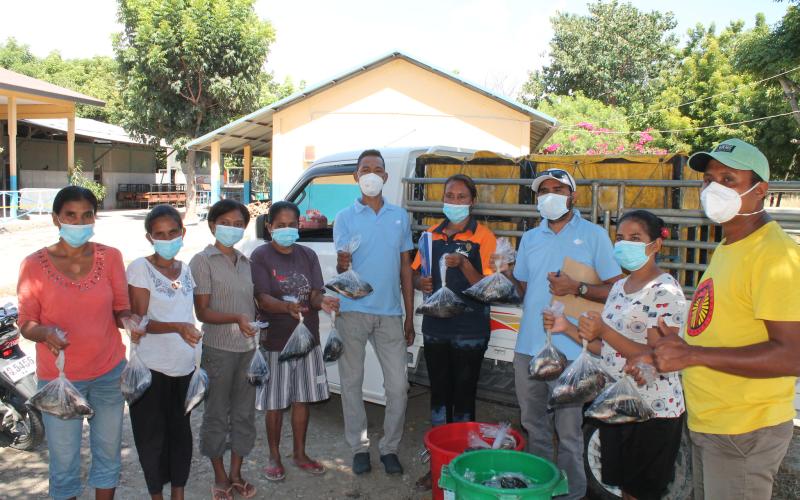 Highlights
WorldFish has handed out 710 kg of fresh, locally-farmed tilapia to flood victims in Dili, Timor-Leste, boosting diets and helping to connect rural farmers with consumers during the COVID-19 lockdown 
In the early hours of Sunday 4 April 2021, torrential rain battered the city of Dili. Stormwater drains filled up and overflowed, spewing torrents of fast-flowing muddy waters down the streets of the Timorese capital.
The once-in-50-years flood caused severe flash flooding and landslides, leading to the collapse of several bridges and roads. Over 15,000 people across the country were displaced, including 7,000 people in Dili, and 4,500 homes were destroyed.
More than three months after the flood, over 900 people continued to stay in evacuation shelters in Dili.
To support the flood victims, WorldFish purchased and delivered 710 kilograms of fresh tilapia to flood victims in the evacuation centers, including children aged six to 59 months, and pregnant and lactating women.
Fish is an important complementary food, providing vital micronutrients and essential fatty acids for optimal growth and development, and is part of a diverse, balanced diet.
"On average, one kilogram of fish was distributed to each household at the 11 evacuation shelters in Dili," said Mario Pereira, senior research analyst and WorldFish Timor-Leste country representative.
"In the first distribution on 25 May 2021, WorldFish staff distributed 375 kg of fresh tilapia to 375 families (1700 family members). In the second distribution on 1 June 2021, staff handed out 335 kg of tilapia to 265 households (1400 family members)."
This work was supported by the New Zealand Ministry of Foreign Affairs and Trade, one of the funders of the Partnership for Aquaculture Development in Timor-Leste Phase 2 (PADTL2) project. The project is co-funded by USAID and implemented by WorldFish in partnership with the Timor-Leste Ministry of Agriculture and Fisheries (MAF).
"We welcomed the opportunity to provide free tilapia to the flood victims in shelters, helping to support more balanced and diverse diets for the hundreds of children, women and men displaced by the flood," said Gabrielle Isaak, deputy ambassador of New Zealand.
"It has been a very difficult time for the people of Timor-Leste with the dual crises of flooding and COVID-19. This initiative also provided much-needed income for tilapia farmers who have suffered from loss of access to markets and supply chain disruptions due to COVID-19 restrictions."
Connecting farmers with consumers
The flood victims living in the temporary shelters have been consuming meals consisting largely of rice, noodles and canned food.
"We welcomed WorldFish's offer to provide flood victims with nutritious foods like fresh fish," said Joaquim Martins, secretary of state for civil protection, who is coordinating the flood response program.
"Fresh fish is packed with micronutrients needed for good health and development, providing a boost to the diets consumed by flood victims," said Elídio de Araújo, secretary of state for Fisheries, Ministry of Agriculture and Fisheries, Timor-Leste.
The recipients were likewise grateful to receive the locally-farmed fresh tilapia.
"We really appreciate WorldFish's support of helping the shelters by delivering fresh fish," said Filomena Casmiro, households' representative at the Tasi Tolu evacuation center. "It is really helpful during this stay-at-home lockdown [due to COVID-19]."
The fresh fish distribution had another major benefit—providing local fish farmers with an opportunity to sell their fish and generate some income.
"The COVID-19 lockdown has made it hard for fish farmers to sell their fish because they have no way to get their fish to local markets or to Dili," said Jharendu Pant, PADTL2 project leader and senior scientist, aquaculture, WorldFish.
"Buying the fish farmers' produce has enabled them to earn some income and also start restocking their ponds for the next fish production cycle."
The PADTL2 project works with 13 farmer clusters in Baucau, Bobonaro, Emera and Lautem municipalities to scale up production of genetically improved farmed tilapia (GIFT), a fast-growing strain developed by WorldFish, by following better management practices.
To purchase the tilapia for the flood victims, the PADTL2 field facilitators contacted all the farmer clusters to see who had fish ready to harvest and determine the quantity of fish available.
The farmer clusters in Leohitu and Balibo in Bobonaro had over 2 tons of tilapia ready to be harvested, so the project proceeded to buy the fish from those clusters.
"I really appreciate the efforts of WorldFish," said fish farmer Terezinho da Silva Pereira. "By buying our product, we have earned an income to sustain our livelihoods."
PADTL2 field facilitator Joao da Silva collected the fresh fish from Leohitu and Balibo clusters, correctly packed fish in thick plastic bags with ice, and transported it to Dili, after which it was distributed quickly by WorldFish staff to the families at the shelters to retain freshness.
"I'm happy that we've distributed fresh tilapia to the needy people in the shelters," said da Silva.
Distributing fish during COVID
In April 2021, occurring at the same time as the flooding, Timor-Leste experienced its first outbreak of COVID-19 cases. The Government of Timor-Leste sent the capital's residents into a strict lockdown, which also prevented Dili residents from travelling to the districts.
The lockdown and movement control disrupted local transportation and marketing of farm products, severely impacting all agricultural value chain actors.
Connecting the fish farmers with consumers was an endeavour, said Pereira, requiring all necessary paperwork and health and sanitary requirements to be followed.
"We had to coordinate with the United Nations Resident and Humanitarian Coordination Office and the National Disaster Operations Center, then get permission from the Timor-Leste Government to transport fish during the lockdown.
"The staff bringing fish from Bobonaro district to Dili had to have COVID-19 tests as they had to show their negative test results at security check points on the way to Dili," he said, adding that staff also obtained a travel document from the Integrated Center for Crisis Management from Bobonaro Municipality.
The success of this activity demonstrates that highly-perishable products like locally-produced fish can still be made available to consumers in challenging situations, said Pant.
"This is particularly relevant for government departments and organizations providing humanitarian assistance to flood victims that may wish to continue buying and supplying fish in the coming weeks."