6 minutes read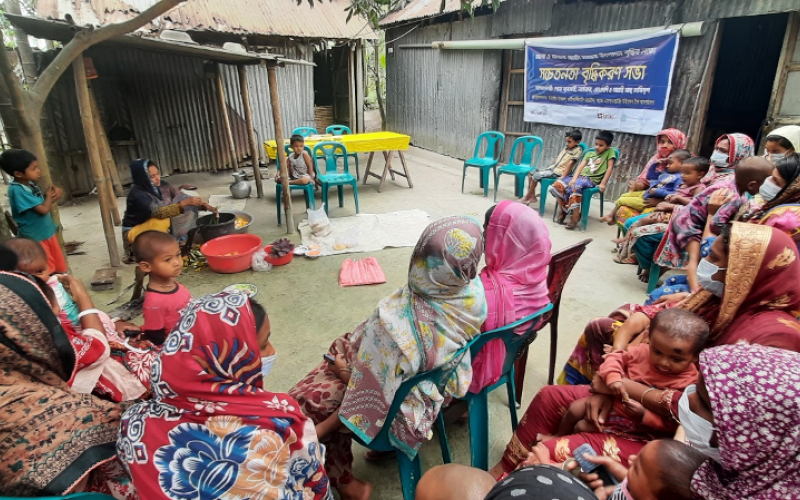 Highlights
Incorporating culturally preferred indigenous small fish helps address nutritional issues among women and children 

Cooking demonstrations are effective in spurring social and behavioral change within the community to incorporate small fish into their children's diets 

In Northwest Bangladesh, 64,000 mothers across 1,600 villages are expected to benefit from the cooking demonstrations 
WorldFish organized cooking demonstrations in 15 villages in the Rajshahi and Rangpur districts – home to 34 million people, 24 percent of Bangladesh's population. The demonstrations, held from January to March, aimed to promote awareness about the importance of feeding children with nutritious small fish. 
It was almost lunchtime in the village of Chaula in northwestern Bangladesh. Another cooking demonstration by WorldFish was about to begin, showcasing the importance of small fish as part of a nutritious diet for children.  
More than 25 women had arrived with only a few minutes until the event began. The participants consisted of mothers and children who were eager to see what the facilitator would be preparing. Poverty and malnutrition are still widespread in northwest Bangladesh, especially among women and children. However, the Rajshahi and Rangpur districts have the potential for yielding large quantities of aquatic foods due to the favorable agro-ecological circumstances in those areas. 
Overcoming taboos through social and behavioral change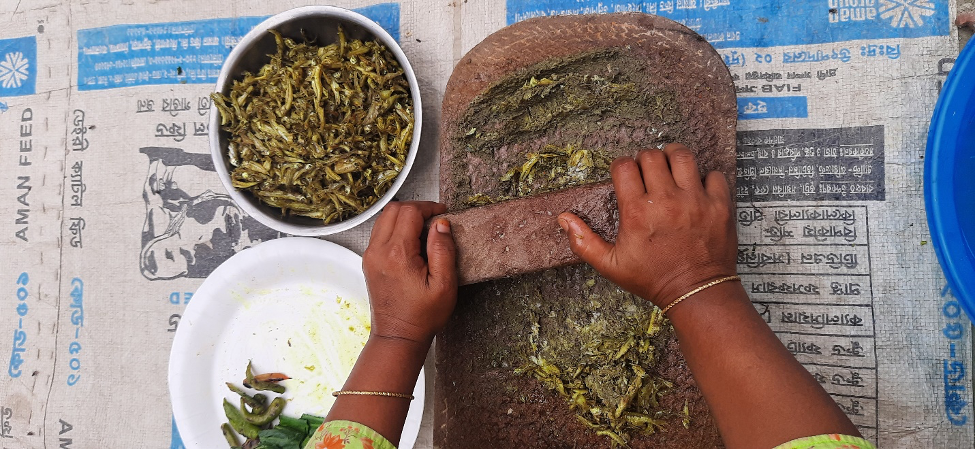 WorldFish partnered with BRAC and TMSS in Bangladesh to conduct regular counseling on dietary diversity through community health workers. The sessions emphasized the importance of indigenous small fish, such as mola, dhela and darkina, in children's diet. However, further social and behavioral change (SBC) is needed for communities to diversify their diets. SBC refers to communication tactics, actions and instruments that are used to favorably affect behavior, in this case, improving health and nutrition.  
Cooking demonstrations have shown to be an effective SBC activity to inform the community on how to make their diets more nutritious, especially with indigenous small fish, through different cooking techniques and recipes adapted to the local context. 
A critical task of the SBC is overcoming taboos. They can at times be one of the main obstacles to consuming a diverse diet. Traditionally, children were not fed small fish due to the fear of children choking on fish bones.  
"We thought the bones might get stuck in the throat and we did not want to risk harming our children," said Sumitra Rani, mother to a 5-year-old, who came to participate in the cooking demonstration. 
"We have now learned that mashing small fish like mola and adding it to our diets will make our children stronger," added Rani. 
To ensure that the messages were well grasped, the audience themselves partook in the cooking. The local Bangla dialect was used during the cooking demonstrations to ensure the audience had no difficulty understanding. 
The key takeaways were to remove only the viscera and scales from the fish, do not deep fry the fish and most importantly, mash the fish including the head and eyes before putting it in the khichuri, a comfort food. Khichuri is usually made of rice, lentils and vegetables. For the cooking demonstrations, khichuri was prepared using mola, a small fish commonly found in Bangladesh. 
The most looked-forward moment of the cooking demonstration was when members of the audience could taste the food. As one of the aims of the cooking demonstration was to remove the stigma associated with feeding small fish to them, children were served the food first. 
"I never served small fish to my child. I had no idea small fish could be prepared in this manner. I will try this recipe at home," said Rozina Akhter, mother to two-year-old Rahat Babu.  
The nutrition-sensitive program targeted families with children aged 7 to 24 months, in hope of encouraging more mothers to feed fish to their children. 
Adding nutritional value to a traditional dish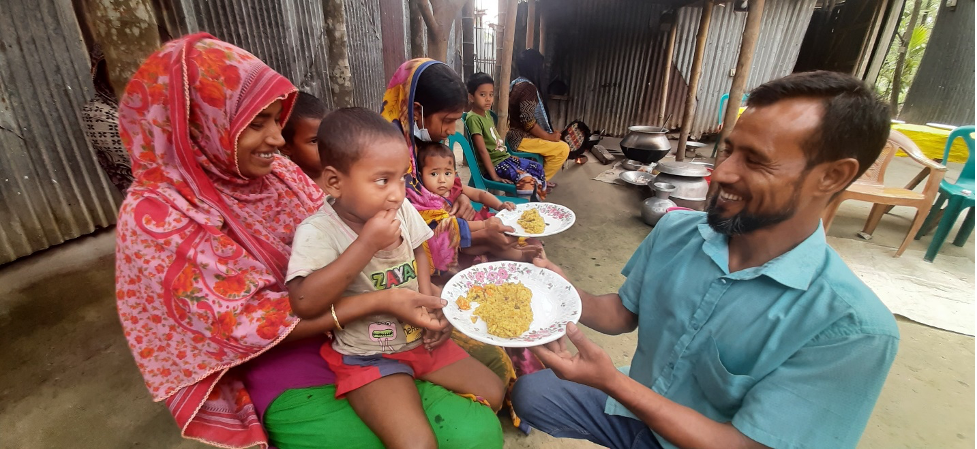 According to a WorldFish analysis, incorporating culturally preferred indigenous small fish helps address nutritional issues among women and children. Shakuntala Haraksingh Thilsted, WorldFish's global lead for nutrition and public health, received the 2021 World Food Prize for her research in developing nutrition-sensitive approaches to aquatic food systems. Thilsted was the first to examine the nutritional composition of native small fish species commonly found and consumed in Bangladesh and Cambodia. The research demonstrated that the high levels of multiple essential micronutrients and fatty acids in these affordable and locally available foods offered life-changing benefits for children's cognitive development in their first 1000 days of life and the nutrition and health of their mothers. 
"The prevalence of micronutrient deficiency is still very high in Bangladesh and is considered a significant public health problem. Fish, particularly small fish, is a good source of micronutrients – iron, zinc, calcium and vitamin A," said Shaima Shahin, a nutritionist at WorldFish. 
"However, parents hesitate to feed fish to infants and young children. Low fish consumption among children leads to high rates of micronutrient deficiencies, which have serious consequences for health and development, especially in the first 1000 days of life," explained Shahin. 
"Since the cooking demonstrations began, cooking with small fish has become a popular topic in the community. We started with a cooking competition to determine its acceptability by the community. Using the recipes from the cooking competition, we are scaling it up with cooking demonstrations in a festive setting to remove the stigma associated with feeding small fish to babies," added Shahin. 
Following the tasting session, a group of women gathered to discuss the event. They explained that they only used rice, lentils and sometimes meat to cook khichuri prior to the cooking demonstration. They have since discovered that small fish like mola may well be mashed and added to vegetables like carrots and spinach to make the meal more nutritious. 
"I have been involved in carp nursery for many years and I also have my own pond," said Mohammad Delowar, a local service provider who hosted the cooking demonstration in his front yard. 
"However, only recently did I learn that small fish could be added to children's food. I had no idea beforehand. I now get to try a new recipe with my neighbors," added Delowar. 
Delowar's wife Nasreen Akhter assisted him in demonstrating to their neighbors how to cook khichuri with small fish. 
"Cooking mola with khichuri is a novel idea to keep children healthy. The key is to carefully mash the fish into a paste," explained Akhter. 
WorldFish's intervention in Rangpur highlights how evidence-based analysis has the potential to change and improve lives. In Northwest Bangladesh alone, 64,000 mothers across 1,600 villages are expected to benefit from the cooking demonstrations. The Aquaculture: Increasing income, diversifying diets and empowering women project in Bangladesh is promoting such basic yet practical solutions throughout Northwest Bangladesh. SBC components, including cooking demonstrations, emphasize the sustainability aspect by encouraging community members to adapt the knowledge of preparing nutritious meals for their children using indigenous small fish in their daily lives.