4 minutes read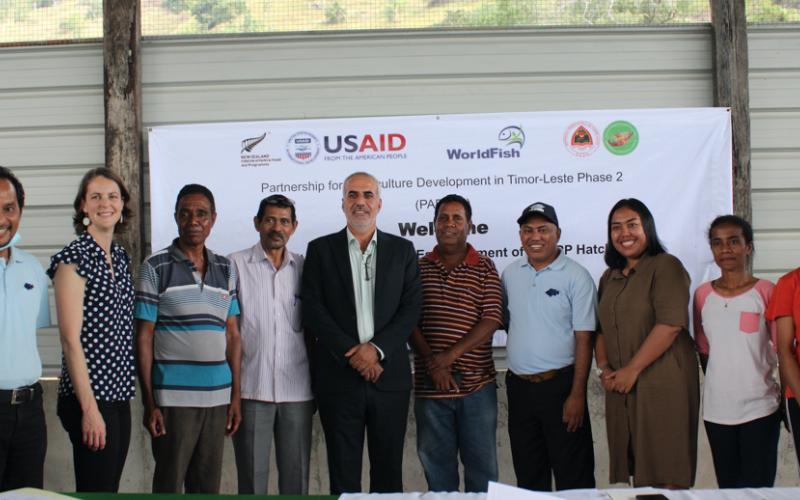 Highlights
Two new public-private-partnership (PPP) model hatcheries are being established in Timor-Leste—one each on the north and south coasts—giving farmers greater access to quality fingerlings to boost fish production.
Behind the hills of Dili, the capital of Timor-Leste, lays a vast block of land.
Standing out from the green grass is a large white rectangle, spray painted on the ground.
"This is where I'll be building the broodfish and nursery ponds for the tilapia hatchery," said Ayub (Joseph) Karimi, pointing at the ground.
"We start digging tomorrow and are planning to construct the hatchery in three months."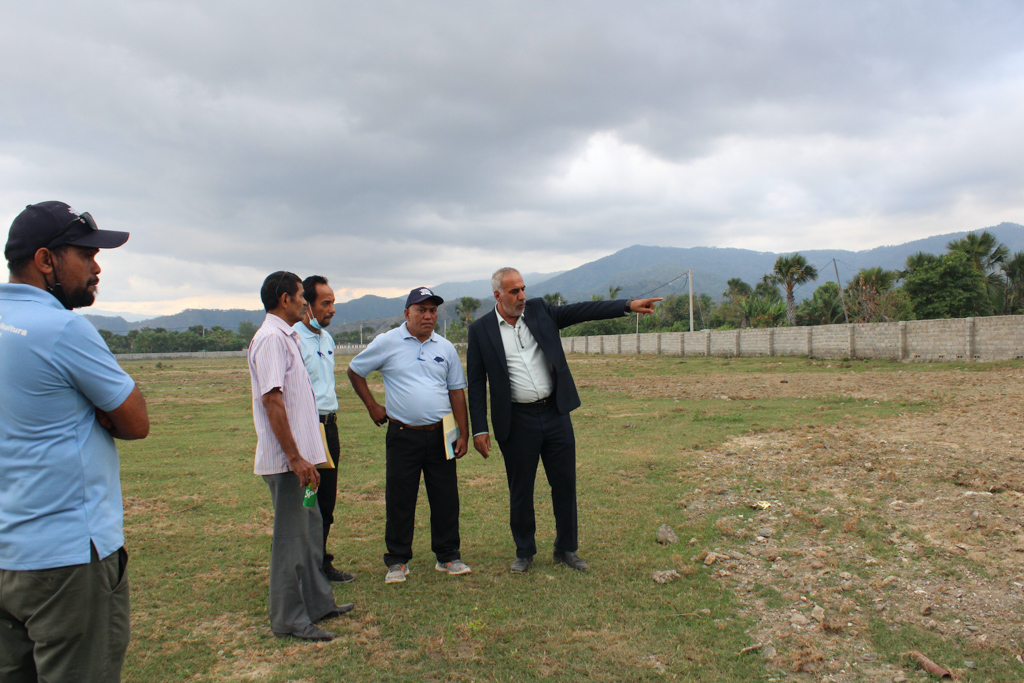 Karimi is the owner of the Keshavarz Great Timor business, which will establish the third PPP-model hatchery for genetically improved farmed tilapia (GIFT) in Timor-Leste.
Earlier that afternoon, on 8 July 2022, Mr Karimi signed a memorandum of understanding (MoU) with WorldFish and the Ministry of Agriculture and Fisheries (MAF) to set up the hatchery in the town of Hera, a 30-minute drive from Dili.
"The business wants to support farmers because Timor-Leste has favourable resources and good market potential for scaling tilapia farming," he said.
Under the PPP-model, construction costs are split equally between the business and WorldFish. All future running costs will be managed by the business, while receiving technical support from WorldFish and MAF.
"We plan to produce 5 million GIFT fingerlings each year to ensure access for farmers in Hera, Metinaro and beyond," said Karimi.
Hatcheries on the rise
The Hera hatchery is one of two new PPP-model hatcheries being established. The other is in Culacao, Manufahi, a four-hour drive from Dili.
"The PPP-model hatcheries support the scaling of tilapia farming by increasing the availability and accessibility of fingerlings for many fish farmers in local municipalities and non-government organizations supporting aquaculture development," said Jharendu Pant, senior scientist for aquaculture at WorldFish.
"Government and PPP-model hatcheries play a complementary role, with the former supplying quality broodfish from Gleno hatchery and the latter focusing on multiplying and providing quality GIFT monosex fingerlings to farmers."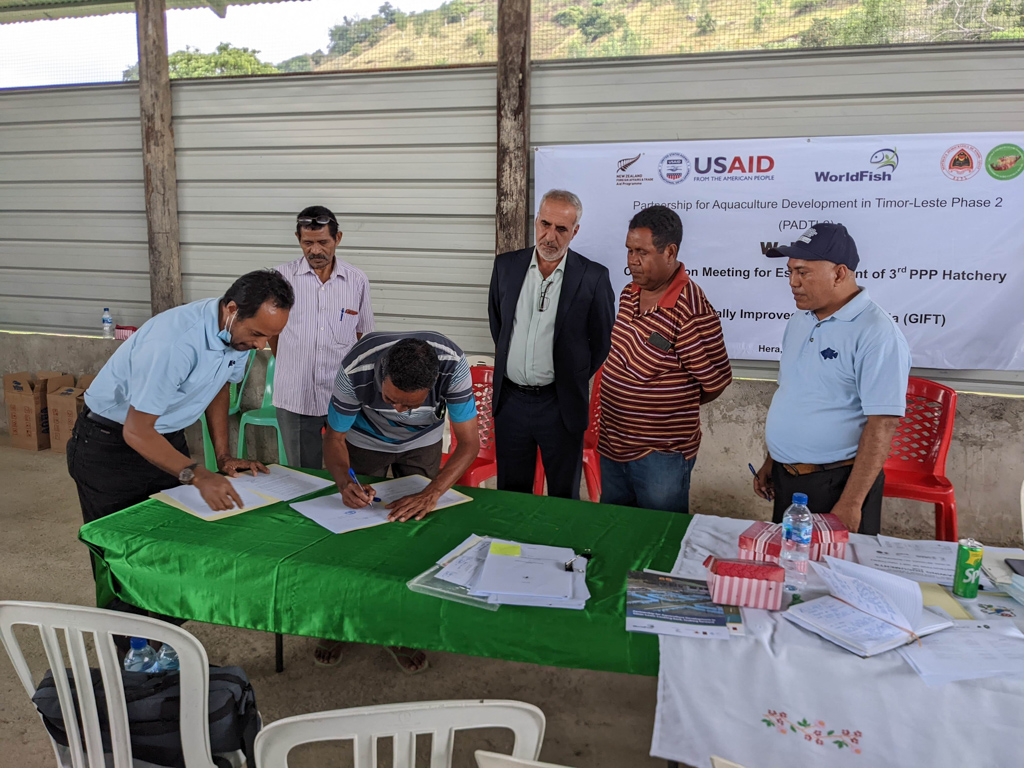 The hatcheries are being established under the Partnership for Aquaculture Development in Timor-Leste Phase 2 project (PADTL2; 2020–2023) funded by the New Zealand Ministry of Foreign Affairs and Trade (MFAT) and the United States Agency for International Development (USAID).
"Increasing supply, along with encouraging households to eat more farmed fish, will help to boost livelihoods and combat malnutrition," said Nick Borthwick, deputy head of mission at the New Zealand Embassy in Timor-Leste. 
"Getting more fish and other aquatic foods, which are rich in micronutrients and essential fatty acids, onto the plates of rural households is key to increasing diet diversity."
The PADTL2 project is implemented by WorldFish in partnership with MAF. It works to increase production of GIFT—a fast-growing strain of tilapia developed through selective breeding by WorldFish—to boost fish production and fish consumption.
This is in support of the National Aquaculture Development Strategy (2012–2030), which lays out targets to increase farmed fish production to 12,000 tons per year and annual fish consumption from 6.1 kilograms to 15 kilograms per person.
Manufahi hatchery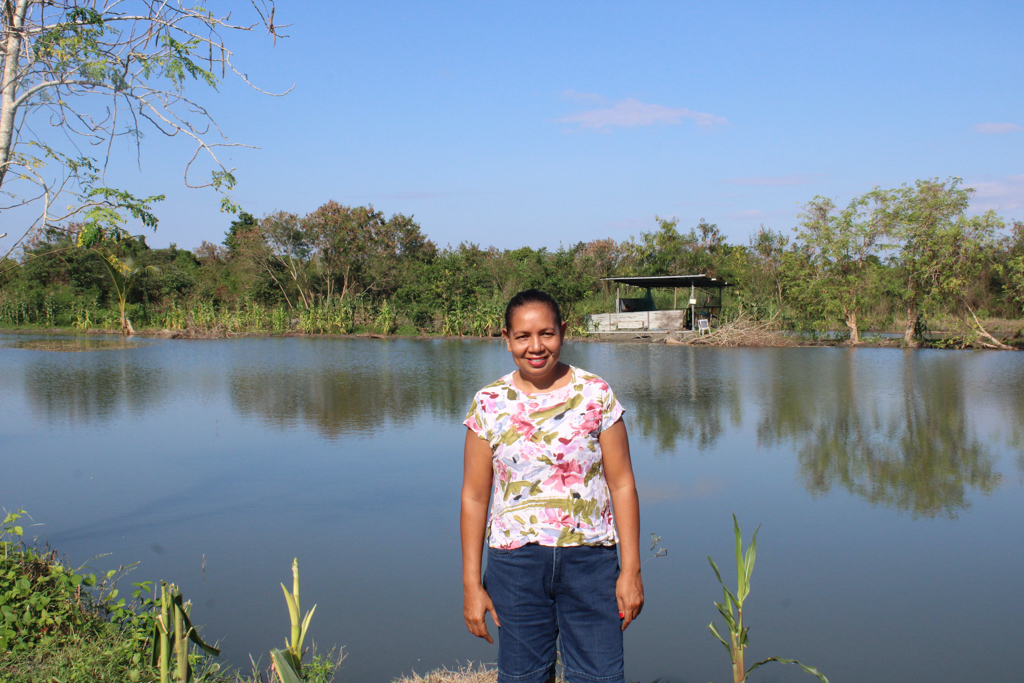 On the south side of the country, in the coastal village of Colocao, Edviges Fátima Isaac checks over one of her 18 fishponds.
The 48-year-old has been farming fish for more than seven years.
"From 2015 to 2017, I was fish farming in Betano village as part of a group. Then my husband and I moved to Colocao to do our own fish farming," she said.
On 15 July 2022, Isaac signed an MoU with WorldFish to establish a PPP-model tilapia hatchery, which will be the fourth in Timor-Lese.
The signing ceremony was witnessed by major stakeholders, including the director general of fisheries, MAF and local authorities from Manufahi municipality.
"Until now, we have been buying seeds from Parlamento and Leohitu PPP tilapia hatcheries, but they are far away," she said.
"By setting up a hatchery in Manufahi, it will be easier for local farmers to get fingerlings.
"We also hope that fish farming can become our main source of income, providing financial support to our children in the future," the mother-of-six said.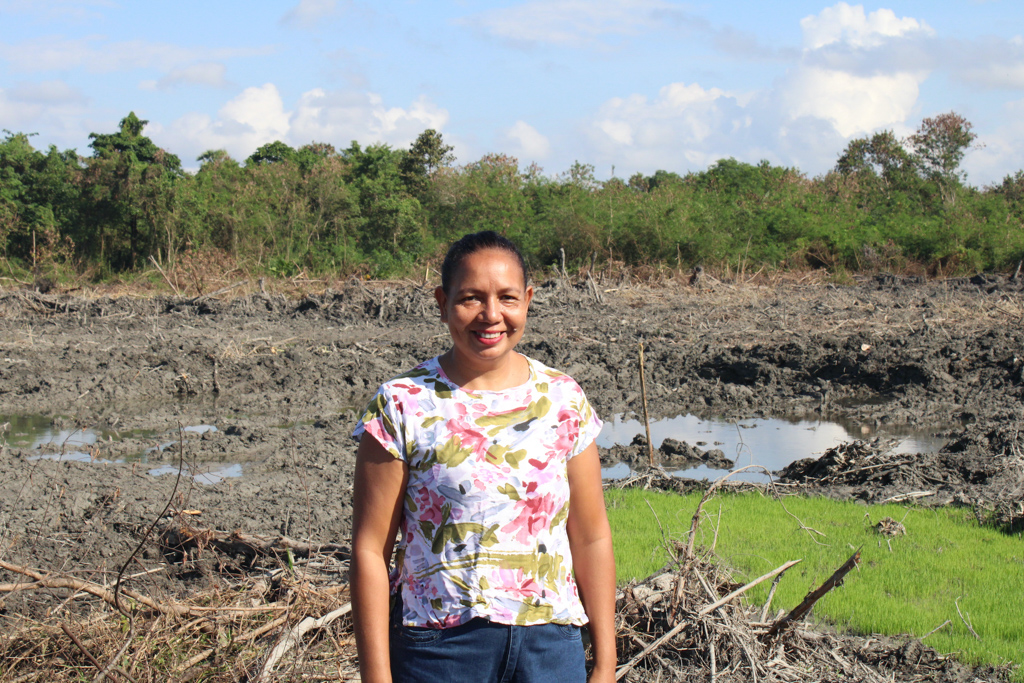 The new PPP-model hatcheries in Hera and Colcau will be built over three months and are expected to start operating in late 2022.
Of the two existing PPP-model hatcheries, one is in the country's west—the Leohitu PPP Hatchery in Bobonaro (opened on 7 June 2019)—and the other in the east—Black Bird PPP Hatchery in Lautem (opened on 5 October 2021).
Collectively, the Glen, Leohitu and Parlamento hatcheries have produced more than 7 million fish seeds since 2016.
"Supporting government and private sector actors, as they come together, to build new tilapia hatcheries is key to advancing sustainable aquaculture in Timor-Leste," said USAID/Timor-Leste Mission Director Zema Semunegus.
"By expanding aquaculture development, you are on the front lines of efforts to combat malnutrition and improve the health of the Timorese people."