7 minutes read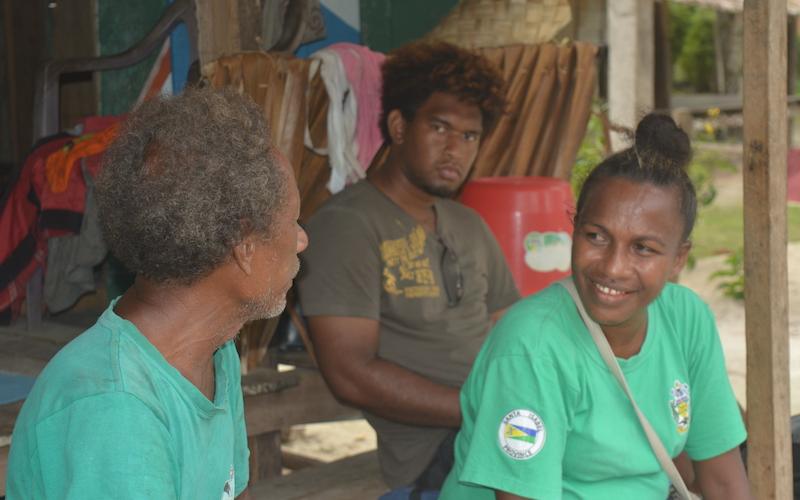 Highlights
Faye Aborina Siota, a senior research analyst at WorldFish in the Solomon Islands, shares her work around sustainable fisheries management in Small Island Developing States (SIDS). 
She believes Community-Based Resource Management (CBRM) is key to delivering improved fisheries in rural communities. 
She finds it crucial to work closely with provincial fisheries officers in promoting the sustainable use and management of fisheries resources in provincial waters as this varies by province. 
WorldFish is a global leader in aquatic food systems research and innovation, and science and partnerships are the foundation of our work. Our team delivers robust evidence to policymakers and technological innovations to producers, supply chain actors and consumers to transform food systems. In this series, we profile our accomplished scientists in the spotlight. 
Faye Aborina Siota is a senior research analyst at WorldFish in the Solomon Islands. Her current research focuses on sustainable fisheries management in the Pacific's Small Island Developing States (SIDS). She holds a Master's degree in fisheries policy from the University of Wollongong, Australia and a Bachelor's degree majoring in marine affairs and geography from the University of the South Pacific, Fiji. Prior to her joining WorldFish in 2012, she was with the National Bureau of the Fisheries Department in the Solomon Islands.   
What are you currently working on at WorldFish? 
My role as a senior research analyst encompasses a wide range of collaboration and partnership building at the community, provincial, national and even regional level through our sister countries, Vanuatu and Kiribati, under the Coalitions for change in sustainable national Community-Based Fisheries Management (CBFM) programs in the Pacific project funded by the Australian Centre for International Agricultural Research (ACIAR). 
This project seeks to look into improved approaches for achieving a wider reach with coastal fisheries management. I collaborate closely with the Ministry of Fisheries and Marine Resources (MFMR) to improve the practice of inclusive community-based resource management (CBRM) and support provincial fisheries officers (PFOs) to raise awareness and disseminate information about these practices to more communities. 
I also work on the ACIAR-funded Innovating fish-based livelihoods in the community economies of Timor-Leste and Solomon Islands project, which focuses on supporting innovation in various fish distribution systems by looking at ways to enhance fish handling skills and knowledge, as well as opportunities for livelihood innovation for improving practices fit for rural community adoption and access to safe aquatic foods. 
What attracted you to join WorldFish?  
Since joining WorldFish in 2012, my interest in the dynamics of research work that our team in the Solomon Islands continues to conduct in the field of fisheries management has grown considerably. WorldFish's vision and mission complement our research work in the Solomon Islands by supporting the national strategies of our two leading partner ministries, MFMR and the Ministry of Environment, Climate Change and Meteorology (MECDM), which adds value and recognition to our establishment in the Solomon Islands as a competent research organization. 
We have a diverse team in the Solomon Islands and the opportunities to interact with numerous lead scientists and consultants in various research focus areas have increased our research skills and knowledge, ensuring we deliver quality research results. This guarantees our contributions to national strategies and policies are of the highest standard. 
What's the most exciting part about your research area?  
The opportunity to engage with a wide variety of individuals and organizations from various cultural backgrounds while doing participatory research is the most fascinating aspect of my research area.    
The sharing of expertise and experience with local experts in rural communities, complemented by scientific knowledge, demonstrates a path forward in truly understanding how we can derive benefit from the research activities we carry out.   
The Solomon Islands is a diverse country that can be challenging to carry out research activities in but by building and strengthening partnerships with our local and national partners through participatory research, the opportunity for knowledge sharing and exchange learning continues to pave a better way forward on how we can collaborate better.  
What's your favorite part about the research process and why? 
The emphasis we place on multidimensional research quality and the deliberate approach to "how" we work is my favorite component of the research process. This is critical to ensure that we are locally impactful while also demonstrating that we are a globally relevant organization.  
We support the Solomon Islands National Fisheries Policy 2019-2029 and explicitly integrate our research with MFMR to help national strategies move towards that policy goal. This allows us to work effectively with relevant ministry partners and ensure that our research output aligns with and contributes to national priorities.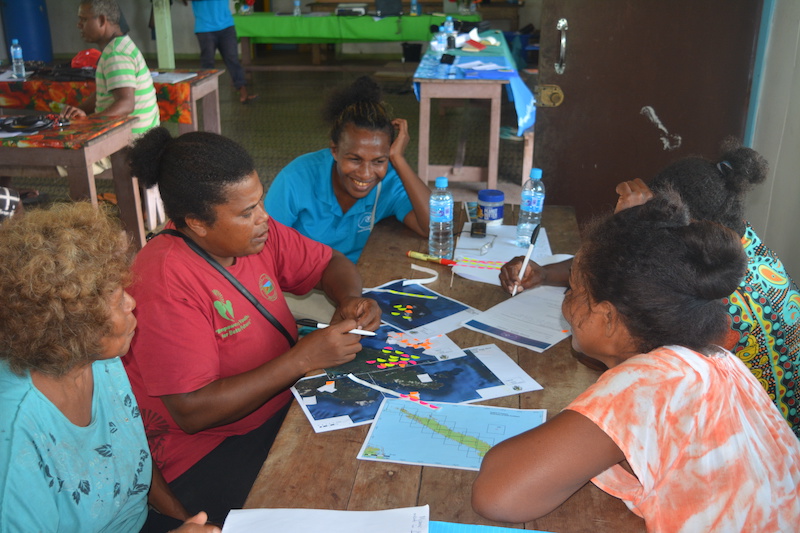 What's your most memorable experience working with coastal fishing communities? 
Noticing the progressive change in people's behavior, their capacities developed and relationships built with the coastal fishing communities we deal with over time is my most memorable experience working with them. Success stories of change can be direct or indirect and occasionally unexpected. For me, this is a result of our devotion to the people and places we connect with through our research efforts and it gives me a sense of achievement. 
It is heartening to see community champions who have been trained under relevant CBRM initiatives taking on the role of disseminating their knowledge and skills to neighboring communities or across provinces. It's even nicer to see women and young girls empowered and venturing outside of their comfort zones as a result of implementing CBRM. 
How does your research support better management of coastal resources? 
Personally, I believe that by implementing capacity-building programs, strengthening partnerships, using participatory research tools and approaches as well as committing to people and places, we can give space for fishing communities to better understand coastal resource management. 
Solomon Islands adopted CBRM as the national model for promoting greater sustainability and benefits from coastal fisheries. WorldFish collaborates with MFMR to strengthen the practice of inclusive CBRM and assists with increasing awareness and dissemination of best practices to provincial governments in order to reach more communities. Community priorities can be determined using a bottom-up approach and strategic planning to improve livelihood options that can further support coastal fisheries management initiatives.  
What innovation do you think has the most significant potential to improve the sustainable use and management of fisheries resources in the Solomon Islands?  
Knowledge sharing and exchange learning initiatives would be key to improving the sustainable use and management of fisheries resources.   Rural communities often lack important scientific information that can supplement existing traditional knowledge and help people realize the necessity of resource management.   
The incorporation of social inclusion into our research guarantees that diverse groups in communities participate equally to enable inclusive decision-making throughout the implementation of CBRM. Advocating for and widely disseminating information about food and nutrition security encourages individuals to appreciate existing traditional food sources that contribute to their well-being. 
Furthermore, providing alternative livelihood choices, such as nearshore fish aggregating devices (FADs) and aquaculture, to communities through CBRM initiatives can improve the sustainable use and management of fisheries resources. Investing in value-added initiatives helps market strategies by developing expertise in fish handling methods and community-accessible fish distribution networks. 
What piece of scientific research have you conducted in the past 12 months are you the proudest of and why? 
Working closely with PFOs and colleagues from the CBRM section of MFMR to identify and fill CBRM gaps in order to provide relevant resource management information and promote a better understanding of sustainable fishing methods remains an attractive part of research in terms of engaging with our partners. 
Given the challenges PFOs often face in reaching out to communities, this research supports PFOs in scaling CBRM initiatives. I am grateful to be part of this research as it allows for the exchange of knowledge and experience with the PFOs with whom we work.   
Working for WorldFish for over ten years in the field of resource management allows me to provide guidance and share my knowledge, particularly with young and newly recruited PFOs. Furthermore, combining different degrees of team capacity improves the implementation of CBRM activities to achieve research outcomes.  
What do you hope your research ultimately achieves? 
I hope that the research I conduct will not only help PFOs gain capability but will also spotlight PFOs as lead fisheries agents in each province. They are our focal points in the provinces as well as our linkages to coastal communities where we do research. 
The PFOs must be well-equipped to take the lead in promoting the sustainable use and management of fisheries resources in provincial waters as this varies by province. As a result, they are essential agents in attaining the various national fisheries management policies and strategies and their active engagement in CBRM initiatives to provide direction on provincial priorities within the fisheries sector is crucial. 
Through this research, we seek to improve our relationships with PFOs and gain a better understanding of the factors and conditions that enable PFOs to carry out CBRM initiatives at the provincial level.