5 minutes read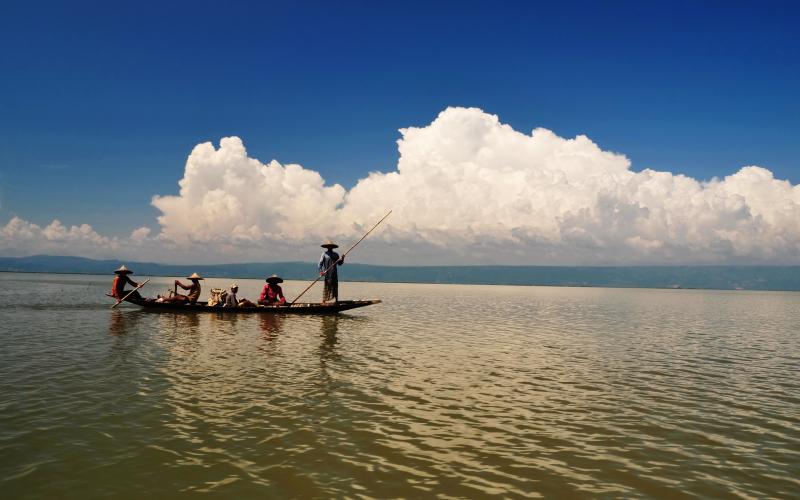 Highlights
Transitioning to aquatic food-based diets offers a huge opportunity for putting our food systems on a low emissions pathway. 
PENANG, March 1, 2022 – WorldFish's research and innovation in climate-resilient and sustainably managed aquatic food systems present a unique opportunity for the production of nutritious and diverse foods that are healthy for people and planet. The Intergovernmental Panel on Climate Change (IPCC) report, released yesterday, emphasized the need for taking action now to secure the future of millions who are at the frontline of increasing climate risks.  
WorldFish Interim Director General and CGIAR Acting Senior Director of Aquatic Food Systems Dr. Essam Yassin Mohammed called on all stakeholders including citizens, governments and businesses to urgently join forces if humankind is to avert the climate crisis.  Reacting to the latest IPCC report, Mohammed said: 
"The latest report reminds us that climate change is the problem of the day. It is not just about what may happen in the future. 

It has become clear that those sections of our societies with limited or no financial and technical means to insulate themselves from the ill effects of climate change pay the highest price. Therefore, the climate crisis is a justice issue as much as it is ecological. 

I still remain hopeful that this is a battle we can win. We need to mobilize humankind's best wit and intelligence and deploy our financial and technical resources to bend the curve and reverse the effects of climate change. However, time is not on our side. An immediate and collective action is needed if we were to stand a chance to avert the climate crisis." 
The IPCC AR6 released in August last year concluded that climate change is widespread, rapid and intensifying, and the world is not on track to keep warming below 1.5 degrees Celsius. The report found that atmospheric carbon dioxide levels are the highest they've been in the last two million years, threatening the planet's ability to sustain the human population. The latest IPCC 2022 Report on Impacts, Adaptation and Vulnerability assesses the present and future climate risks and presents options to act and adapt.  
Aquatic foods -- diverse animals, plants, and microorganisms grown and harvested from water -- are central to the livelihoods, food and nutrition security of more than 800 million people in developing countries. 
On the potential of aquatic foods in combating the climate crisis, Mohammed added: 
"Aquatic foods emit much lower greenhouse gases relative to land-based food systems. Sustainable management of aquatic animals and plants means stored carbon dioxide that would have otherwise been released into the atmosphere. Therefore, investing in sustainable management of aquatic ecosystems, transition to aquatic food-based diets offers a huge opportunity in putting our food systems on a low emissions pathway - delivering a triple win for nature, people and climate.   

To do so, significant investment in research and development of aquatic food sciences is needed to further enhance environmental benefits and deliver maximum benefit to people – both in terms of meeting nutritional needs and creating viable livelihood opportunities under changing climate." 
Mohammed is one of the co-authors for Compound climate risks threaten aquatic food system benefits, one of five initial scientific papers published as part of the Blue Food Assessment. WorldFish has been a key research contributor to the Blue Food Assessment, with seven of its scientists among the authors of the papers released. 
WorldFish acknowledges that climate change is a threat to food systems everywhere, particularly aquatic food systems, and is working on building climate-resilient food systems through research and innovation. WorldFish researchers are working to adopt a resilient systems approach to help small-scale aquatic food producers, traders and consumers adapt to a changing climate.  
### 
NOTES TO EDITOR  
Visit the WorldFish website for more information: https://www.worldfishcenter.org/ 
Photography:  
https://www.flickr.com/photos/theworldfishcenter/  
https://www.flickr.com/photos/theworldfoodprize/page1 
Press contact: 
For more information or to request an interview:  
Sean Lee Kuan Shern 
WorldFish Science Communications Specialist 
Email: K.Lee@cgiar.org 
About WorldFish  
WorldFish is an international, nonprofit research and innovation institution that creates, advances, and translates aquatic food systems science into scalable solutions. We vision an inclusive world of healthy, well-nourished people and a sustainable blue planet, now and in the future. Our mission is to end hunger and advance progress on the 2030 Sustainable Development Goals through science and innovation to transform food, land, and water systems with aquatic foods for healthier people and the planet. 
For over 45 years, WorldFish's data, evidence, and insights have shaped practices, policies, and investments to end hunger and advance sustainable development in low- and middle-income countries.  We have a global presence across 20 countries in Asia, Africa, and the Pacific, with 460 staff of 30 nationalities deployed where the most significant sustainable development challenges can be addressed through holistic aquatic food systems solutions. Embedded in local, national, and international partnerships, our work sets agendas, builds capacities, and supports decision-making for climate action, food and nutrition security, sustainable fisheries and aquaculture, blue economy, One Health, and AgriTech, integrating gender, youth, and social inclusion. 
A core element of the 2030 WorldFish Research and Innovation Strategy: Aquatic Foods for Healthy People and Planet is focused on building the resilience of aquatic food systems to shocks, which is critical to COVID-19 response and recovery. 
WorldFish is part of CGIAR, the world's largest agricultural research and innovation network. 
For more information, please visit https://www.worldfishcenter.org. 
About CGIAR  
CGIAR is the world's largest global agricultural innovation network. We provide evidence to policy makers, innovation to partners, and new tools to harness the economic, environmental and nutritional power of agriculture. 
CGIAR has a wealth of experience and knowledge spanning 50 years that builds on a track-record of innovation and world-class research. Thanks to our funders, CGIAR research has transformed the lives of hundreds of millions of people through tangible research outcomes. 
The 15 CGIAR Research Centers are independent, non-profit research organizations, conducting innovative research. Home to more than 8,000 scientists, researchers, technicians, and staff, CGIAR research works to create a better future for the world's poor. Each Center has its own charter, board of trustees, director general, and staff. CGIAR Research Centers are responsible for hands-on research programs and operations guided by policies and research directions set by the System Management Board. 
For more information, please visit https://www.cgiar.org.