4 minutes read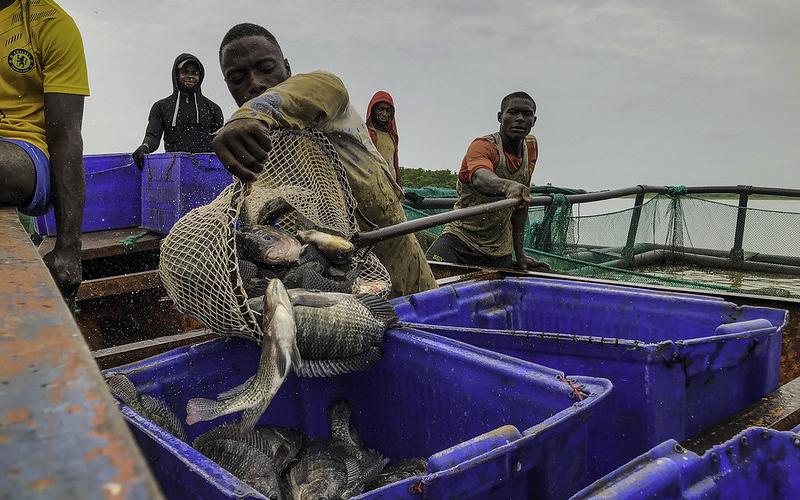 Highlights
A recently released policy brief highlights the untapped potential of aquatic foods in addressing malnutrition and improving diet quality in Nigeria. 
The policy brief emphasizes the need to recognize aquatic foods' diversity and nutritional value. 
Nigeria is partnering with WorldFish in the attainment of its national goals for the attainment of its food and nutrition security. 
Nigeria's Federal Ministry of Agriculture and Rural Development (FMARD) recently released a policy brief titled "Transformation and Future of Aquatic Food Systems in Nigeria" highlighting the untapped potential of aquatic foods in addressing malnutrition and creating jobs in Nigeria. The brief, developed by FMARD in collaboration with the Global Panel on Agriculture and Food Systems for Nutrition and Global Alliance for Improved Nutrition, presents practical and game-changing recommendations derived from the National Dialogue on Transformation and Future of Aquatic Food Systems held in Abuja in 2021. By implementing these recommendations, Nigeria has the opportunity to transform its aquatic food sector to enhance its food and nutrition security and contribute to the country's economic growth. 
In order to attain its national goals and objectives in the attainment of food and nutrition security, FMARD has been partnering with WorldFish, guided by Nigeria's Agricultural Technology and Innovation Policy 2022-2027. However, Nigeria currently does not have a dedicated policy for fisheries and aquaculture. 
WorldFish is drafting a fisheries and aquaculture policy in collaboration with IFPRI to bridge that gap, as well as updating the current aquaculture development strategy for FMARD. The fisheries and aquaculture policy aims to provide a clear direction and coherence for the transformation and development of the aquatic food system in the country. 
Harnessing the power of aquatic foods 
The policy brief emphasizes the need to recognize aquatic foods' diversity and nutritional value. Micronutrient deficiencies contribute to one million premature deaths annually, making it crucial to explore the potential of aquatic foods in filling this nutrient gap. With its abundant water resources, Nigeria can leverage its fisheries and aquaculture sector to significantly improve diet quality, particularly in sub-Saharan Africa. 
Aquaculture accounts for about 30 percent of Nigeria's total domestic fish production. However, this sector has the potential to expand three-fold, transforming Nigeria from a net fish-importing country into a self-sufficient nation that can even export fish and earn substantial foreign exchange.  
"Nigeria is now the largest importer of fish in Africa. Despite having real potential to be self-sufficient, its domestic supply does not yet meet even half of its yearly requirement of 3.5 million tons. Fortunately, there are many strategies today which can help Nigeria grow its own production to help provide affordable and sustainable, healthy diets and other economic benefits for its citizens."

Baba Yusuf Abubakar
WorldFish Board of Trustees Chair
Pioneer Executive Secretary of the Agricultural Research Council of Nigeria
The policy brief outlines 72 recommended policy actions, clustered into five areas: research and infrastructure development, collaboration, partnerships, and investments, fisheries and aquaculture governance, resource conservation, environmental protection, climate change resilience, and sustainable livelihoods and inclusiveness. These recommendations provide a roadmap for Nigeria to unlock the potential of its aquatic food systems. 
"Increasing the rate of growth of aquaculture by deploying climate-resilient production practices not only improves the supply and contribution of fish to people's lives but also saves a significant amount of foreign currency used for fish imports, which can then be diverted to improve smallholder aquaculture and small-scale fisheries."

Sunil Siriwardena
WorldFish Country Lead for Nigeria
By aligning with the national commitments made during the UN Food Systems Summit, Nigeria can set national goals and objectives to strengthen the aquaculture and fisheries sector, eliminate prevalent malnutrition and malnourishment, improve livelihoods, create competitive value chains, and increase fish export earnings, advancing several of the Sustainable Development Goals in the country. 
"The fisheries and aquaculture policy will help in guiding Nigeria toward sustainable food systems. By recognizing the potential of aquatic foods and implementing the recommended policy actions, Nigeria can unlock its abundant resources to address malnutrition, foster economic growth, and take a leading role in transforming aquatic food systems in the sub-Saharan Africa region."

Sunil Siriwardena
WorldFish Country Lead for Nigeria