4 minutes read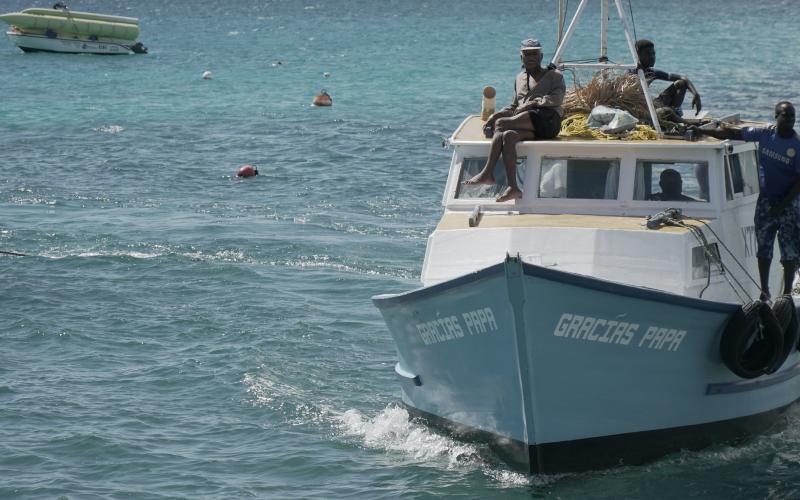 Highlights
A 'governance vacuum' over the high seas means wealthy countries benefit from the ocean at the expense of developing countries, says leading aquatic food systems scientist.
March 18, 2022, NEW YORK – The livelihoods of millions worldwide continue to be at risk after UN Member States failed to agree a new treaty to ensure protections for the high seas, according to the head of global research centre, WorldFish.
Dr. Essam Mohammed, Director General and representative for the State of Eritrea, warned that unchecked bio-prospecting, distant fleet fishing and other activities in international waters would continue to have repercussions for both the ocean and vulnerable coastal communities without an international treaty.
This week's negotiations at the UN Intergovernmental Conference on Marine Biodiversity of Areas Beyond National Jurisdiction had been expected to produce a final treaty for the conservation and sustainable use of marine biodiversity beyond territorial waters after four rounds of talks.
"At the moment, there is a governance vacuum in the high seas, and for the ocean and developing countries, the status quo simply isn't an option," said Dr. Mohammed.
"High velocity marine technological advancement means there will be an unprecedented race for marine resources in unregulated waters. Therefore, the delay in striking a deal means high risk for the health of the ocean. All member states of the UN need to recognise the urgency to save the ocean and the people who depend on it to survive.
"The high seas are the common heritage of mankind, and we urgently need a treaty that both ensures the benefits are shared equitably among countries and prevents activities in the high seas from impacting the livelihoods of vulnerable coastal communities."
To date, 98 per cent of the patents linked to genetic sequences from species found in the high seas are held in just 10 countries, with one multi-national responsible for almost half of registrations.
"Just as no one has ownership of the moon, no one should have ownership or disproportionate access to the benefits of the high seas," Dr. Mohammed added.
"In the interests of equity and justice, it is critical that the next round of talks delivers a new treaty that includes a mandatory benefit sharing mechanism."
Ends
NOTES TO EDITORS
For more information or interview requests:
Donna Bowater 
Marchmont Communications
+61 434 634 099
Matthew Stafford
Marchmont Communications
+44 7788 863692
Photography:                       
https://www.flickr.com/photos/theworldfishcenter/
About WorldFish
WorldFish is an international, nonprofit research and innovation institution that creates, advances, and translates aquatic food systems science into scalable solutions. We vision an inclusive world of healthy, well-nourished people and a sustainable blue planet, now and in the future. Our mission is to end hunger and advance progress on the 2030 Sustainable Development Goals through science and innovation to transform food, land, and water systems with aquatic foods for healthier people and the planet.
For over 45 years, WorldFish's data, evidence, and insights have shaped practices, policies, and investments to end hunger and advance sustainable development in low- and middle-income countries.  We have a global presence across 20 countries in Asia, Africa, and the Pacific, with 460 staff of 30 nationalities deployed where the most significant sustainable development challenges can be addressed through holistic aquatic food systems solutions. Embedded in local, national, and international partnerships, our work sets agendas, builds capacities, and supports decision-making for climate action, food and nutrition security, sustainable fisheries and aquaculture, blue economy, One Health, and AgriTech, integrating gender, youth, and social inclusion.
A core element of the 2030 WorldFish Research and Innovation Strategy: Aquatic Foods for Healthy People and Planet is focused on building the resilience of aquatic food systems to shocks, which is critical to COVID-19 response and recovery.
WorldFish is part of CGIAR, the world's largest agricultural research and innovation network.
For more information, please visit https://www.worldfishcenter.org.
About CGIAR
CGIAR is the world's largest global agricultural innovation network. We provide evidence to policy makers, innovation to partners, and new tools to harness the economic, environmental and nutritional power of agriculture.
CGIAR has a wealth of experience and knowledge spanning 50 years that builds on a track-record of innovation and world-class research. Thanks to our funders, CGIAR research has transformed the lives of hundreds of millions of people through tangible research outcomes.
The 15 CGIAR Research Centers are independent, non-profit research organizations, conducting innovative research. Home to more than 8,000 scientists, researchers, technicians, and staff, CGIAR research works to create a better future for the world's poor. Each Center has its own charter, board of trustees, director general, and staff. CGIAR Research Centers are responsible for hands-on research programs and operations guided by policies and research directions set by the System Management Board.
For more information, please visit https://www.cgiar.org.